Welcome to the vibrant BayFest on Anna Maria Island, your ultimate destination this October! This annual festival, a burst of lively music, mouthwatering food, and creative crafts, has been a cornerstone of Anna Maria Island's community spirit for decades.
As autumn colors merge with our sandy beaches, BayFest is one of AMI's many great annual events. It is a celebration that infuses the island air with palpable energy and excitement. Our Anna Maria Island Beach Rentals offer the perfect home base for BayFest. So, pack your festival spirit and join us for an unforgettable journey into the heart of AMI!
About BayFest Anna Maria Island
Photo Credit: fleventsandfestivals
Launched over three decades ago, Anna Maria Island's BayFest has become an unmissable celebration on the island's event calendar. Held on the last weekend of October in Downtown Anna Maria on the island's northern tip, this vibrant street festival offers a joyful blend of community spirit and island charm, bringing locals and visitors together to celebrate the region's cultural diversity and scenic beachfront beauty.
Food Trucks
As you stroll down the heart of the festival on Pine Avenue, you'll encounter a bustling array of attractions. Live music fills the air, with bands spanning genres from rock to reggae, ensuring that there's a beat to match everyone's taste. Food trucks and vendors line the streets, offering an impressive variety of treats, from savory local seafood to international dishes and decadent desserts.
Artisan Crafts, Music, Classic Cars
Beyond the music and food, the arts and crafts stalls showcase local Florida talent with handmade jewelry, unique art pieces, and creative crafts for sale. The Classic Car Show is also always a major draw, featuring a stunning collection of meticulously maintained vintage vehicles and muscle cars.
Family Friendly
The family-friendly Kid's Zone features a bounce house and plenty of hands-on activities for the little ones, including inflatables and a pirate ship.
BayFest is more than just an event; it's a testament to Anna Maria Island's sense of community, the perfect setting for making lasting memories. So, mark your calendar and prepare for an incredible island experience!
What to Know About BayFest 2023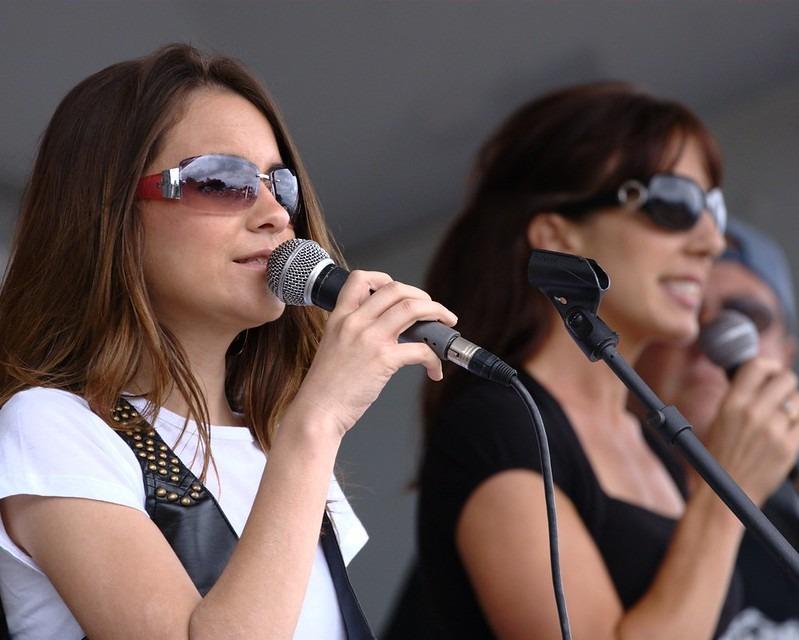 Photo Credit: Robert Bieber via Flickr CC2.0
Location: Pine Avenue, Anna Maria Island, FL
Date: Saturday, October 21, 2023
Hours: 10.00 am to 9.00 pm (the Classic Car Show runs from 10.00 am to 3.00 pm)
Tickets: annamariaislandchamber.org (available Fall 2023)
This year, BayFest 2023 is set to be even more spectacular. From the enticing line-up of bands to the multitude of food vendors, the festival has made every effort to ensure a memorable experience for all attendees.
Music
Live music is the soul of BayFest, and this year's roster doesn't disappoint. The renowned "Island Beat Collective" is headlining the main stage, known for their infectious reggae rhythms and soulful melodies. They're joined by an array of diverse performers, from the energetic rock tunes of "The Gulfside Groovers" to the foot-tapping bluegrass sounds of "The Banyan Tree Band."
Food
Foodies won't be left out, either. With over fifty food trucks and vendors, there's a culinary journey waiting at every corner. Standouts include "Anna's Seafood Shack," renowned for their delicious lobster rolls, and "Global Eats," offering a smorgasbord of international delights. For sweet cravings, "Sandy's Donut Delights" is a must-visit – nothing beats the Florida heat quite like a homemade ice cream cone.
Eco Crafts
This year's BayFest also introduces the "Eco-Craft Corner," promoting sustainability with a wide range of eco-friendly arts and crafts vendors and products. It's an excellent opportunity to pick up unique souvenirs while supporting local artisans and the environment.
So, get ready to immerse yourself in the exhilarating atmosphere of BayFest 2023, where great music, tasty food, and island charm blend into an unforgettable experience.
MAKING THE MOST OF YOUR BAYFEST EXPERIENCE
Attending BayFest is an adventure; some preparation can ensure you make the most of every moment.
Arrive Early: To beat the crowd, plan on arriving early, especially if you want to secure a prime spot for the concerts. The festival officially starts at 10 AM, but keen festival-goers often muff about even earlier.
Parking: Parking can be a challenge, especially during peak hours. Use the free shuttle service from CrossPointe Fellowship Church, eliminating the hassle of finding a parking spot near Pine Avenue.
Pack Accordingly: Bring sun protection items like hats, sunglasses, and sunscreen. Comfortable walking shoes are essential as Pine Avenue stretches over several blocks, filled with activities. A reusable water bottle is also handy.
Finally, embrace the annual BayFest spirit. Engage with the vendors, chat with the locals, dance to the music, and soak in the island vibes. Remember, at BayFest, it's all about community, enjoyment, and creating lasting memories.
OTHER MUST DO ACTIVITIES IN AMI IN OCTOBER
While the BayFest is the highlight of the October weekend, Anna Maria Island offers much more to discover. The island's October weather, with its warm days and cool evenings, is ideal for exploring the natural beauty and attractions.
Manatee Public Beach
One must-visit is Manatee Public Beach. Located in the heart of the island, it offers stunning views of the Gulf, and it's the perfect place for a leisurely swim or a game of beach volleyball. If you're looking for a more secluded spot, head to Bean Point, a serene beach that offers tranquility and unparalleled sunset views.
Leffis Key Preserve
The island is also home to diverse wildlife, and a visit to Leffis Key Preserve offers an opportunity to encounter birds, marine life, and unique vegetation on its well-marked trails.
BOOK YOUR VACATION RENTAL FOR BAYFEST ON ANNA MARIA ISLAND
As the island gears up for BayFest 2023, excitement fills the air, and a unique experience awaits you. From unforgettable performances to enchanting island attractions, your October weekend on Anna Maria Island promises to be extraordinary.
Book a peaceful beachfront sanctuary to relax and rejuvenate during BayFest weekend!