Sun-soaked sandy beaches, tranquil azure waters, a balmy breeze whispering through the palm trees - that's the everyday charm of Anna Maria Island. But what if you could elevate your dream vacation here with the perfect beachfront rental and seamless guest communication? Welcome to our exclusive selection of Anna Maria Island Beach Rentals, where we blend exceptional stays with unrivaled guest experiences.
To ensure that all our guests can access the best of their vacation experiences, we've partnered with DACK, an innovative communication tool and guest management system designed to make vacations easier and more enjoyable.
In today's world, communication is paramount, especially when you're away from home. Whether you're a seasoned vacationer or a first-time visitor, we understand that smooth communication is the key to a stress-free, enjoyable trip.
It's the little details that can truly enhance your vacation experience. The DACK App will guide you in using your smart home features, finding the best local seafood, and how to schedule an early check-in.
Importance of Guest Communication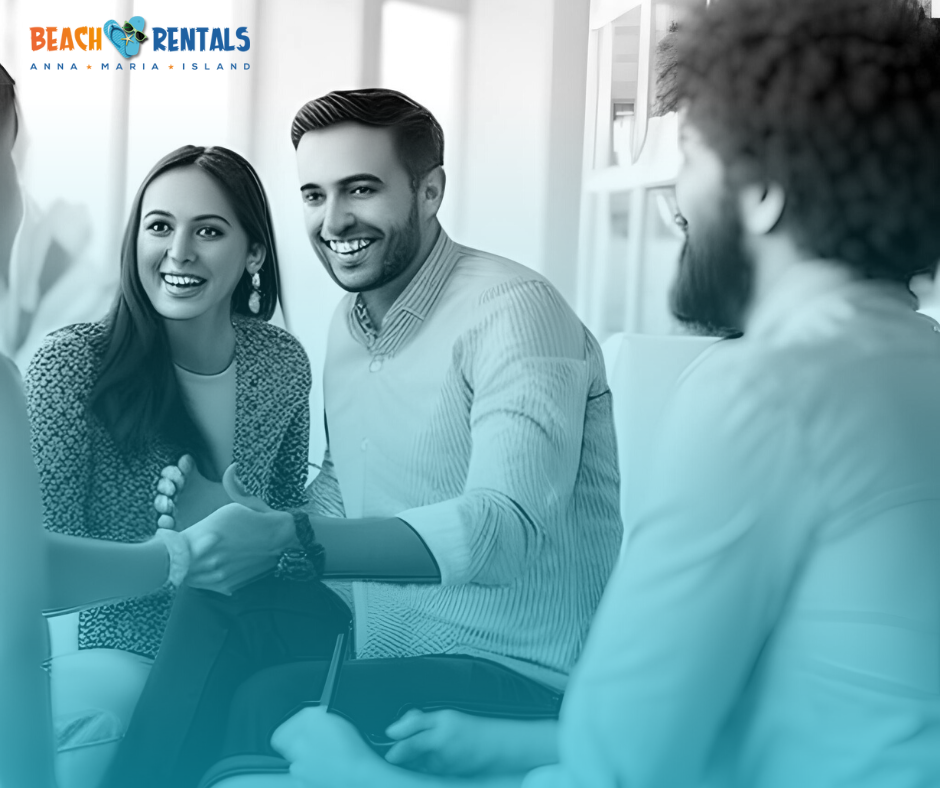 Whether you're basking in the sun on the serene shores of Anna Maria Island or exploring its charming local spots, a well-communicated vacation plan can make your stay seamless and more enjoyable. The significance of effective guest communication cannot be overstated - the bridge connects you, our valued guest, with us, your dedicated hosts.
Imagine arriving at your vacation rental after a long journey, only to find that you're unsure how to access the property or operate the appliances. Or perhaps you're excited to discover the island's local gems but lack the insider knowledge to find them. Situations like these can transform a much-anticipated vacation into an experience of unnecessary stress and confusion.
Effective guest communication provides the solutions to these challenges. With clear and prompt communication, you can effortlessly check in to your rental, understand its amenities, and maximize your stay. And it's not just about troubleshooting. Great communication can enhance your vacation, offering personalized recommendations and insider tips that transform your stay from good to exceptional.
That's where our partnership with DACK comes into the picture. We're committing to enhancing your vacation experience on Anna Maria Island by prioritizing guest communication and streamlined messaging.
Introduction to DACK Guest Communications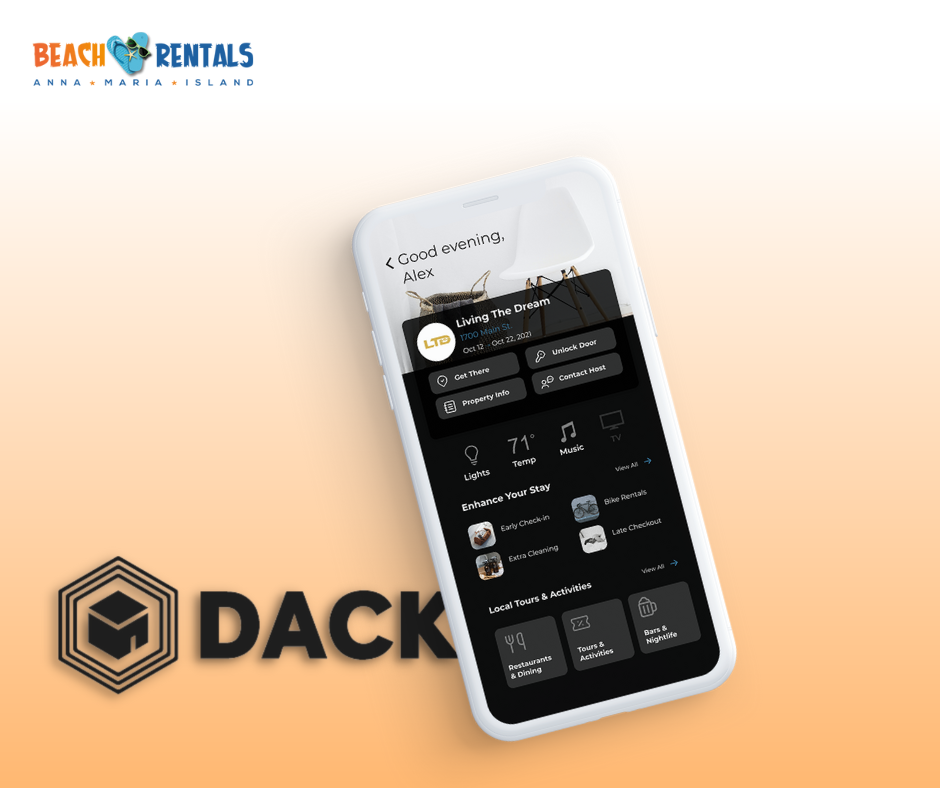 DACK is not just a communication tool; it's a platform meticulously designed to elevate the guest experience by bridging any gaps in communication and ensuring a smooth, memorable vacation.
So, what exactly is DACK, and how does it function?
DACK is an innovative, user-friendly post-booking platform tailored for vacation rental properties. The app streamlines the entire communication process, providing quick access to important property information and facilitating real-time conversation between hosts and guests. Essentially, it's like having a personal concierge in your pocket, ready to assist you with any queries or concerns at the click of a button.
Travel Efficiency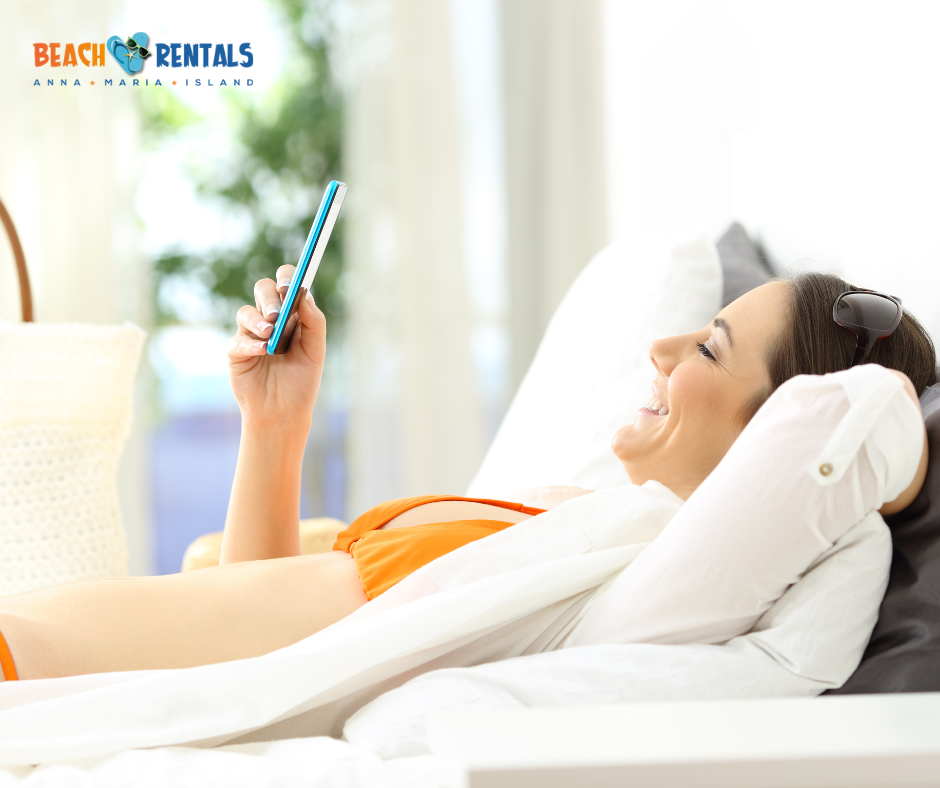 One of the standout features of DACK is its efficiency. Say goodbye to scrolling through numerous emails or hunting for specific details in a welcome booklet. With the DACK guest experience platform, all the information you need about your rental, including access codes, appliance instructions, WiFi passwords, and more, is readily accessible in a user-friendly format.
Insider Knowledge
DACK also empowers you with insider knowledge of Anna Maria Island. From recommended local attractions and eateries to exclusive deals and experiences, you'll have access to everything you need to explore and enjoy the island like a local.
By integrating DACK into our vacation rentals, we're putting comprehensive, easy-to-use information and 24/7 assistance right at your fingertips.
The Perks of DACK and How It Makes Your Vacation Better
We've designed your vacation to be a time for relaxation and enjoyment, and DACK is a key player in making that vision a reality. This cutting-edge hospitality app lends itself to creating a tailored experience with maximum convenience.
Prompt Communication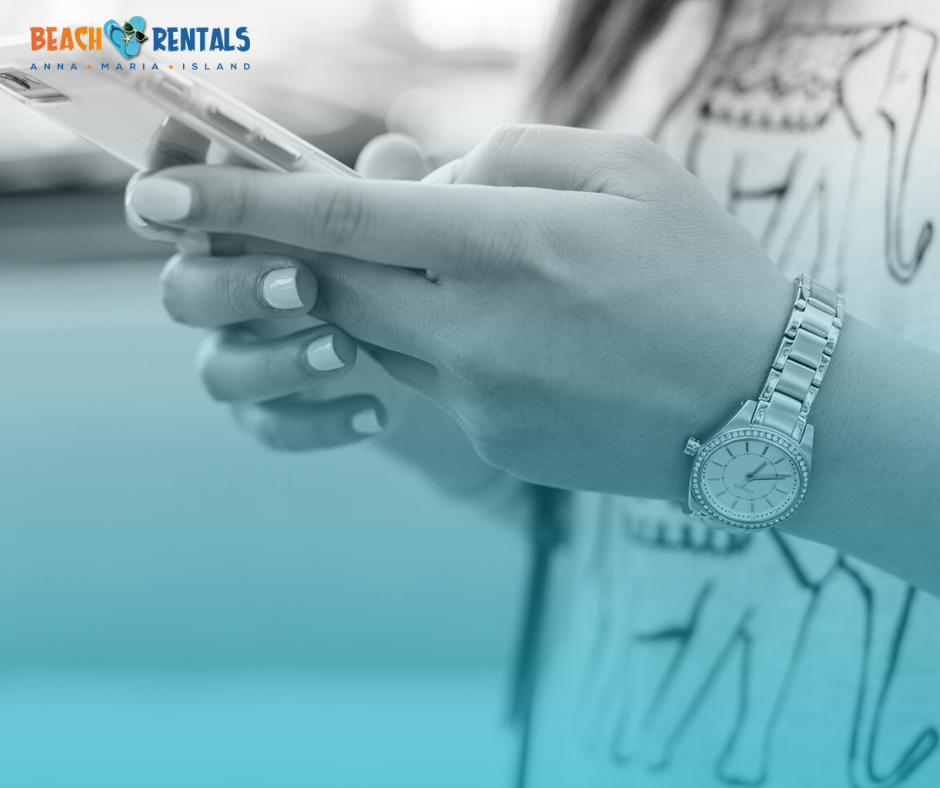 DACK provides a real-time communication channel between you and our team with its guest messaging system. Have a question about the hot tub? Need more towels? With DACK, help is just a message away.
Easy Access to Information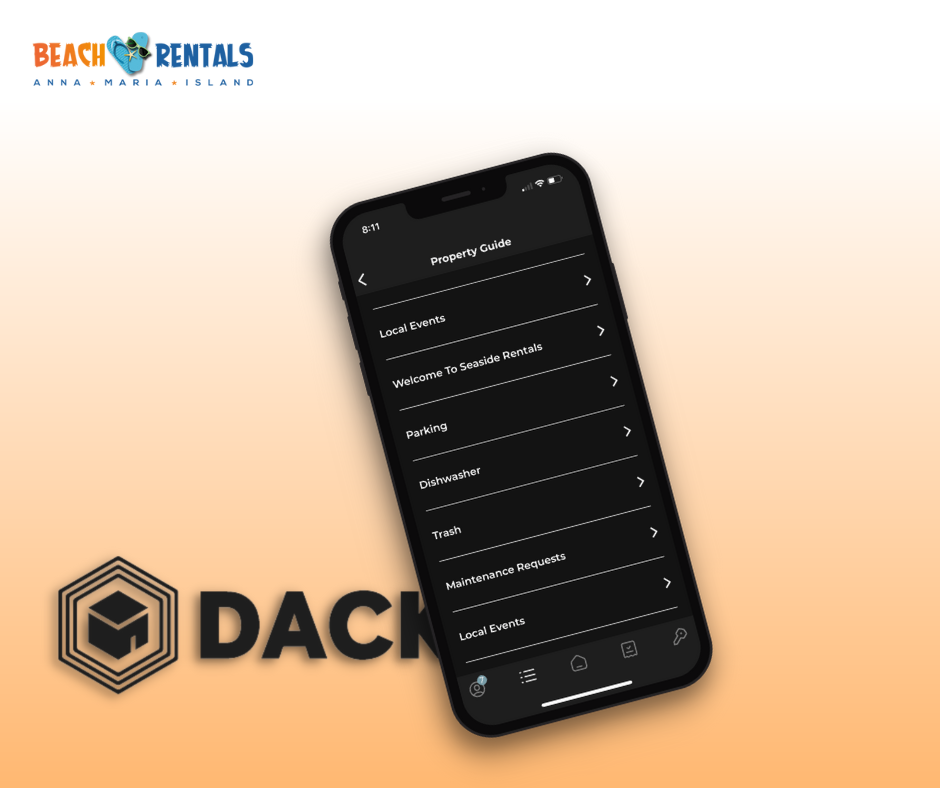 No more fumbling with smart locks, lockbox codes, thermostats, or trying to remember WiFi passwords. All essential property information is easily accessible in one place, helping you settle in quickly without needing heavy property guides.
Local Knowledge and Recommendations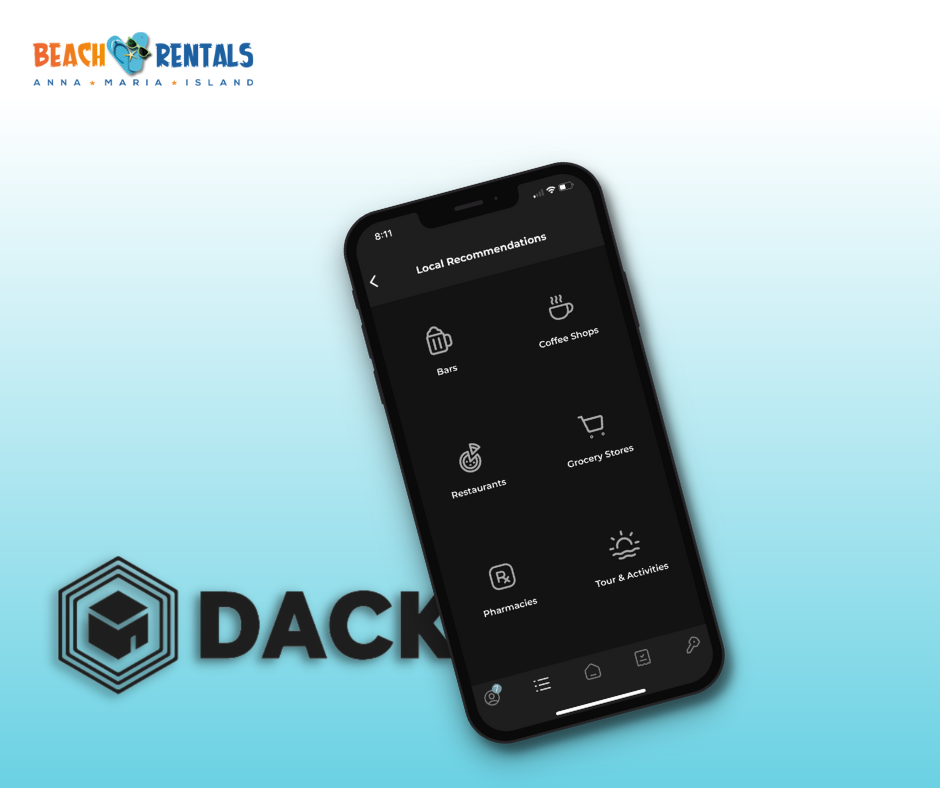 Want to find the best seafood spot or the most picturesque beach on Anna Maria Island? DACK's insider knowledge can guide you to the best local recommendations and experiences without needing to tote around a clunky guidebook.
Quick Action
If a problem arises during your stay, DACK allows you to report it instantly to property management, helping us address it swiftly and minimize any disruption to your vacation.
Convenience
As DACK is a digital platform, it's as mobile as you are. Everything you need to know will be available on your smartphone or tablet, ensuring a seamless and enjoyable vacation.
Imagine having a cozy dinner at a recommended local bistro, thanks to DACK's guidance, or swiftly resolving a maintenance issue without it casting a shadow over your beach day.
With DACK, your vacation on Anna Maria Island isn't just about staying at a beach rental; it's about experiencing an elevated vacation tailored to your needs.
Why Choosing Our Rentals with DACK Sets Us Apart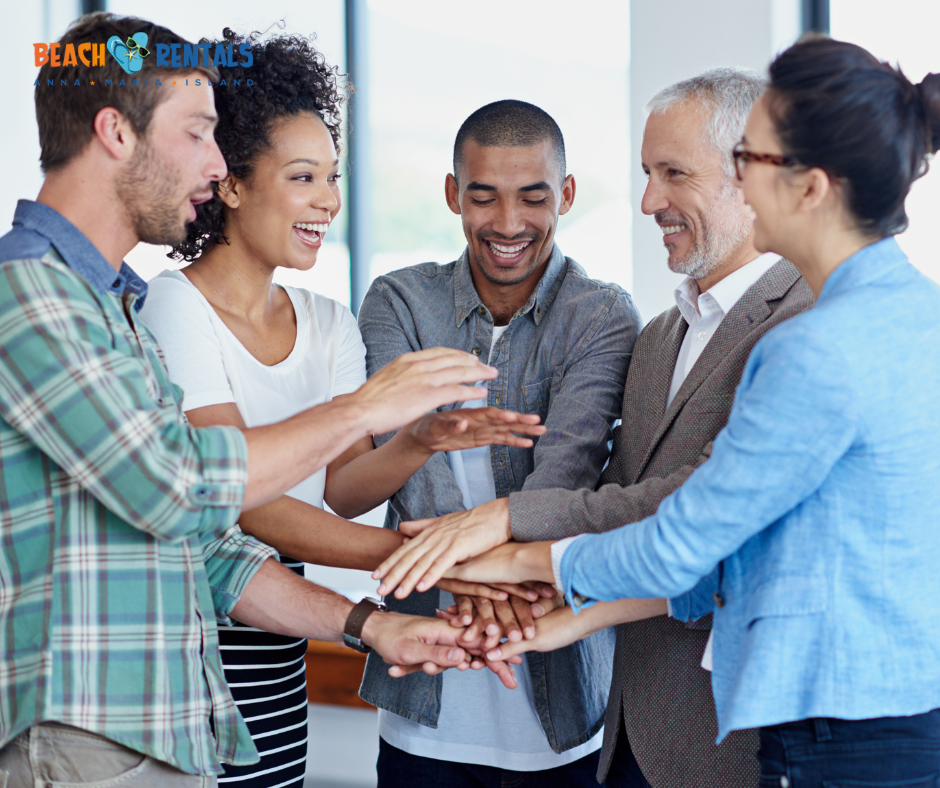 The integration of the DACK App into our beach rental experience underscores a commitment to providing an unmatched level of convenience and personalized service to our guests.
Unlike traditional vacation rentals that can leave you navigating your stay alone, our rentals equipped with DACK Guest Communication ensure you're never out of touch or left in the dark. The ability to access information, ask questions, and resolve issues in real time can significantly enhance your vacation experience. DACK transforms our rentals into dynamic, responsive accommodations that adapt to meet your needs and expectations.
Moreover, DACK's local knowledge and personalized recommendations give you the opportunity to experience Anna Maria Island like a true local. Instead of standard tourist experiences, DACK helps you uncover the hidden gems of the Island that match your unique interests and preferences.
Ultimately, choosing our DACK-integrated rentals is about more than just picking a place to stay; it's about choosing an elevated, hassle-free vacation experience. With our Anna Maria Island beach rentals and DACK guest communication, we're not just meeting the standard; we're setting it.
Smooth Communication on Your Anna Maria Island Getaway
Embarking on a vacation should be an exciting and stress-free journey, and that's exactly what we aim to provide with our Anna Maria Island beach rentals powered by DACK Guest Communication. From the moment you arrive, you'll enjoy prompt, clear communication, readily accessible information, quick issue resolution, and insider knowledge of the Island's best spots.
If you're ready to experience the beautiful Anna Maria Island in a way that blends comfort, convenience, and personalized service, book a stay with us. Let us show you the difference DACK can make to your vacation. Contact us today to experience the DACK difference with our Anna Maria Island vacation rentals.