Anna Maria Island
(AMI) is a small and peaceful destination situated near the Gulf Coast of Florida. Its seven-mile beachfront is known for its tranquility and is the perfect location for tourists who prefer a more exclusive vacation outside the hustle and bustle of metropolitan areas like
Orlando
and Tampa.
This island has many Instagram-worthy beaches to choose from when you stay at an AMI vacation home rental, but the tranquil and less-crowded nature of Coquina Beach gives it a special place in our books.
Here's all you need to know about planning the perfect day at Coquina Beach!
About Coquina Beach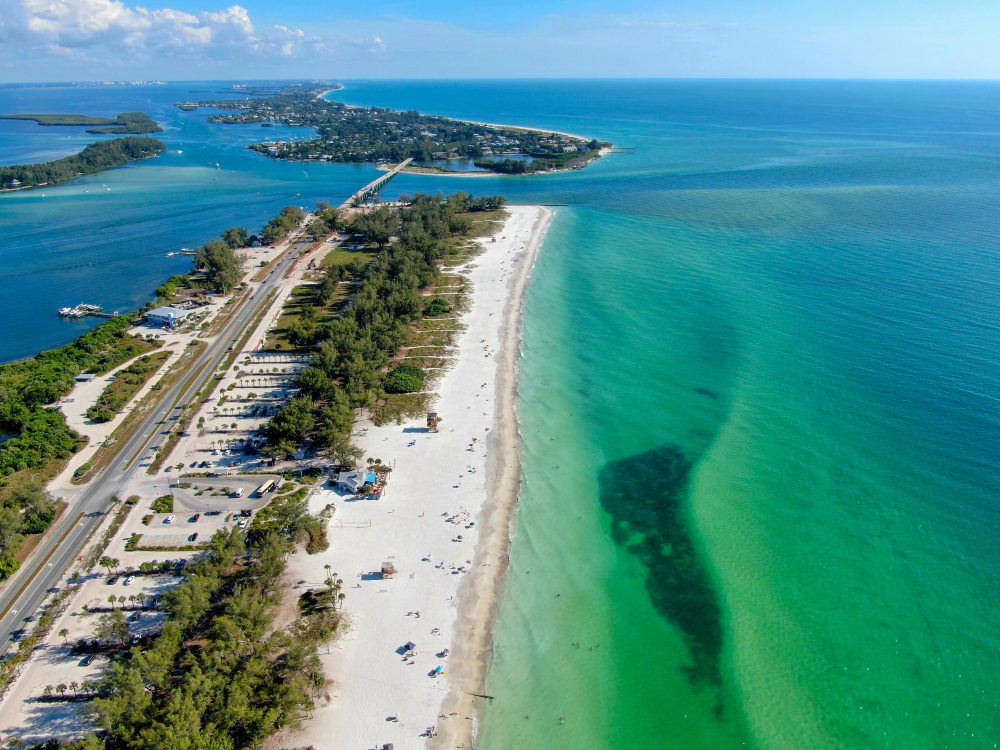 Photo Credit:
Unwind
Coquina Beach is a lengthy white sand beach located on the southern end of Anna Maria Island in the Gulf of Mexico. The beach is flat and bordered by sand dunes, which are enhanced by the presence of waving grasses and sea oats, contributing to the beach's natural beauty and seashell-hunting potential.
A Quiet Option on AMI
Coquina Beach provides a tranquil getaway for vacationers seeking a more relaxed atmosphere than some of the other nearby beaches. It is known for being less busy than popular
Holmes Beach
while still offering comparable amenities.
Family Friendly
Coquina Beach is also
family-approved
. There is a playground right on the beach and plenty of shaded areas to keep little ones out of the sun. Kids can run and play in the white sand while still being within the safety of watchful parents.
A natural shallow area is safe enough for kids to frolic in while you soak up the sun. Safety is key, so rest easy knowing that top-notch lifeguards keep a watchful gaze from towering posts and patrol the sandy shores with diligence.
Plenty To Do
The beach has features suitable for sunbathing, building sandcastles, and playing Frisbee. Sharp-eyed beachcombers may snag sand dollars or pretty shells washed up on the shore. If you keep a watchful eye, you may also spot dolphins leaping along the Gulf Coast!


Visitors to Florida's natural coastline can explore the mangrove-lined lagoons using footpaths and boardwalks. The area offers activities like walking, fishing, and bird watching. Regarding safety, you can have peace of mind that Coquina Beach is a safe location for swimming and snorkeling, thanks to the extensive presence of lifeguards on duty.



Getting There
Coquina Beach is located just south of Bradenton Beach on the most southern end of Anna Maria Island off of the island's main thoroughfare, Gulf Drive. It is easily accessible from our rentals and within minutes of other parts of the island.
Transportation options include driving, renting a golf cart or bicycle, or taking the Anna Maria Island Trolley, a complimentary service with a stop near the beach.
Anna Maria Island Trolley

Photo Credit:
annamariaislandchamber.org
To reach Coquina Beach, we recommend the free Anna Maria Island Trolley. Whether you're a first-timer, a frequent visitor, or a local, this is one of the most efficient ways to beach-hop around AMI. You can sit back, relax, and enjoy the views while leaving the driving and parking to someone else!

The trolleys run daily, looping the island from Coquina Beach in Bradenton Beach to the City Pier in the City of Anna Maria on the island's northern end, and operate on most holidays. You can hop on and off as often as you want.

The trolley runs from 6.00 am to 10.30 pm, with intervals of 20 minutes until 9.00 pm and then 30 minutes thereafter. The trolley stops are conveniently located every two to four blocks, with 35 northbound and 35 southbound stops to access all destinations on the island.
Pro Tip: Have a bike? The trolley also has a bike rack on the front of it, so be sure to utilize the many bike trails while you explore the beaches of AMI.
Amenities at Coquina Beach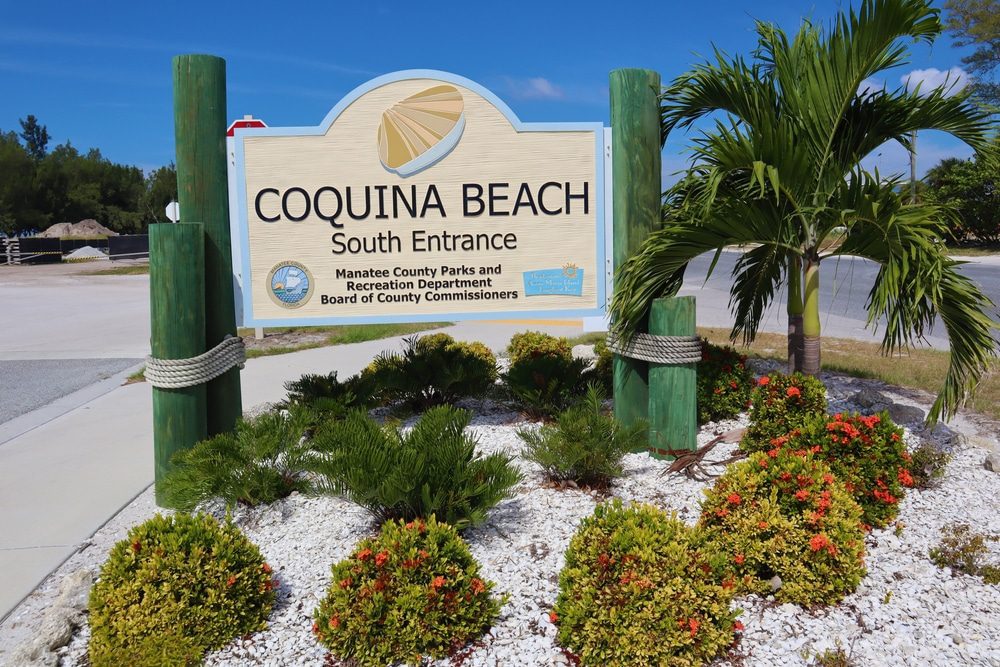 Photo Credit:
Linda White Wolf
Coquina Beach provides visitors with all the most essential amenities, plus some bonuses!
At this beach, you'll find:
restrooms
rinse showers
changing areas
water fountains
shaded picnic spots
tables and grills
food vendors
playground
volleyball courts
paved pathway for walking and cycling.
Gift Shop
Nearby Shopping
If you forget something for your beach day at Coquina Beach, don't worry. A gift shop is conveniently located nearby where you can buy swim gear, hats, and sunscreen.
Bradenton Beach's other shops and boutiques are nearby, and you won't have to lose your parking spot. Instead, just use that free Anna Maria Island trolley that's oh-so-convenient.
Watersports Rentals
On the beach, you can rent water sports equipment like kayaks and paddle boards as well as sand essentials like umbrellas, chairs, and boats at affordable prices. You can also find a
boat launch
for your
boat rental
across the street from Coquina Beach.
Eating at the Beach
There is also a cafe and concession stand for snacks and small meals. Additionally, the beach is conveniently located near restaurants, bars, and shops that are just a short drive away.
Wildlife at Coquina Beach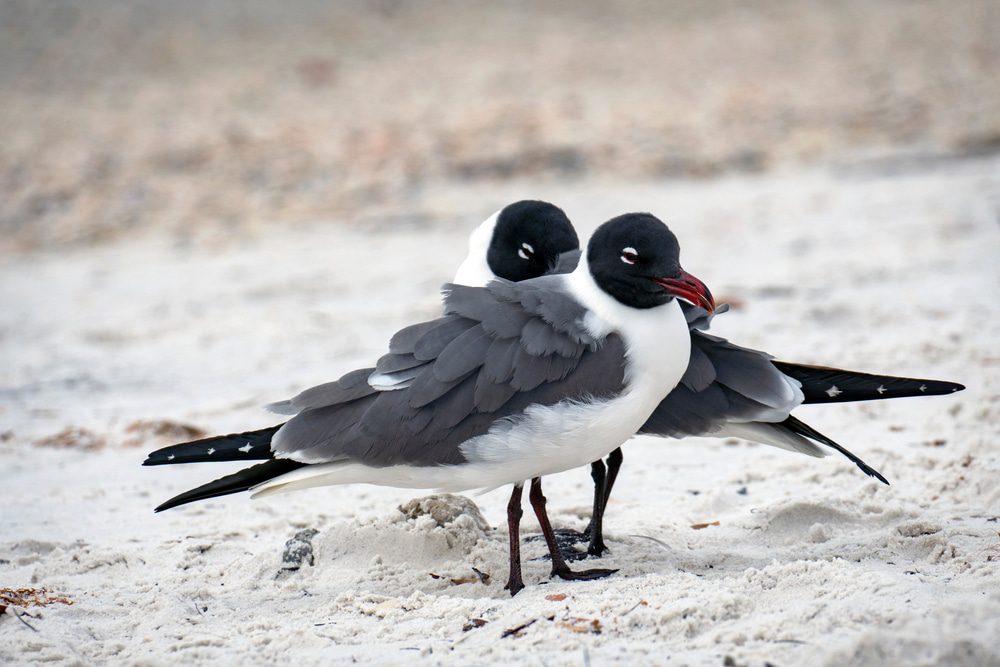 Photo Credit:
MyTravelCurator
Coquina Beach is popular among nature enthusiasts due to its diverse marine life, birdwatching opportunities, and other shoreline animals.
You can spot many shorebirds feeding during high or low tide, including herons, vultures, cranes, storks, and seagulls. You may also spot nesting sea turtles, and dolphins. Most notably, this beach is known for manatee sightings, a true Florida wildlife encounter!
Where to Eat Around Coquina Beach.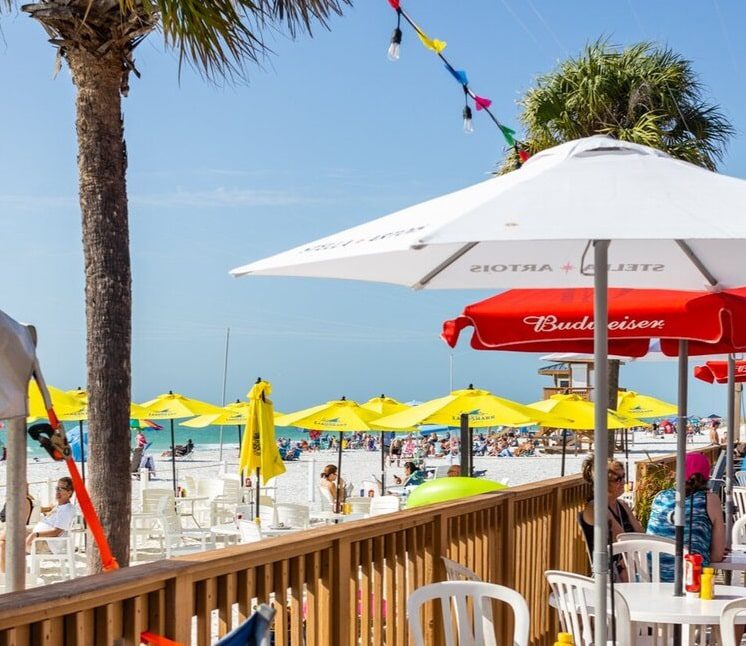 Photo Credit: coquinabeachcafe
If you're looking for a bite to eat after a day of fun in the sun at Coquina Beach, there are plenty of options nearby, especially when you take the free trolley back towards the city of Bradenton Beach area.

For casual dining and immediate beach access, stroll over to the Coquina Beach Cafe! It;s a great spot for a midday snack or a refreshing ice cream.

For a boozy break, try a tropical cocktail at the Kokonut Hut, where you'll likely be tapping your foot along to the live music as you gaze out onto the gulf waters.

For a special sit-down meal, head to The Sandbar for toes-in-the-sand dining, where you can experience Old Florida. This restaurant has some of the best seafood in all of Anna Maria Island, and their Po Boy sandwiches are not to be missed.
brings fresh ideas and quality cuisine to the table, with nightly live music and venerated margaritas. The tropical setting is the perfect backdrop for a relaxing and enjoyable night out.
What to Do Near Coquina Beach
Bradenton Beach Bridge Street Pier
Step onto the
Bridge Street Pier
and step back in time! This pier was built from the ashes of an old wooden bridge and now offers stunning views of Sarasota's northern end. It's also a
prime spot to cast a line
for those who are fishing-inclined. If you're arriving by boat, you can use the pier's day dock.
Feeling a little peckish? Head on over to the Anna Maria Oyster Bar on the Pier for some of the freshest AMI seafood. And if you're in the mood for shopping, you're just steps away from the Bridge Street Market.
Historic Bridge Street
Historic Bridge Street is known for its charming buildings that house unique shops, restaurants, bars, and accommodations.
Visitors can often enjoy live music on the street both during the day and at night. Get ready for an extra treat on the weekends, as the Sunday Market provides extra shopping opportunities and live music. Stroll underneath the palms as you take in the relaxed, small-town vibes.
Pineapple Marketplace
If you're looking for a one-stop shop while spending the day at Coquina Beach, then the
Pineapple Marketplace
is the perfect destination. It is a short trolley ride away at the northern tip of AMI.
This popular spot is a treasure trove for collectors, treasure-seekers, and anyone with a love for unique finds. Everything you need to complete your beach day, from souvenirs and beachwear to snacks and refreshments, can be found here. With a whopping 30 vendors to choose from, you're sure to find something that tickles your fancy!
Stay and Play at Coquina BeachÂ
It's no surprise that Coquina Beach is such a popular destination for an AMI beach day. So pack your beach towel and book a stay at
Anna Maria Island Beach Rentals
!