Are you a beach bum? Do the crashing waves and soft sand of
Anna Maria Island
call your name like sirens of yore? Are you confused about what each beach flag color means or why there are flags at all?
You're not alone - as it turns out, beach warning flag colors have been used by the USLA (United States Lifesaving Association) and International Lifesaving Federation (ILS) for many years to alert swimmers of the potential of dangerous surf conditions.
In this article, we uncover everything from red to double red flags and provide helpful tips on how best to enjoy the shore when an unfriendly hue is flying. Pack up your sunscreen and get ready; the tides are calling!
The Beach Flag Warning System

It's no secret that Anna Maria Island has some of the
best beaches
in all of Florida. To ensure safety for beachgoers, the International Lifesaving Federation (ILS) developed a system of beach flags to indicate the strength of the current tide that the three primary colors can easily identify: red, yellow, and green.
The universal system was established so that beachgoers around the world could take extra precautions when needed. Here is a breakdown of their colors and the conditions they indicate.
Green Flags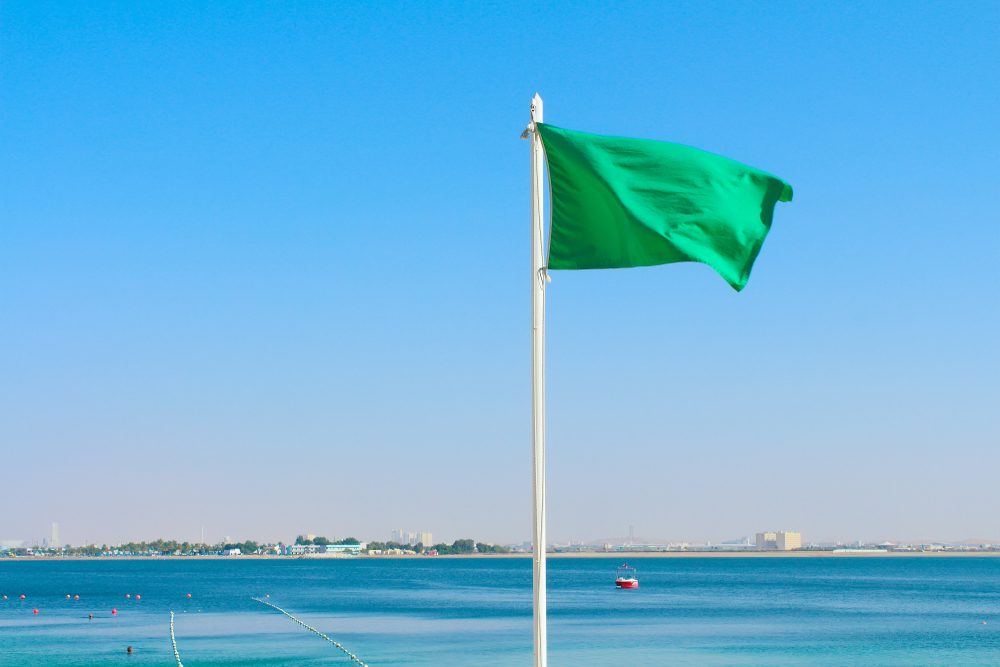 Photo Credit:
Elena Serebryakova
Green flags at the beach are a sign of calm conditions. They indicate that lifeguards and other safety personnel are present and have deemed the water conditions safe for swimming. It is important to always swim between the green flags, as this area has been monitored for potential risks.
Yellow Flags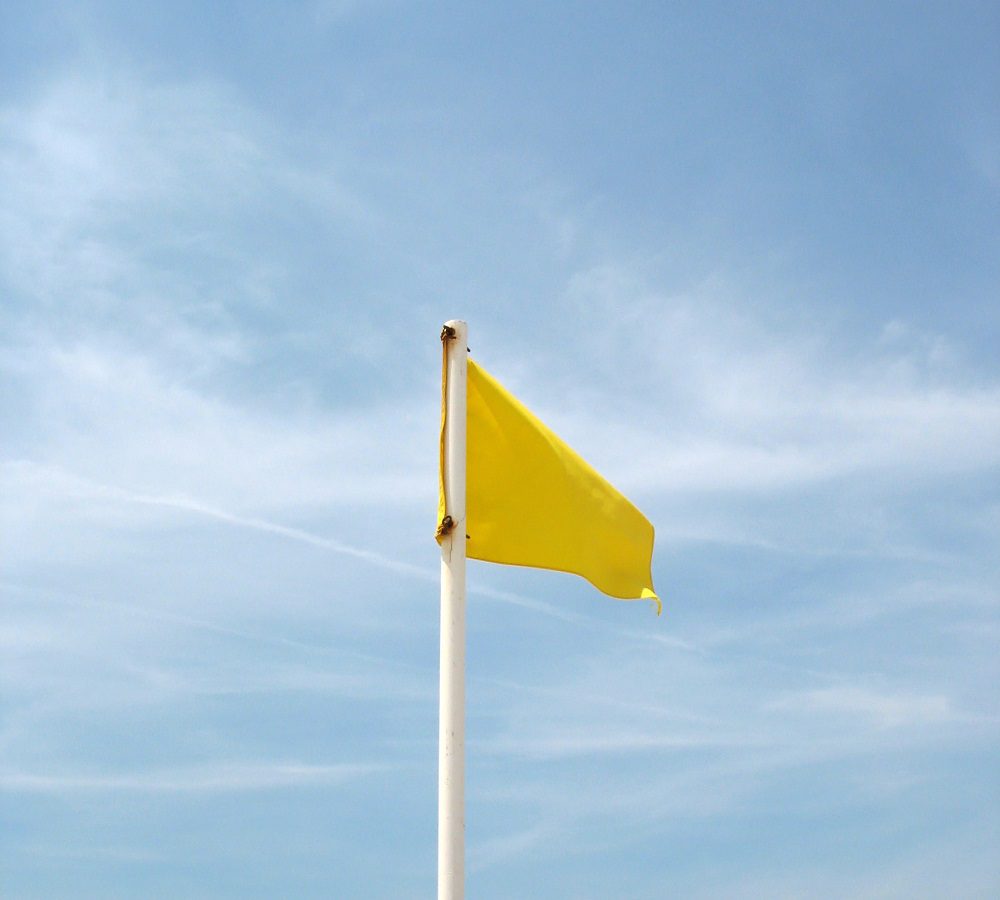 Photo Credit:
ARENA Creative
When you see a yellow flag flying at the beach, it means that the water is rough and conditions are moderate. Swimmers should be aware of their surroundings and exercise caution in these areas. This guidance includes avoiding swimming in certain areas and being aware of potential rip currents or other hazardous conditions. Lifeguards may be nearby to help should you get in trouble; however, if you're a weak swimmer, you should consider staying out of the water if you see yellow flags.
Red Flags and Double Red Flags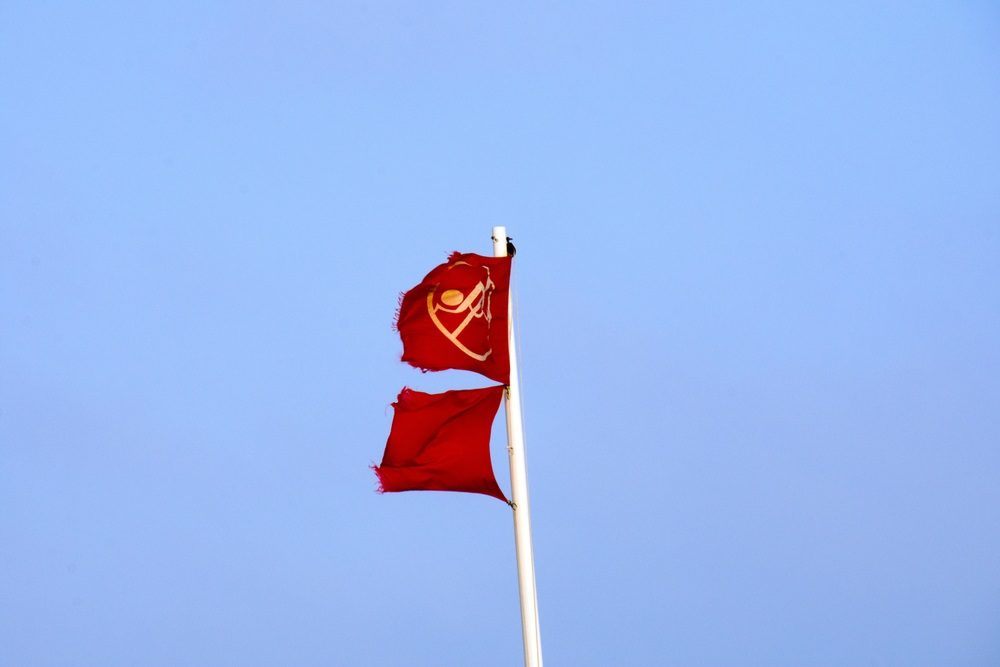 Photo Credit:
Ashley Keller
Red flags at the beach can be a lifesaver. When you see these bright red flags, it indicates that there may be hazardous conditions in the water. Pay attention to these beach safety flags and keep yourself and your family safe by not entering the water when they are posted.
The number of red flags and the type of red flag that is posted can tell you different things. For instance, one red flag means that the water has moderate surf or currents and medium hazard, while two flags indicate high surf or strong currents. Be sure to check with a lifeguard before entering the water, even if only one red flag is posted.
Purple Flags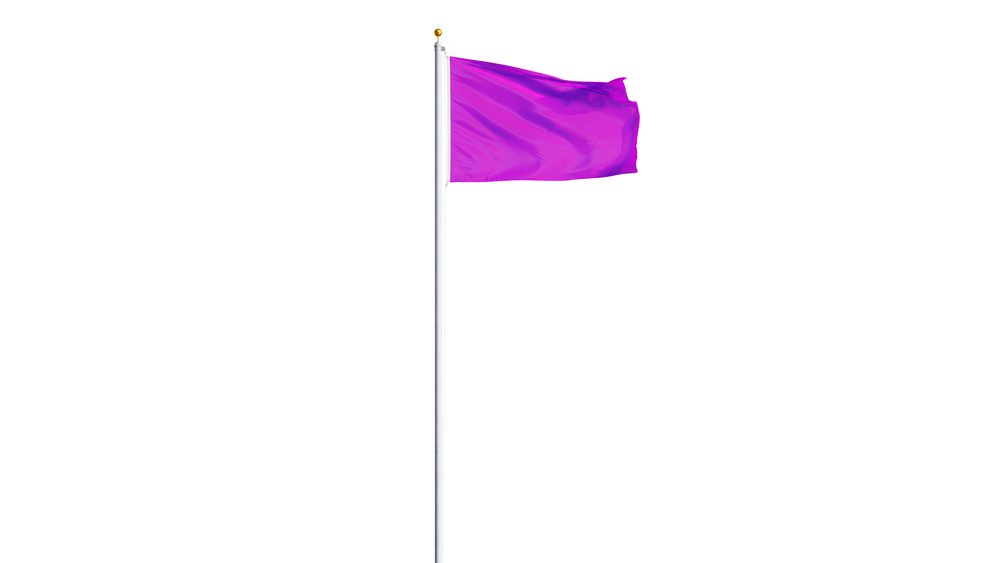 Photo Credit:
railway fx
Purple flags at the beach mean that dangerous marine life, such as man-o-wars, jellyfish, or stingrays, have been spotted in the area. So, if you see a purple flag flying, it's best to stay out of the water until it is lowered again.
It's also important to keep an eye out for posted signs or beachgoers who can provide more information. Always check with lifeguards first before entering the water if there is a purple flag flying. In addition, it's good beach etiquette to inform other beachgoers of the potential danger and help them to stay safe if you see them going into the water.
Red Over Yellow Flags
Photo Cedit:
johan kusuma
A red over yellow flag indicates a designated swimming area that is under close supervision by lifeguards, and swimming is permitted in this area. This flag serves as an important reminder to beachgoers that they should only swim in areas where it is safe to do so. If you ever see a red over yellow flag, you know it's okay to swim there - but always be sure to obey any rules or instructions the lifeguards give, as there may be hazardous conditions outside these boundaries.
Quartered Flags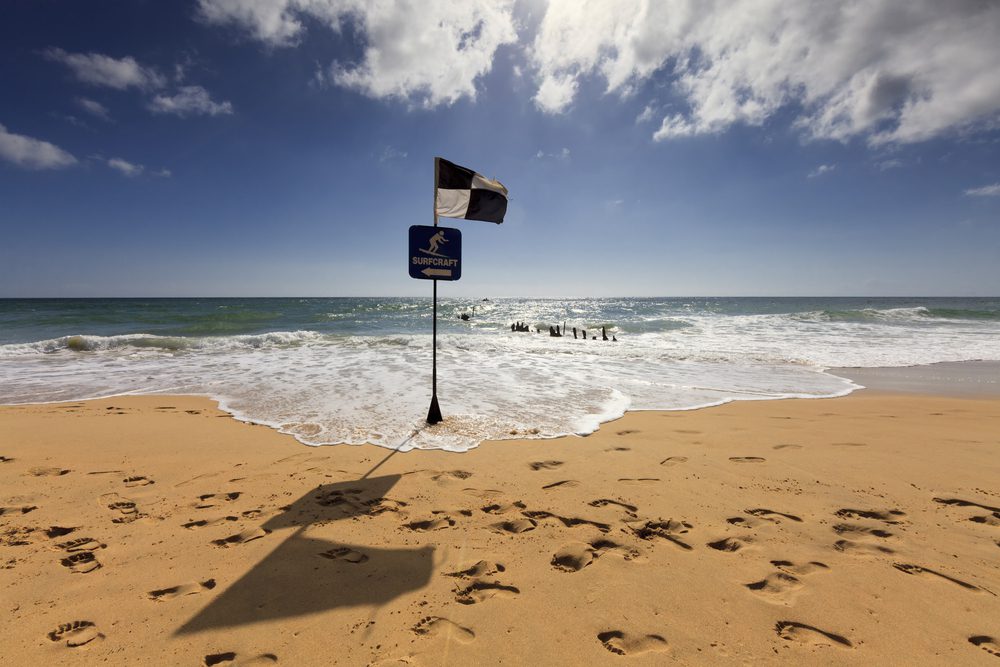 Photo Credit:
MelBrackstone
When you see a flag that is quartered at the beach, this is a sign that there is watercraft use in the area. This could mean anything from boats to jet skis and surfboards. While this isn't necessarily a bad thing, it's important to exercise caution when you're heading out into the water. Swimmers may not be permitted in areas designated with quartered flags. Check with the lifeguard on duty if you're unsure!
Black Ball FlagS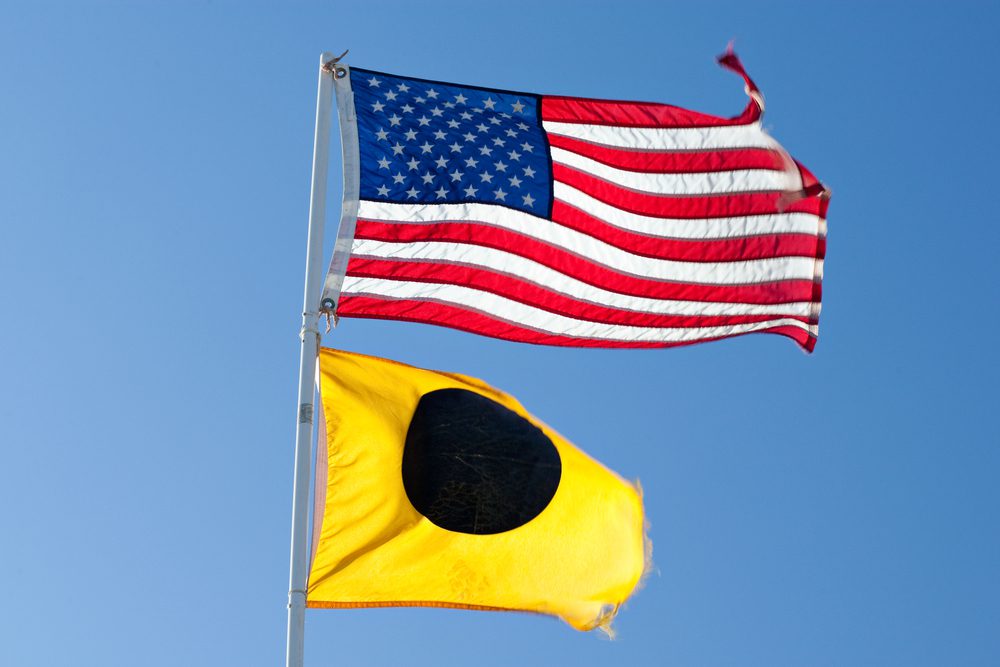 If you're at the beach and you see a black ball flag waving, it means that
watercraft use is prohibited
in the area. This could be due to several reasons, like rough waves or the presence of swimmers. It's important to respect this flag and not try to boat in this area; it's there for your safety!
Orange Windsock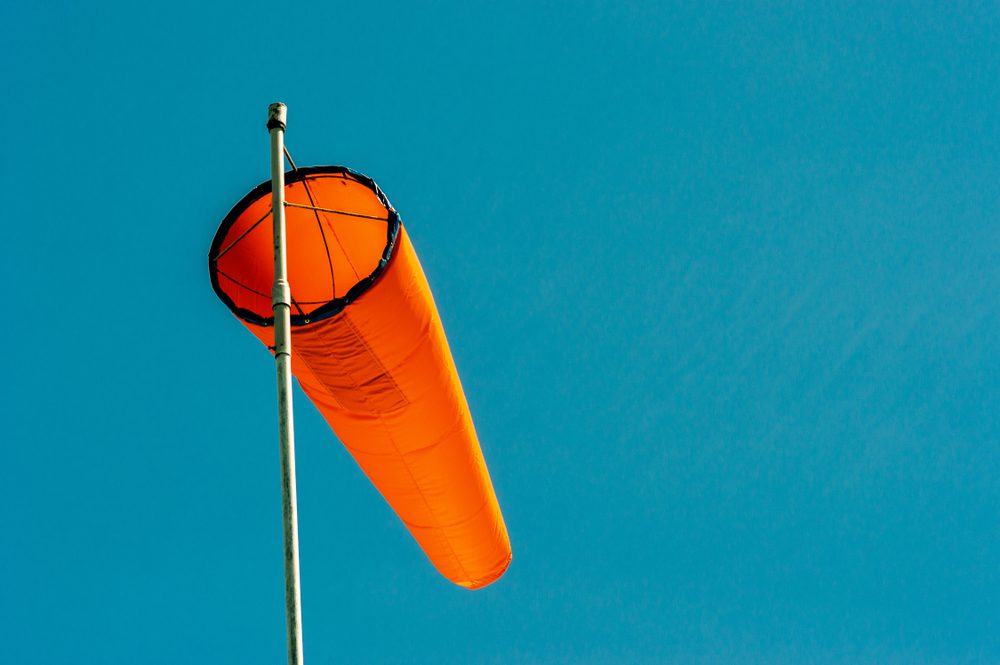 Photo Credit:
illuminaphoto
At the beach, you might have noticed those orange windsocks often flying in the air. These flags serve an important purpose: they indicate the direction of offshore winds and, in turn, signal that it is unsafe for inflatable objects to be used in the water. These flags can also be especially helpful for windsurfers and surfers!
Fun Beach Activities When Swimming is Not Permitted

By understanding what these beach flag colors mean, you can be sure to stay safe and have a great time at the beach. When beach flag colors indicate swimming is unsafe, there are still plenty of activities you can enjoy at the beach!
If conditions are not right to enter the water, here are some great alternate activities:
Sharpen your sandcastle-building skills.
Collecting shells along the shoreline.
Challenge fellow beachgoers to a game of Frisbee
Go bird-watching along the shoreline.
Fly a kite.
Get creative with a beach materials art project.
Explore Anna Mariaâs bike paths.
Head into town and do some shopping in Downtown Anna Maria.
Keep Your Eye on the Flag

Taking into consideration the beach flag's guidance can indeed be a game changer for your time at the beach. When it comes to days when flags denote that swimming isn't safe, it doesn't have to be all doom and gloom. There are plenty of other enjoyable activities that won't even leave you missing out on swimming! Book your luxury
vacation rental
on Anna Maria Island today!