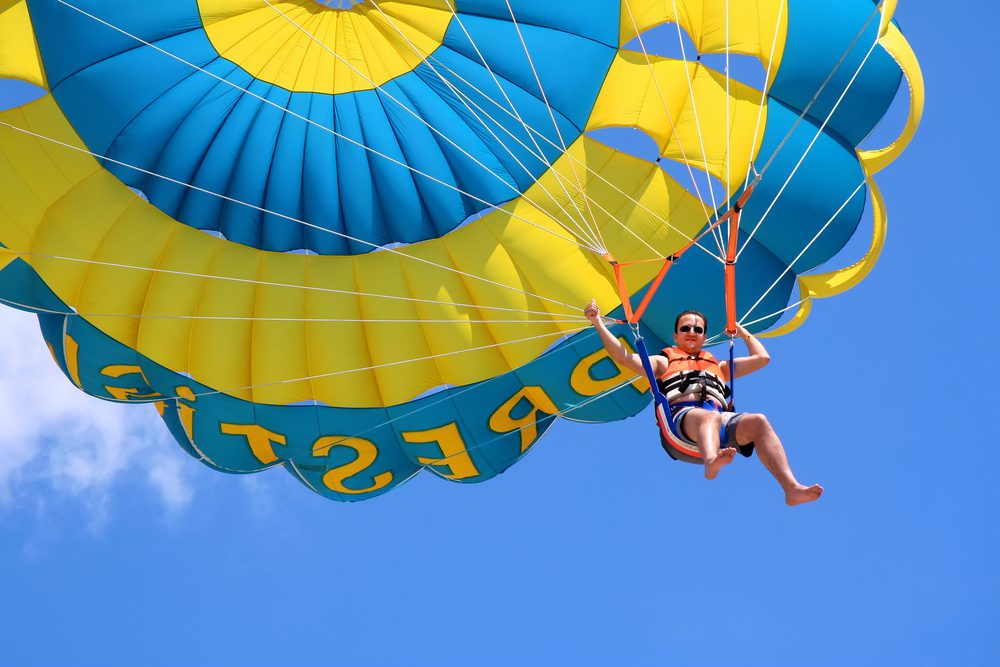 Parasailing offers a unique and unforgettable sightseeing experience of Anna Maria Island. From hundreds of feet in the air, parasailers can get a birds-eye view of Anna Maria Island's natural beauty and native wildlife.
In this activity, you can glide through the air while attached to an open parachute while being towed by a motorboat. Soar over gemlike blue-green waters while coasting past white-sand beaches. Catch a glimpse of all sorts of local wildlife, from manatees and turtles to fish and dolphins. Appropriate for any age, parasailing can be lots of fun for the whole family.
What to Expect Parasailing Anna Maria Island

Parasailing is generally very easy to learn. It's one of just a few watersports that don't require any swimming to enjoy. Anyone who can sit can parasail. However, it's worth noting that some parasail companies have restrictions on age and weight to ensure safety.
Every parasailing trip starts with a boat ride. Once the boat is out on the water, parasailing takeoffs can begin! After sitting on the launching pad, riders gently rise into the air. The FAA allows parasailers to fly up to 400 feet high, which provides an impressive view of Anna Maria Island. Most companies offer flight times of around 10 to 15 minutes. Parasailers can choose to fly solo or in tandem.

Once the flight is over, riders have two landing options. If they want, parasailers can stay completely dry by landing back on the boat directly. If they'd prefer to get wet, they can also make a splash by landing in the water.
Anna Maria Island Parasail Companies

Anna Maria Island has several companies offering parasailing adventures in the area. With years of experience and training, these brands, operated by master captains, can provide safe, unforgettable fun for the whole family.
Anna Maria Island Parasail

Since 2013,
Anna Maria Island Parasail
has offered parasailing from a specially designed parasail boat, the Ocean Pro 31. Many parasail companies merely equip existing boats with extra lines for parasailing. Not AMI Parasail. The Ocean Pro 31 was designed specifically for parasailing.
This eco-friendly parasail boat launches from the Keyes Marina in Holmes Beach, FL.AMI Parasail focuses on sharing breathtaking scenery and ocean wildlife. Additionally, although the company encourages tandem parasailing, solo parasailers are welcome too.
AMI Parasail guarantees at least 10 to 12 minutes of flight time when flying in tandem. While the regular rate is $89 per person, larger groups can receive discounts. The best way to make a reservation with AMI Parasail is by contacting them at 941-799-0982. For the best chance of booking, call one to two days in advance.
Bradenton Beach Parasailing
Bradenton Beach Parasailing
offers flights providing a birds-eye view of the beaches of Anna Maria Island, Longboat Key, and Lido Key. Parasailers can ride single, double, or triple. Starting in Anna Maria Island's clear coastal waters, Bradenton Beach Parasailing's specially-built parasail boat takes riders soaring over the Gulf of Mexico.
While flying over the clear waters, riders can see incredible Florida wildlife. These include dolphins, turtles, fish, manatees, and stingrays. Flights usually last about 10 minutes.Bradenton Beach Parasailing emphasizes safety above all else and has the track record to back it up. After 22 years of operation, they still have a perfect safety record.
While flights usually cost $89 per person, the company offers a $10 discount for booking online. The brand also promises to beat any local competitor's price. For more details, call 941-961-2065.
YOLO Adventures
YOLO Adventures
provides parasailing cruises over Anna Maria Island and the Gulf Coast in addition to boat tours, fishing charters, and snorkeling. Parasailers can catch gorgeous views of the coast and amazing sights of ocean wildlife in the island's crystal clear waters. While the whole trip from dock to dock takes about an hour, parasailers spend about 10 to 15 minutes in the air. Riders can go single, double, or triple.
YOLO Adventures offers several rates. Morning rates start at just $69 per person, while afternoon rates begin at $79 per person. Spectators are welcome, but there is a $35 fee. YOLO Adventures also offers discounted rates for booking tandem and triple parasail flights online.
It's also possible to book by phone by calling 941-778-5000.
A Unique Way to Explore Anna Maria Island

Parasailing around Anna Maria Island offers incredible opportunities for breathtaking views of Florida's coast and marine life. Several experienced companies offer unforgettable parasailing adventures on Anna Maria Island at competitive rates.

While enjoying your vacation rental on Anna Maria Island, this is a fun activity to add to your travel itinerary. Fun for the whole family, a day spent parasailing Anna Maria Island should be on any vacation itinerary.