Glistening like a sandy diamond in the sun off the Gulf of Mexico, Anna Maria Island offers a tranquil retreat from the hustle and bustle of everyday life. Known for its pristine beaches, diverse marine life, and laid-back lifestyle, this picturesque locale is a haven for relaxation seekers and adventure enthusiasts.
While there's plenty to explore on land, an essential part of the island's charm lies in its inviting waters. That's where Anna Maria Island boat tours come in. From exhilarating fishing charters and mesmerizing dolphin tours to luxurious sunset cruises and adventurous snorkeling expeditions, these tours present an extraordinary way to experience the island's marine beauty.
Come with us as we explore some of the best boat tours you can embark on during your stay on Anna Maria Island, promising unforgettable memories and captivating stories to bring back home, whether you're staying in Downtown Anna Maria, Holmes Beach, Bradenton Beach, or Longboat Key.
Why Take An Anna Maria Island Boat Tour?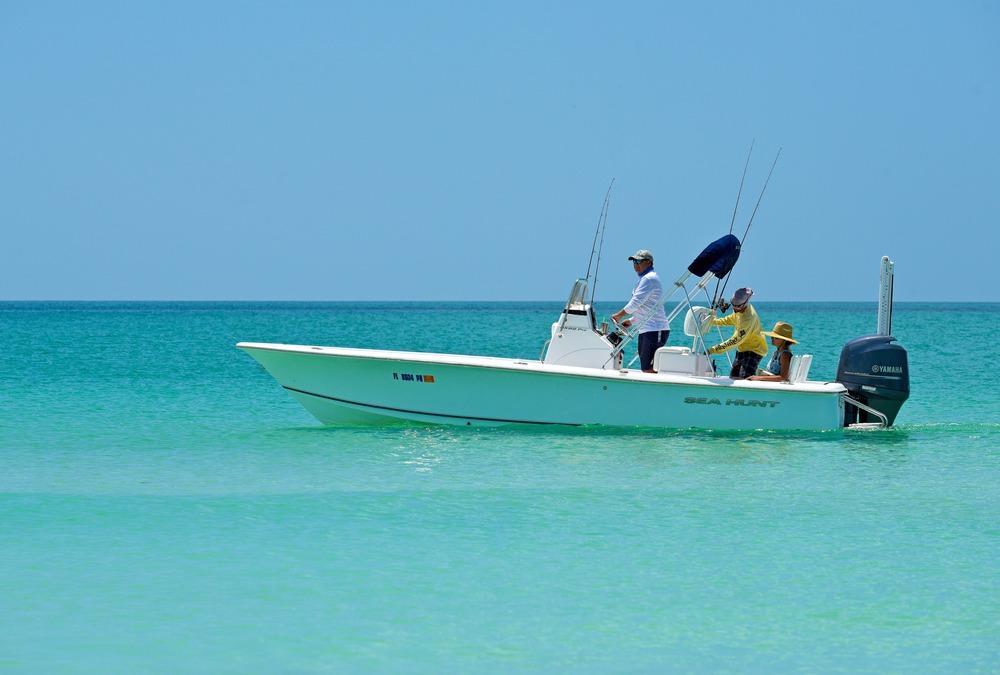 Photo Credit: Mark Winfrey
Embarking on a boat tour while vacationing on Anna Maria Island offers a distinct perspective of the locale's unique charm. The panoramic views from the water present an unmatched spectacle, exposing a different side of the island's picturesque coastline,
White sand beaches, quaint shoreline cottages, and lush tropical vegetation create a visual narrative of the island's allure waiting to be explored.
Get Close to Local Marine Life
One of the key highlights of these boat rides is the opportunity they offer to witness the island's diverse marine life. Dolphins frolicking in the water, manatees leisurely swimming in their habitats, and an occasional sighting of elusive sea turtles are common experiences. Bird enthusiasts will also delight in the myriad of native and migratory birds like pelicans, ospreys, and herons dotting the skyline.
Cast a Line
Anna Maria Island's boat tours are tailored to cater to a wide range of interests. Anglers can relish the thrill of fishing trips with customized itineraries.
Sunset Cruises
Do you have a special occasion? Guests in AMI can indulge in romantic sunset cruises complete with fine wine and gourmet meals or family-friendly sightseeing cruises.
Snorkeling Adventures
For those inclined towards adventure, snorkeling tours offer a vibrant glimpse into the underwater world.
Pro Tip: Some companies offer a hands-off alternative to boat rentals for those already comfortable on the water, giving a more intimate day out but requiring experience and special licensing.
Below are some of the best tours of all kinds around AMI.
Exhilarating Fishing Charters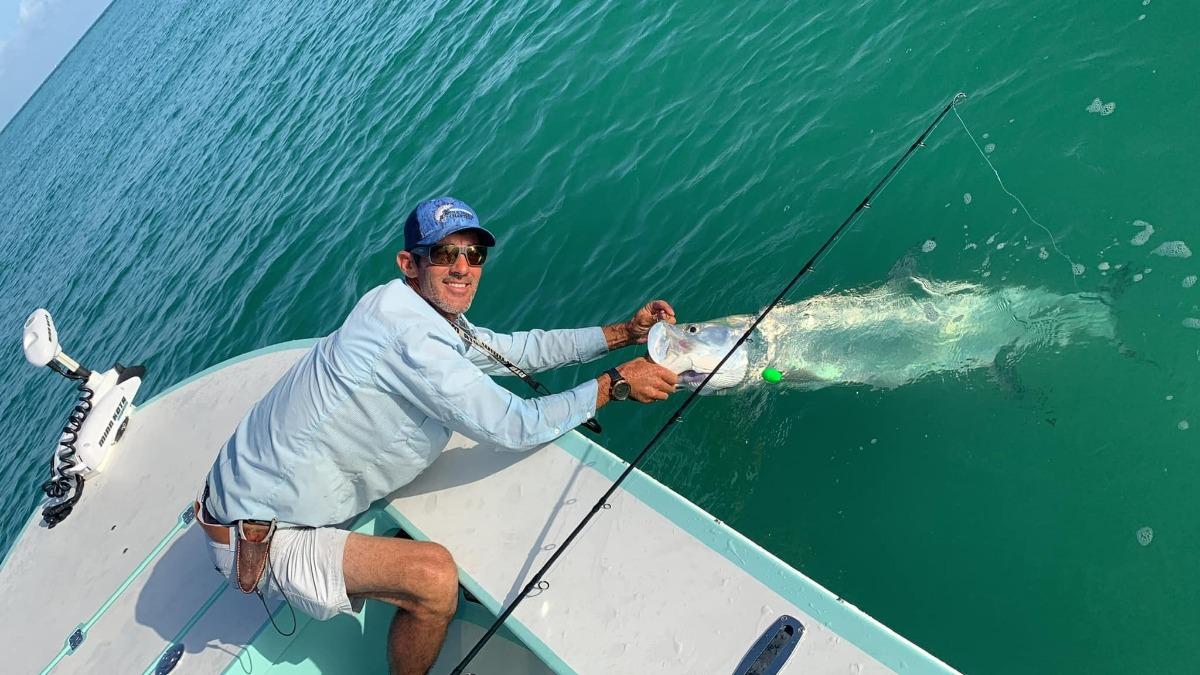 Photo Credit: Anna Maria Charters

Fishing is a time-honored tradition in Florida, and with the vast diversity of fish in the surrounding waters of Anna Maria Island, it's an angler's paradise.
ANNA MARIA CHARTERS LLC
Type of Tour: Customizable fishing charters.
Starting at $299 for two hours, Anna Maria Charters LLC offers customizable fishing trips that cater to your specific interests, skill levels, and time you'd like to spend on the boat. Whether you're a seasoned angler or a novice, these tours promise a thrilling experience.
Your charter includes a professional and friendly captain, fishing gear, bait, and a fishing license. Not only do they help you navigate the waters, but they also provide insights about the best fishing spots and techniques.
CAPTAIN MIKE'S ANNA MARIA ISLAND TOURS
Experience a half or full day of fishing excitement with Capt. Mike's Fishing Charters. Their different options for angling cover some of the richest fishing grounds in the area. This operation also has a variety of other tours to suit all tastes, from spotting marine life to taking you to the best shelling spots!
Captain Mike is renowned for his 40 years of local knowledge, expertise, and dedication to ensuring a memorable fishing experience. The price includes a licensed captain, fishing gear, bait, and a fishing license.
MESMERIZING DOLPHIN TOURS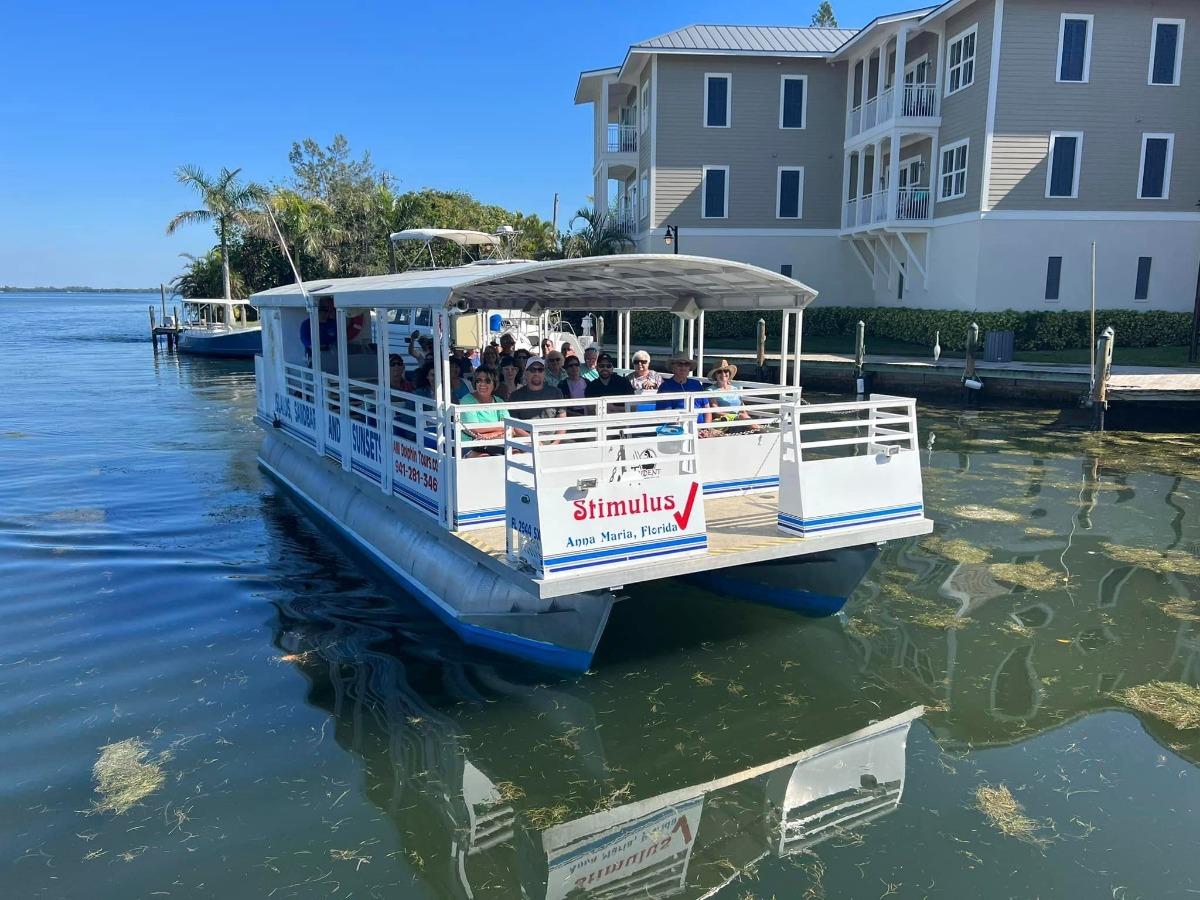 Photo Credit: Anna Maria Island Dolphin Tours

One of the most magical experiences on Anna Maria Island is joining a dolphin tour. Witnessing these playful marine creatures in their natural habitat can be a truly unforgettable encounter.
ANNA MARIA ISLAND DOLPHIN TOURS
Anna Maria Island Dolphin Tours offers a unique opportunity to see dolphins in their natural environment. Their tours take you around the island's waters, where pods of dolphins are frequently seen playing, feeding, and jumping out of the water.
The tour guides are knowledgeable about dolphins, the local area, and sea life, making an all in one experience.
ANNA MARIA CHARTERS LLC
For those seeking a more exclusive experience, Anna Maria Charters LLC offers a Private Dolphin Sandbar Tour, with prices beginning at $399 for a three-hour tour for up to six people.
This private tour not only gives you a chance to see dolphins up close but also allows you to stop at local sandbars for swimming and shell hunting. With their experienced guides, you'll learn about dolphin behaviors and their essential role in the ecosystem during your dolphin-watching excursion.
LUXURIOUS SUNSET TOURS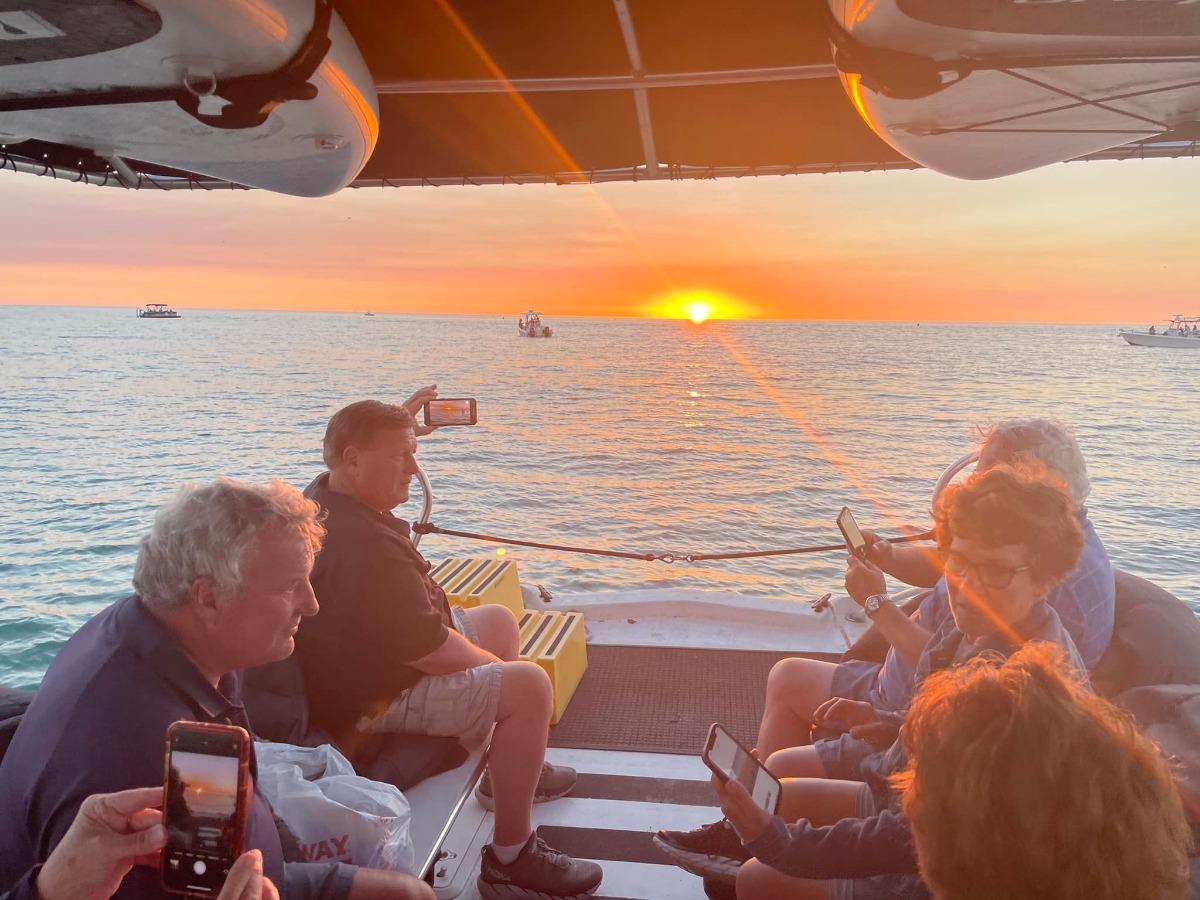 Photo Credit: Island Time Boat Tours llc

The natural beauty of Anna Maria Island shines brightest at the start of a beautiful sunset, painting the sky with vibrant hues. To truly appreciate this spectacle, a sunset boat tour is a must.
ISLAND TIME BOAT TOURS
Website: islandtimeboattoursllc.com
Type of Tour: All-inclusive tours with watersports equipment and BYO food and beverage sunset tours.
Offering two-hour tours, Island Time Boat Tours offers a captivating journey across the beautiful waters. Their Sunset Boat Tour is a unique experience, providing breathtaking island views as the sun descends. A perfect blend of comfort and awe-inspiring sights, this tour promises an evening of serene beauty, peaceful relaxation, and potential wildlife sightings.
ISLAND PEARL
The Private Sunset Tour by Island Pearl, starting at $1,000 (for up to 20 people), offers a premium and tailored experience. Their spacious and comfortable boat, combined with the stunning views of the sun setting over the Gulf of Mexico, provides a unique and intimate experience, perfect for you and a loved one.
The crew goes above and beyond to cater to your comfort, making this tour perfect for those seeking a more luxurious and romantic experience.
ADVENTUROUS SNORKELING BOAT TOURS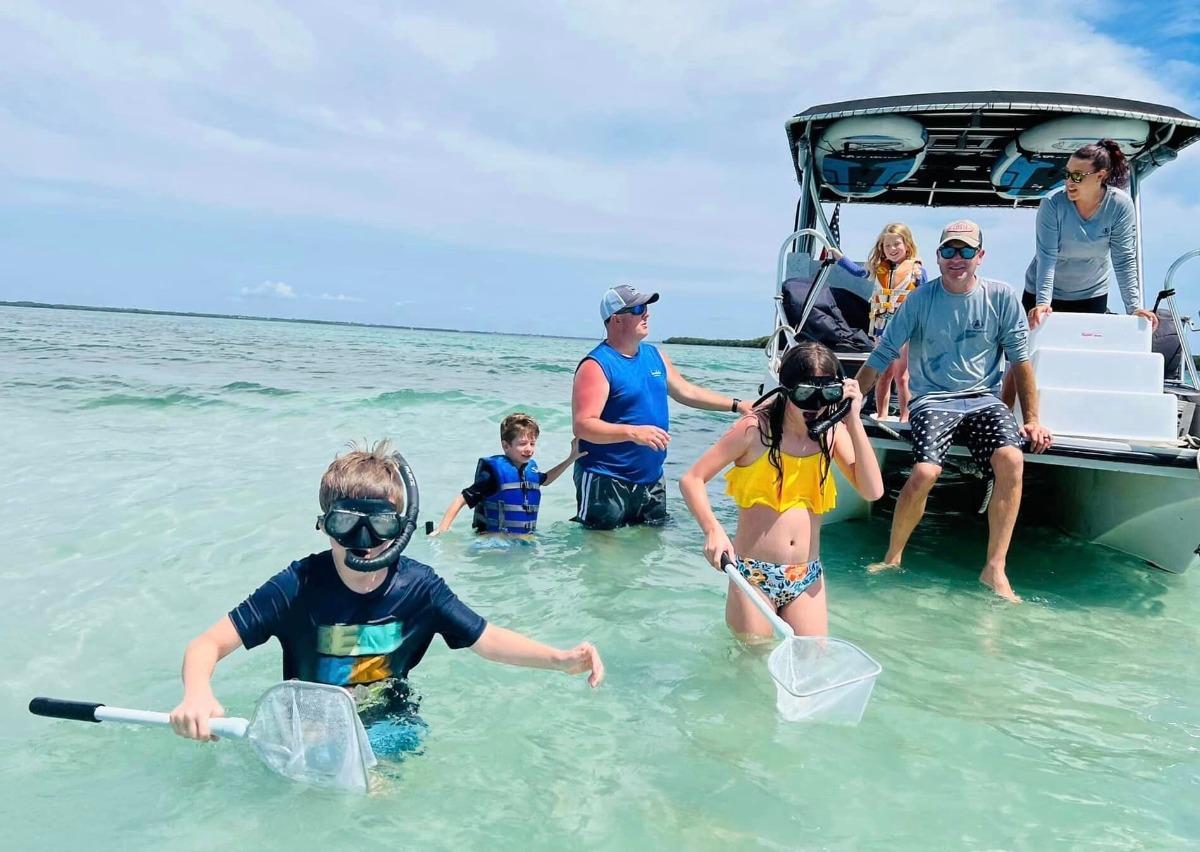 Photo Credit: Island Time Boat Tours llc

A snorkeling tour is perfect for those seeking a deeper connection with Anna Maria Island's vibrant marine life.
ISLAND TIME BOAT TOURS
Island Time Boat Tours offers a unique snorkeling experience starting at around $425 for three hours. The tour takes you to some of the best snorkeling spots around the island, revealing a world of vibrant coral, curious fish, and other captivating marine life.
PASSAGE KEY DOLPHIN TOURS
The Snorkeling AMI Tour by Passage Key Dolphin Tours, starting at around $550 for a four-hour tour, is a fascinating adventure that combines the best of two worlds – snorkeling and dolphin viewing. You'll snorkel at select spots known for their abundant marine life and visit areas where dolphins are commonly seen.
UNIQUE BOAT TOUR OPTIONS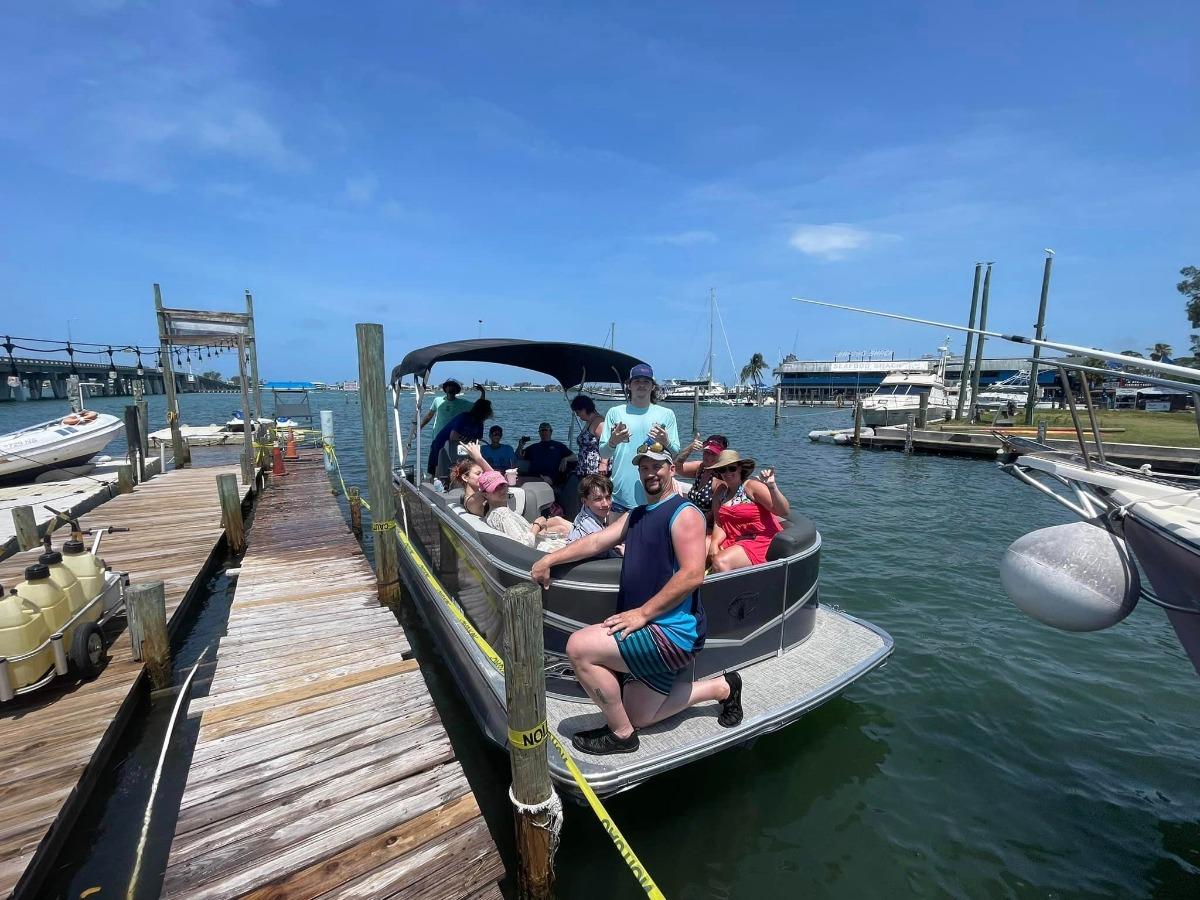 Photo Credit: Island Hoppers Boat Tours

Several other exciting options are available for those looking to add variety to their sightseeing tour adventures on Anna Maria Island.
ISLAND HOPPERS BOAT TOURS
Starting at $295, the Pub Crawl Boat Tour by Island Hoppers Boat Tours offers a fun and unique way to explore the island's local watering holes. This tour takes you to some of the best beachside pubs on the island, offering a great opportunity to enjoy local beverages and meet fellow travelers. If you're looking for a social, fun-filled evening, this is the perfect tour for you.
ISLAND TIME BOAT TOURS
Priced at $325, the Bradenton River Tour by Island Time Boat Tours is a captivating trip up the beautiful Manatee River. This tour is perfect for nature lovers as it offers opportunities to see local wildlife, including manatees, dolphins, and various birds.
The tour also features commentary about the local history and ecology, adding an educational element to your excursion.
CAPTAIN FIN'S
Captain Fin's offers an unforgettable trip to the historic Egmont Key. This tour includes exploring the island's lighthouse, walking the nature trails, and even snorkeling around the sunken ruins of Fort Dade.
The crew's expertise and knowledge about the key's history and marine life add depth to the adventure, making it an enlightening and enjoyable experience. Prices are available upon inquiry.
BOOK A BOAT TOUR ON YOUR NEXT AMI GETAWAY
A boat tour on Anna Maria Island is more than a mere journey on the water. It's an interactive exploration that uncovers the island's identity and offers an unforgettable voyage of discovery.
So, as you plan your itinerary while staying at an Anna Maria Island Vacation Rental, consider carving out time for this immersive experience. Let the island's waters reveal their best-kept secrets to you as you form memories to last a lifetime.