Florida is a state known for its warm weather and beaches. This makes it a great state to spend time outside. In particular, there are many islands around Florida that are incredible to discover and explore. One of the best is Anna Maria Island, on the Gulf Coast south of Tampa Bay.
Anna Maria Island has a gorgeous coastline, fascinating history, and some of the best bike paths in the country to enjoy. Locals know all the best Anna Maria Island bike trails, but tourists need help finding the best trails.
Coquina Beach Bike Path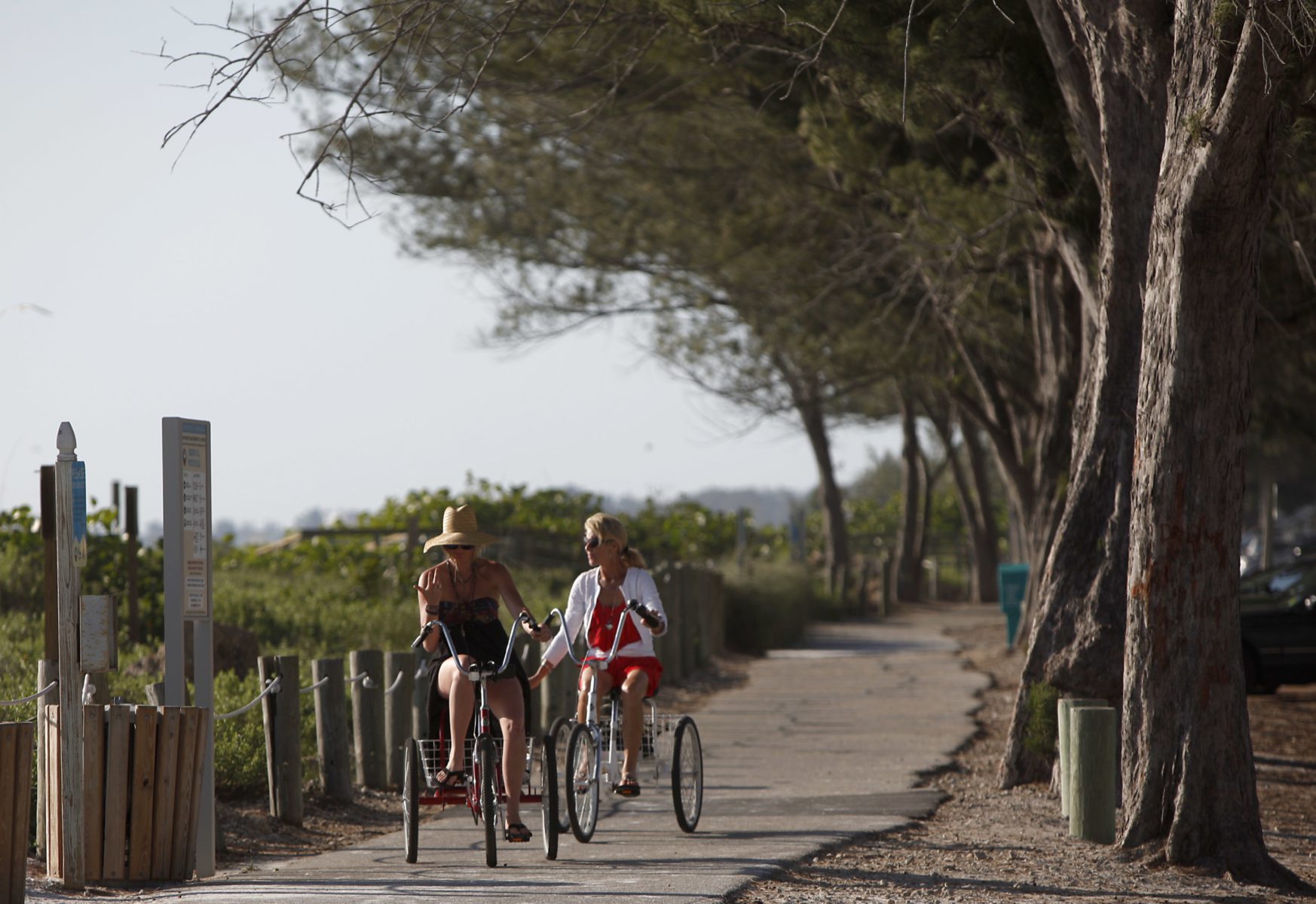 Photo Credit:
VISIT FLORIDA via Flickr CC2.0
If you're looking for a great bike path on the beach, you should check out the Coquina Bike Path. With turquoise-blue waters, you can explore the edge of Anna Maria Island on foot or by bike here. The bike trail itself is five miles long, and it's well worth taking for the full five miles. Not only do you get to enjoy the scenic trail by bike, but once you get through it you're in the heart of Bradenton. Here you can go on to explore the local shops, restaurants, and other local offerings.
Further Information on Coquina Beach

Located in Bradenton Beach, Coquina is open to guests from sunrise to midnight on most days. Parking is free to guests, and there are extensive amenities offered. Those amenities, among others, include cabanas, concessions, grills, picnic tables, bathrooms, and, of course, bike racks.
With this comes a few different regulations, though. Alcohol, for one, isn't allowed on the beach. Neither are pets, fireworks, bonfires, or anything that could disturb the local wildlife.
Coquina Beach is also known for its sea turtles. From May 1st through October 31st there will be turtles nesting on the beach. It's a remarkable thing to see, but it's also something that needs to be respected. Don't approach the turtles or nests. Don't use lights on the beach, and avoid disturbing them in any way.
Lake Manatee State Park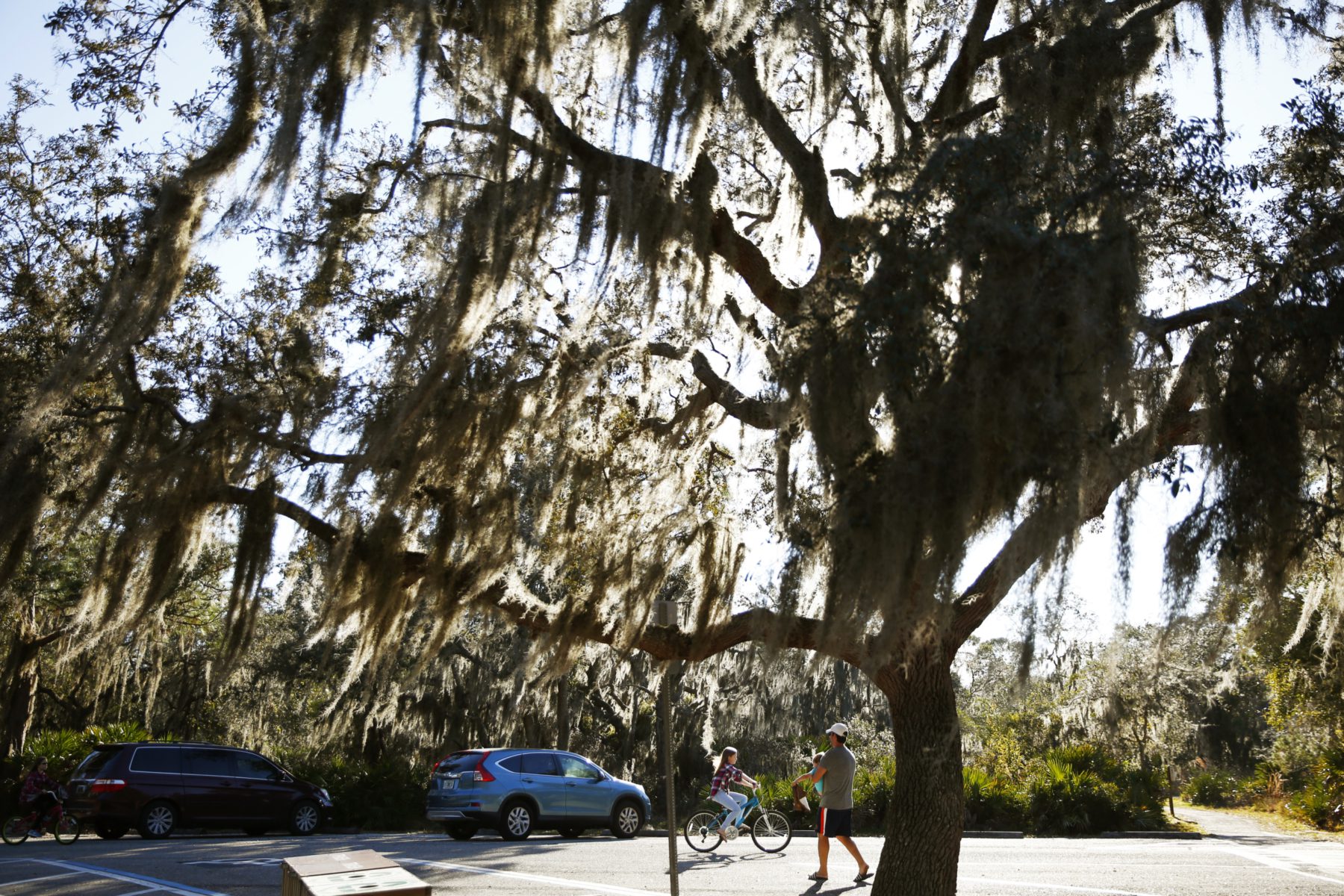 Photo Credit:
VISIT FLORIDA via Flickr CC2.0
As the name implies, Lake Manatee State Park is a state park in Bradenton, on Anna Maria Island. Extending three miles along the shore of Lake Manatee, this park is an amazing place to come to ride your bike. Visitors can swim, fish, and boat in the lake, but there are also great paths to go biking. Within the wilderness of the park are about 2.5 miles of paved path and just under 2.5 miles of unpaved path, depending on what you're looking for in your biking.
Florida State Parks

State parks in Florida are remarkable and incredible places to spend time with your family. However, as they're run by the state, there are a few rules and expectations that you may not see everywhere else. For instance, there is a small fee to enter the park, $5 for a vehicle or $2 for cyclists.
However, there are strict hours that you're allowed in the parks, and they do enforce capacity limits. There should also be rentals, including bike rentals, available for guests.
Robinson Preserve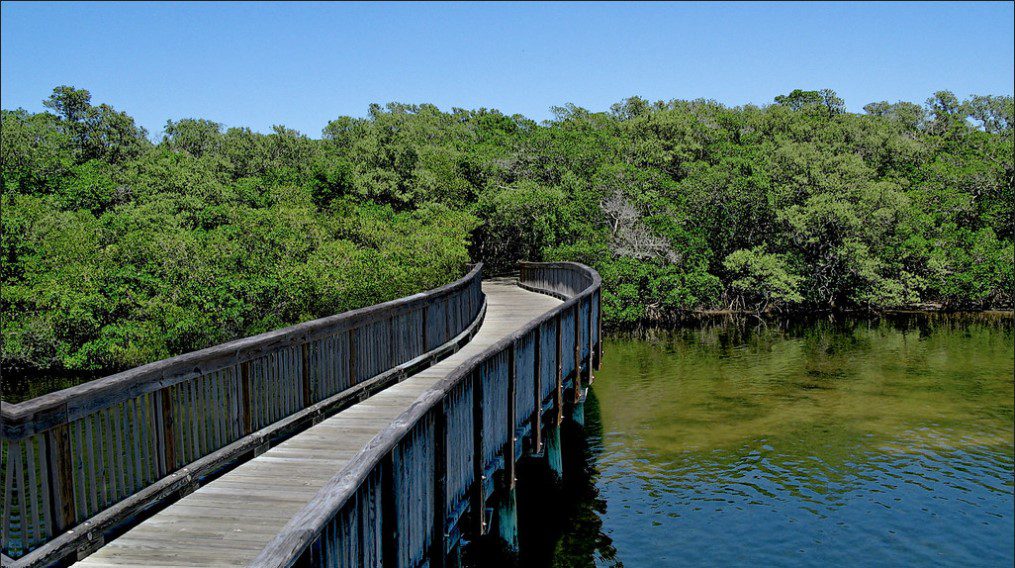 Photo Credit:
Tom via Flickr CC2.0
The first thing that you need to know about the preserve is that it's massive, sitting at 487 acres. The preserve was also once farmland, before being reclaimed as an amazing nature preserve that highlights both Florida wetlands and the coastline. With 7.5 miles of bike paths, making it one of the longest biking paths on Anna Maria Island, it's a can't miss stop.
The preserve's trail is paved, for the most part. It does have sections of trail that are boardwalk and sand. One of the best parts of this path is the observation tower that you can climb for views of historic Fort De Soto.
What is Fort De Soto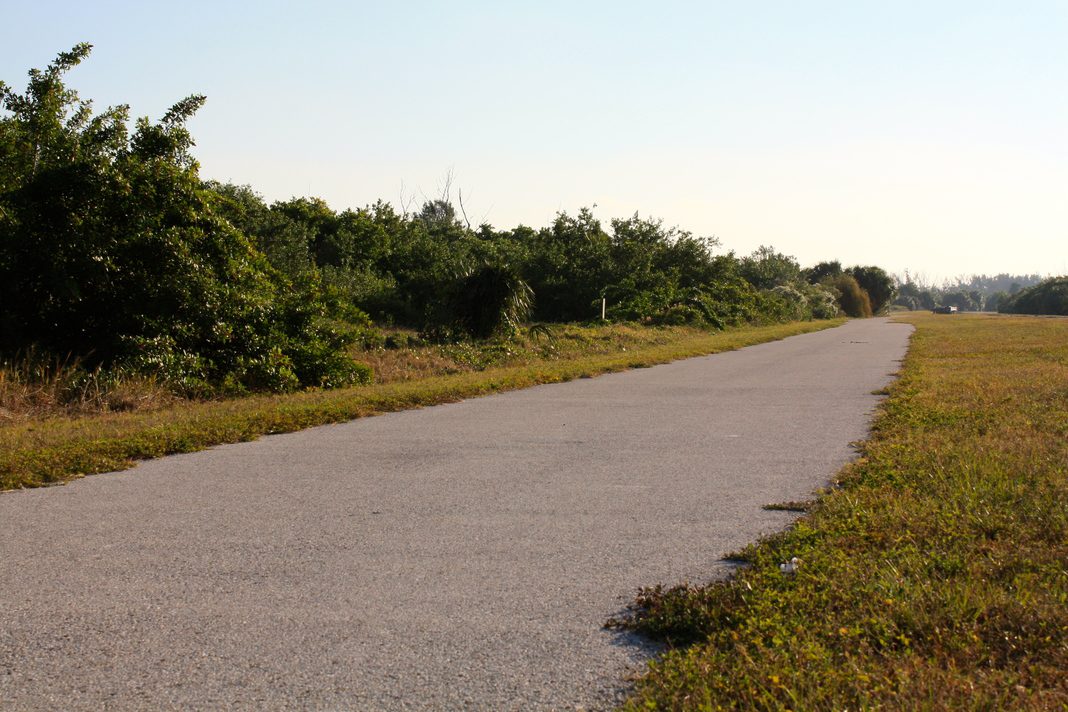 Photo Credit:
Casey via Flickr CC2.0
At the edge of St. Petersburg is Fort De Soto, a string of five keys that were historically used as military fortifications. Now accessible via toll road, they offer beaches, hiking, cycling, and other activities. The Spanish landed here in 1529, and the U.S. military used it as a base as early as 1849. Today, there are still parts of the old fort remaining, but tourists enjoy it for bird watching.
Further Information on Robinson Preserve

Located in Northwest Bradenton, the preserve is open daily from sunrise to sunset. However, the Valentine House visitor center has limited hours. So, make sure that you check those before you visit. Along with cycling, there is room to camp, fish, and kayak throughout the preserve.
Dogs are allowed here, and in a dog-friendly state like Florida, you can expect to see plenty of them. Alcohol, littering, drones, and anything that could damage the environment of the preserve are prohibited.
City of Bradenton Beach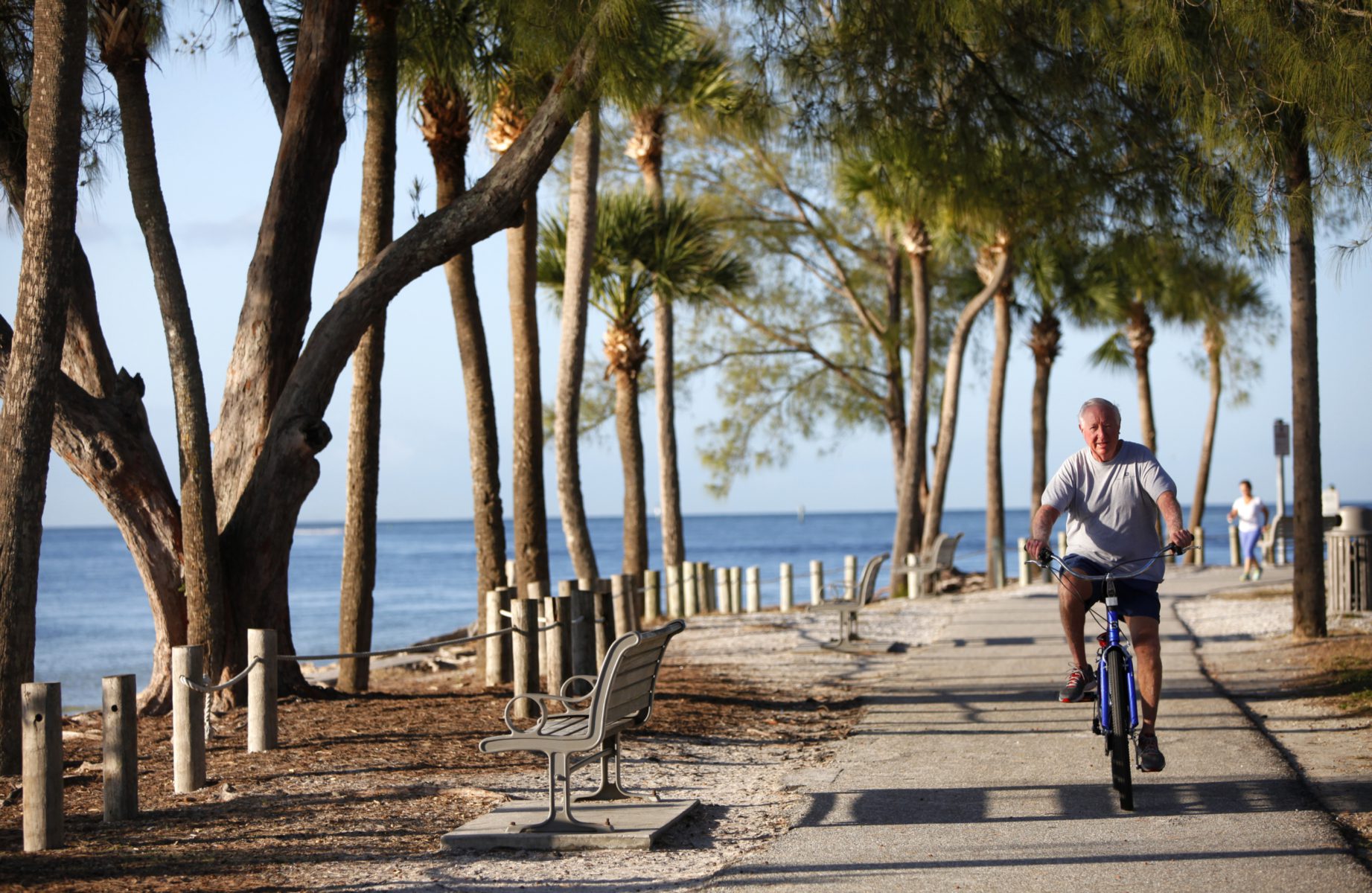 Photo Credit:
VISIT FLORIDA via Flickr CC2.0
Bradenton Beach itself has plenty of bike paths to choose from. This is on the southern end of Anna Maria Island, and the paths in Bradenton offer views of the city itself, as well as parks and beaches that the area has to offer.
In total, there are about five miles worth of bike paths to explore here, and it's worth remembering that both cyclists and pedestrians can use them. It's a great path to ride during the sunset, where you can see spectacular views over the Gulf of Mexico. You can also ride to Longboat Key, a great destination, from the Bradenton bike paths if you're interested.
City of Anna Maria Bike Paths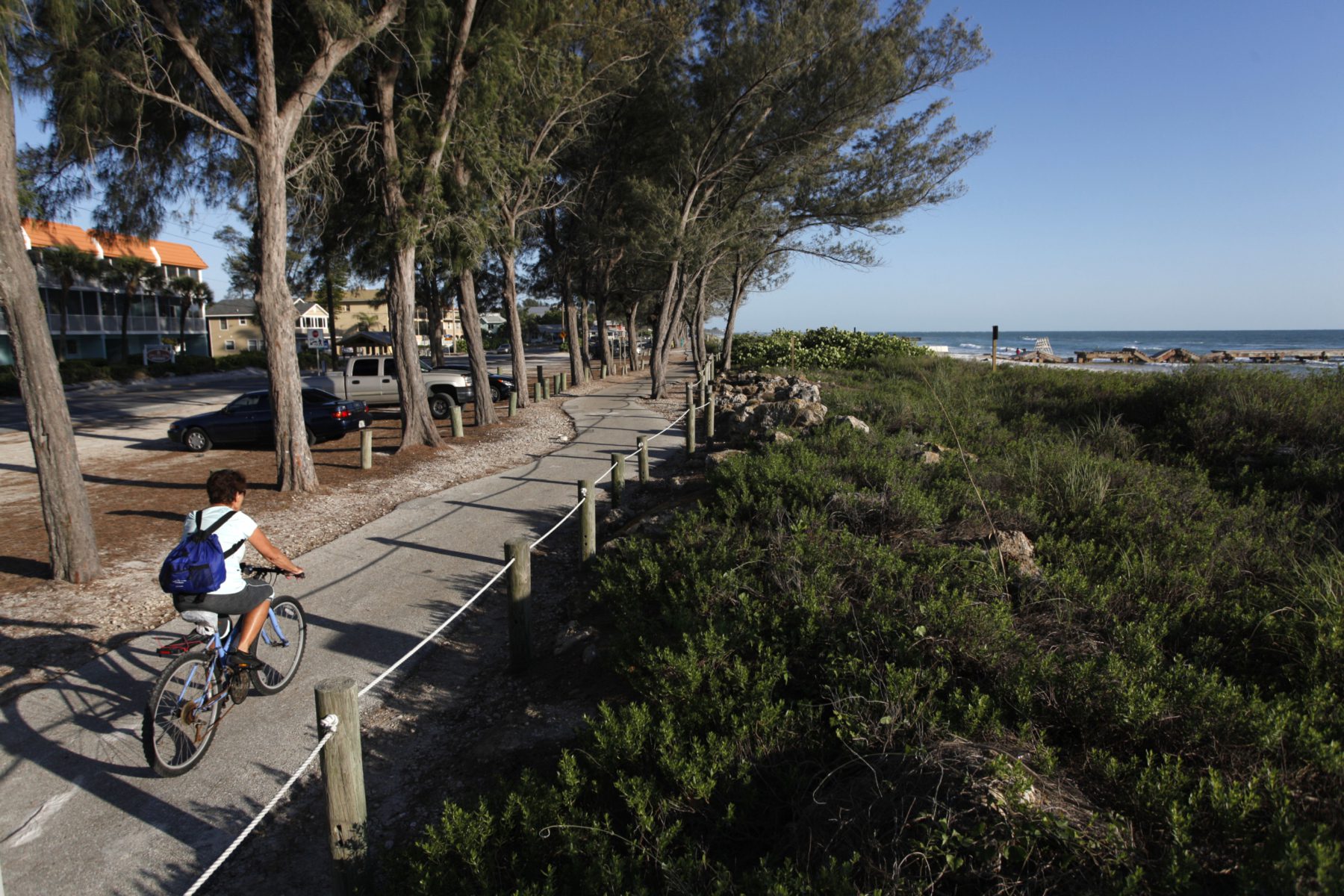 Photo Credit:
VISIT FLORIDA via Flickr CC2.0
The city of Anna Maria has some of the best bike paths on the entire island. Starting in Anna Maria, you will find it fairly easy to navigate the entire island from the bike paths that lead you to Bradenton and Holmes. These paths will also give you picturesque views of the city, and reclaimed nature.
Going to the beach in the evening is a great way to enjoy a sunset before or after dinner, which you can bike to in the historic city. The city, as a whole, is designed with bikers in mind. This makes it easy to navigate, and convenient throughout.
What Makes Biking on Anna Maria Island Unique

As with anywhere in Florida, you can bike around Anna Maria Island year-round. These bike paths offer a lot of the classic joys of a Florida bike path, including a blend of nature and newer developments.
However, Anna Maria Island also offers its own unique offerings. This starts with the fact that it is an island, meaning you're in a self-contained environment. Secondly, is the local effort to preserve both history and nature, which unfortunately isn't seen throughout the world. In fact, there are regulations on what types of buildings and businesses can be built or open on Anna Maria Island, which help to maintain its charm.
Yes, you can see a perfect sunset on white-sand beaches, but you can also see historic sites, like the Anna Maria City Jail.Biking on Anna Maria Island isn't supposed to be an intensive trip. It's supposed to be relaxing, so make sure that you don't go too fast by anything. Enjoy the old Spanish architecture, dating back to the time of Cortez, the old Florida history, and the gorgeous natural ecosystems at your own pace.
If you don't want to drive to a particular bike path, or the ride might be too long for you on your own, then you can always use the local island trolley, It's free, has a bike rack, and will take you to most of the best local attractions. The island trolley is one of the best and most quaint public transportation in the entire state.
Things to Remember Before Biking on Anna Maria Island

Anna Maria Island isn't just one town. Rather, there are three cities on the island, Holmes Beach, Bradenton Beach, and Anna Maria. This can make directions and addresses slightly confusing if you're not familiar with the area. So, make sure that you pay close attention.
You can also find more rentals than just bikes throughout the island. So, you can do just about anything you want.
Interestingly enough, despite being the third city on Anna Maria Island, Holmes Beach has no official bike paths. There are bike lanes on Gulf Drive, which bicyclists love to go for a bike ride along, but this is a road shared with vehicles. It's a bike-friendly city, just not one with trails.
So, if you are going to go down this scenic road, make sure to look out for cars around you. The laws for cyclists are the same as they are anywhere in Florida. You need to follow traffic laws, ride on the right side of the road, and use hand signals to tell others on the road that you're turning. For anyone under the age of 16, helmets are required by law in the entire state of Florida.