Anna Maria Island, Florida, offers plenty of sun and fun, but what about food? Anna Maria Island, or AMI, delivers when you're in the mood for some pizza. Pizza lovers are in for a real treat while visiting this beautiful slice of paradise.
Anna Maria City, Holmes Beach, and Bradenton Beach offer something for every taste, from a slice of pepperoni to gluten-free options. Try a taco pizza or a calzone and have some of the best pizza Anna Maria Island has to offer.
With so many options, it can be hard to pick one. Anna Maria Island restaurants offer some of the best pizza and Italian food around. You just need to know where to look. We've broken them down by area from North to South.
Pizza Social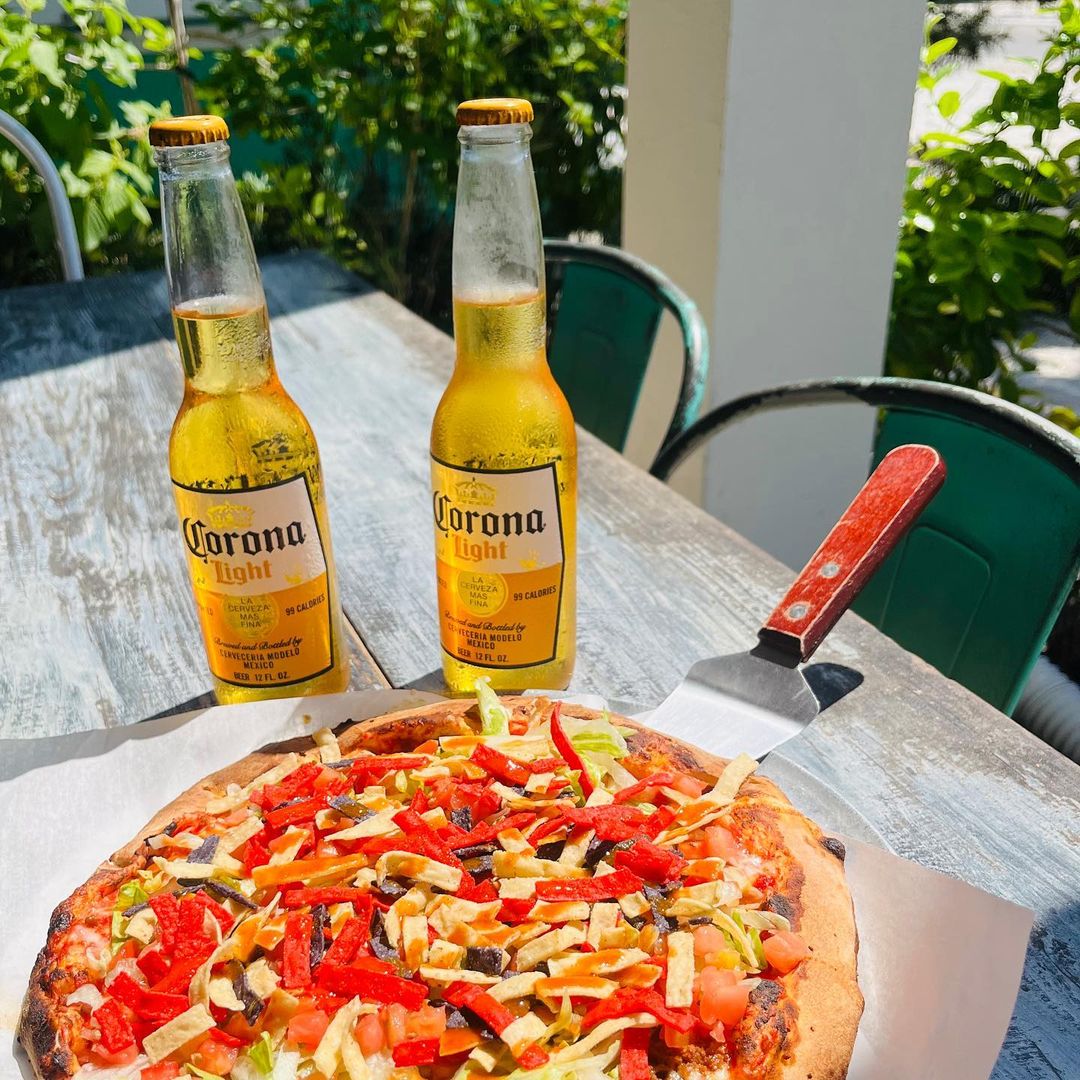 Photo Credit Via Instagram @
pizza_social_ami
308 Pine Ave, Anna Maria, FL
(941) 251-4070
Pizza Social
is well known for creating delicious pizzas and fresh salads. They take the time to ensure everything is perfect, from the handmade dough to the freshest ingredients. Pizza Social is worth the visit. Gluten-free options are available, and they fire everything to perfection in their imported pizza ovens.
Pizza could be rushed and ready in minutes, or you can get the delicious, hand prepared, high quality, fresh pizza that Pizza Social creates day after day. While it takes a few minutes longer to get your pie, just know they've created it to perfection from the dough up. Be sure to try the garlic Parmesan nuggets. They're worth the trip by themselves!

Slim's Place
9701 Gulf Drive, Anna Maria, FL

941-567-4056
Slim's Place
was voted the top sports bar on Anna Maria Island. Come by to watch a game and have some great Philly food. Thin crust pizzas, Philly cheesesteaks, and a fun, friendly atmosphere are just a few of the reasons to head to Slim's Place. The dinner menu offers must-have dishes like the meatball Parmesan sandwich and the lobster mac-n-cheese. Fish tacos match perfectly with some of the best tater tots you've ever had.
The Feast Restaurant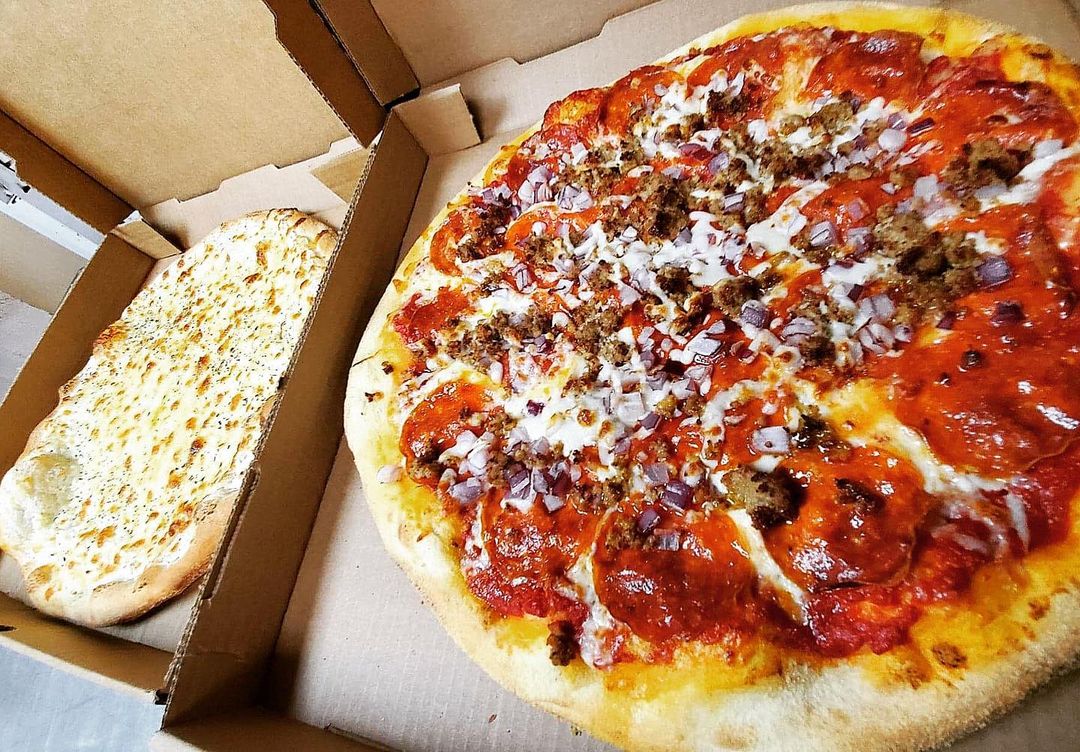 Photo Credit Via Instagram @
feast_ami
5406 Marina Dr, Holmes Beach, FL
941-778-5092
The Feast Restaurant
brings a mixture of modern, innovative Italian, and rustic gourmet pizza. Casual fine dining with the freshest ingredients will be sure to please everyone. Seafood, steak, pasta, and incredible desserts are on order, along with some of the best pizza around. Everything offered is delectable, with the pizza being a true standout. There's something for everyone on the menu. The burgers are exquisite, and the portions will mean leftovers for most dishes.
Vinny's Italian Kitchen AMI
AMI. Plaza, 5337 Gulf Dr (Suite 500), Holmes Beach, FL
941-896-9754
Vinnyâs Italian Kitchen AMI
offers some of the best Italian on the island. Thin crust pizzas created in the traditional, old-world Italian fashion are available, and the chef provides a gluten-free option. If gluten-free is for you, try the GF cheese lasagna. Authentic Italian dishes are served in a warm, welcoming restaurant. You can also get them as carry-out and eat at your Anna Maria Island vacation rental to enjoy with the family. Be sure to check out the onsite market and Italian deli. Close to Anna Maria and Holmes Beach.
Solo's Pizza
3224 East Bay Drive, Holmes Beach, FL
941-778-8118
Soloâs
is the perfect spot for the whole crowd. They serve up delicious fresh pizza along with burgers and more. Try one of the fantastic subs or an order of wings while hanging out beachside. They offer great deals and are open for dine-in and carry-out.
Oma's Pizza and Italian Restaurant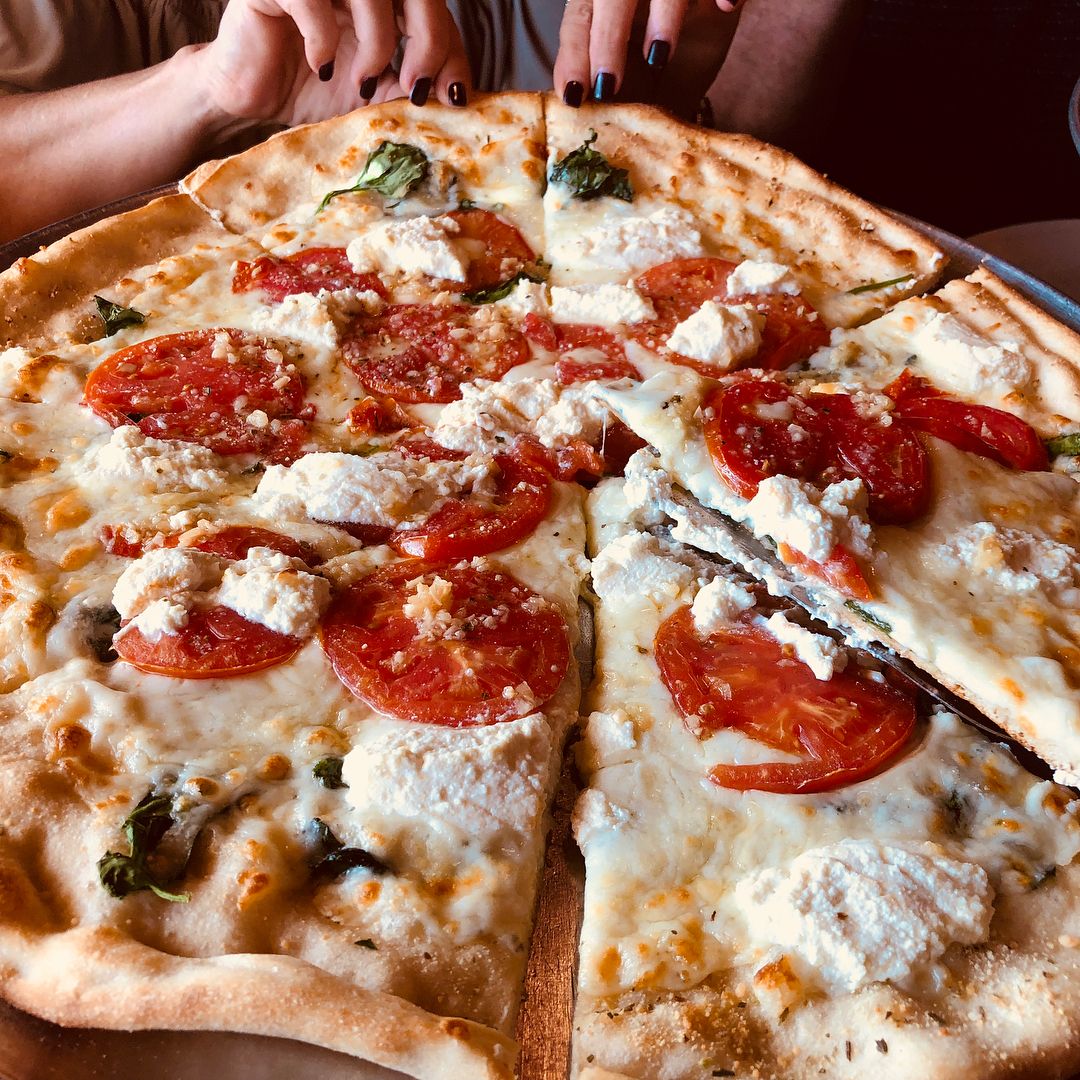 Photo Credit Via Instagram
@alesha.ramsey
201 Gulf Drive, Bradenton Beach, FL
941-778-0771
Omaâs Pizza and Italian Restaurant
has the pies you're searching for. They also offer a delicious Italian menu along with calzones. Try the Sicilian Oma Special, a combination pizza with pepperoni, sausage, ham, onions, green pepper, mushroom, and black olives. You're sure to eat one too many!Try one of the desserts like the indulgent tiramisu or the chocolate-dipped cannoli. You really can't go wrong. If pasta is on your mind, this pizza restaurant delivers the goods. With great accessibility and quick delivery, this place is perfect for you and yours. Open late with an inviting, laid-back atmosphere with delivery and takeout. Oma's is sure to please.
Danny's Pizzeria
7220 Manatee Ave W, Bradenton, FL
941-795-1111
Dannyâs Pizzeria
brings New York-style pizza to AMI. This family-run restaurant also offers dinner-style meals like chicken parmigiana, sausage and peppers, and great pizza by the slice. Stop in for a fresh salad and some pasta.The word is out on Danny's Pizzeria. They offer tasty bites for a reasonable price. If you're feeling adventurous, get the taco pizza. You'll thank us later.Whether feeding the family or just looking for a quick bite, Danny's Pizzeria has you covered. Carry-out and delivery are available.
Dominos Pizza
5606 Marina Dr, Holmes Beach, FL
941-778-6641
Dominos Pizza
is just a phone call or quick online order away. Perfect for when you don't want to leave your Anna Maria Island vacation rental and just settle in for a cozy night. This is always an excellent option for family members who want something familiar.After an epic day of sand and surf, sometimes it's okay just to head back to the rental and order delivery. Fast delivery and a wide range of pizzas make Dominos an always convenient choice.
Eat Up on AMI

Anna Maria Island is a beautiful, laid-back destination well represented through the local cuisine. Foodies will love the variety, freshness, and overall high quality of the restaurants on the island. Your family will find something they can all enjoy, and the prices are fair.
Plan your next vacation on Anna Maria Island and be ready to spend some time in paradise. Everything you can want is right around the corner, even when you don't want to step away from the epic beaches.