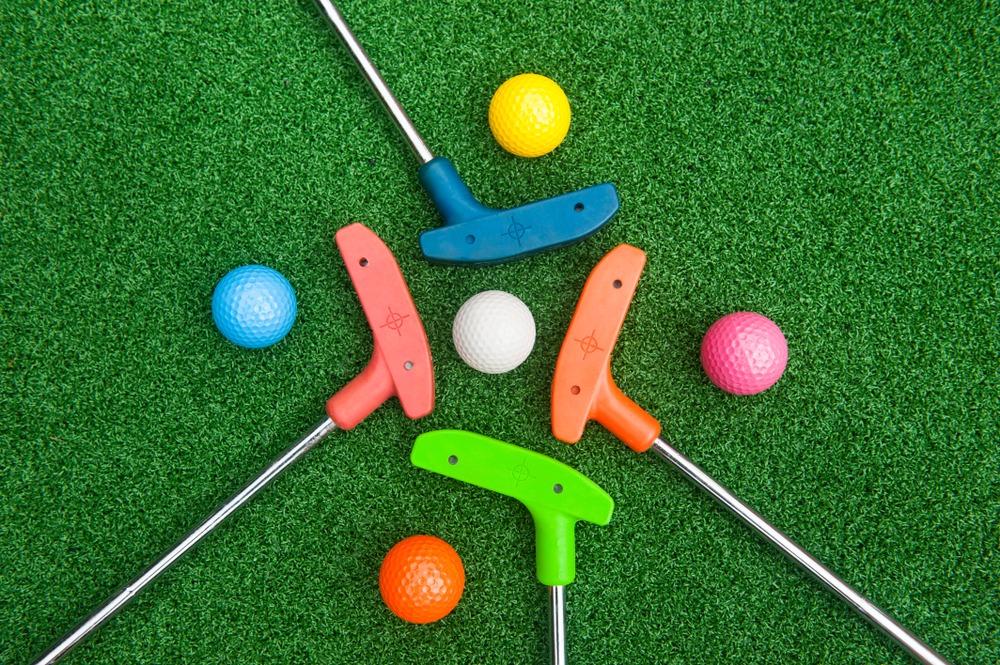 Photo Credit:
My Lit'l Eye
Ahoy, adventurous families and sun-chasers! Anna Maria Island isn't just a tropical paradise with breathtaking sunsets and soft sandy beaches; it's a treasure trove of fun waiting to be uncovered by the young and young-at-heart.
Imagine a day under the sun where you tee off beside cascading waterfalls, followed by a playful splash in the gentle waves. Mini-golf, a universal favorite for the entire family, is no exception here. While our island boasts many jewels, the shimmering star among them for visitors looking for some low-key competition under the Florida sun is the mini-golf experience.
Whether you're already nestled in one of our cozy vacation homes or planning your great escape to AMI, come along as we guide you through the island's best putt-putt spots and sprinkle in some more kiddo-approved adventures along the way. Get ready to score a hole-in-one in great family fun!
The Fish Hole Miniature Golf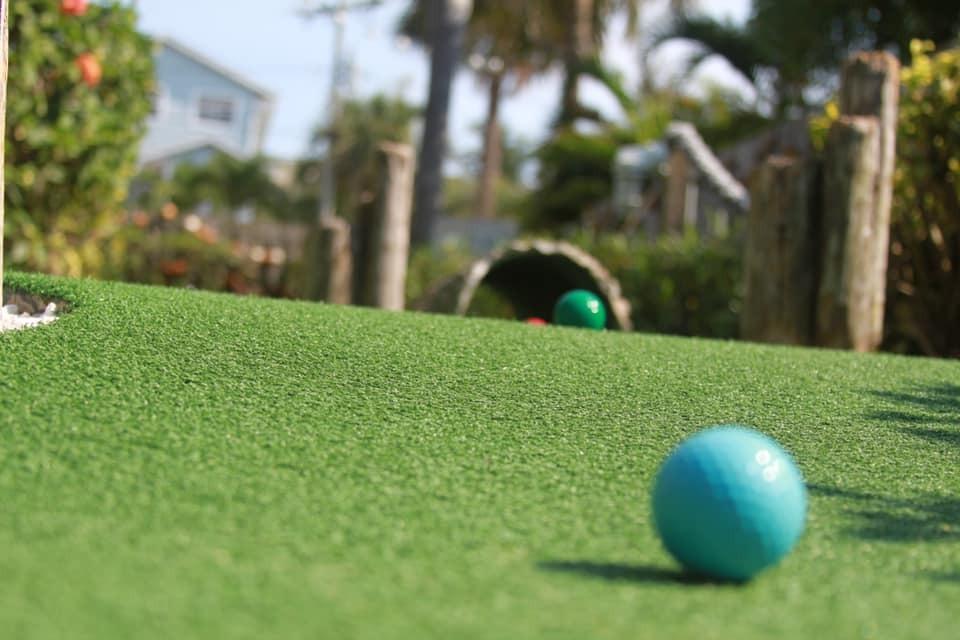 Photo Credit: The Fish Hole - miniature golf

Shining bright in the heart of Anna Maria Island, The Fish Hole isn't just a mini-golf course; it's an island adventure of its own! Picture this: 18 fun-filled holes, each with unique challenges, surrounded by lush tropical greenery, serene koi ponds, and the soothing sounds of waterfalls. Whether you're a mini-golf pro aiming for that perfect score or simply looking for an afternoon of laughter with the family, The Fish Hole offers an experience like no other.
This vibrant course has become a must-visit spot for locals and tourists alike. And while the competitive spirit might kick in as you navigate bridges and water hazards, remember to take a moment and feed the colorful fish that call this place home.
The Fish Hole balances fun and affordability, making it a perfect activity for large families or those on a vacation budget. Check their website or give them a ring for any special offers – who knows, you might land a discounted rate or a special evening event!
Smugglers Cove Adventure Golf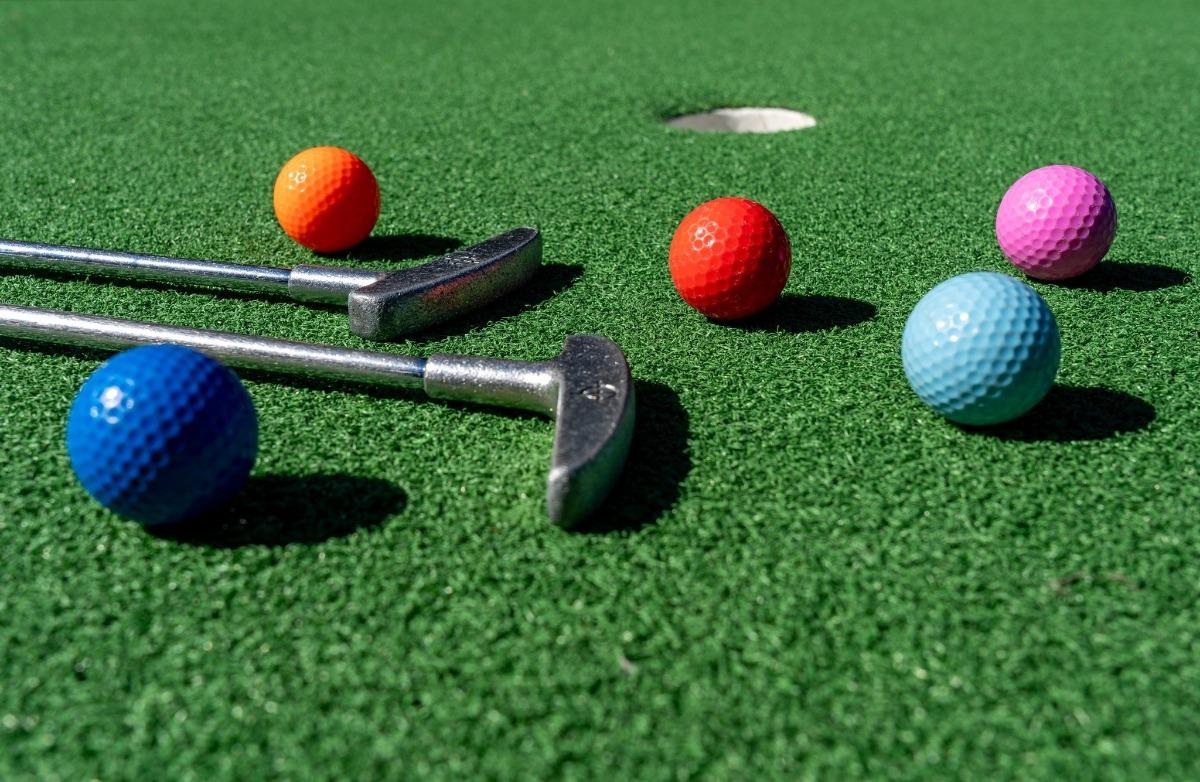 Photo Credit: Smugglers Cove Adventure Golf

Ahoy, mateys! Just a swift sail (or drive) away from Anna Maria Island, you'll stumble upon the pirate-themed wonderland of Smuggler's Cove Adventure Golf. As you step in, be prepared to embark on an expedition through mysterious caves, navigate pirate ships, and dodge tricky waterfalls – all while aiming for that coveted hole-in-one.
But there's a twist in this tale: live alligators! Yes, you read that right. Smuggler's Cove offers brave adventurers a chance to feed these fascinating gators at this unique miniature golf course. Under expert guidance and with all safety precautions, it's an experience that adds an extra dash of thrill to the game.
Boasting an intricately designed course that's as much about storytelling as it is about golfing, Smuggler's Cove ensures every player, young or old, leaves with a treasure trove of memories. Their pricing is competitive, and they often run specials that make the adventure even more enticing.
Visitors rave about the blend of fun and wildlife experience. So, when you're itching for a swashbuckling good time, chart your course for Smuggler's Cove Adventure Golf. Ready yer putters, and let the adventure begin!
More Family Fun on Anna Maria Island
Explore the Beaches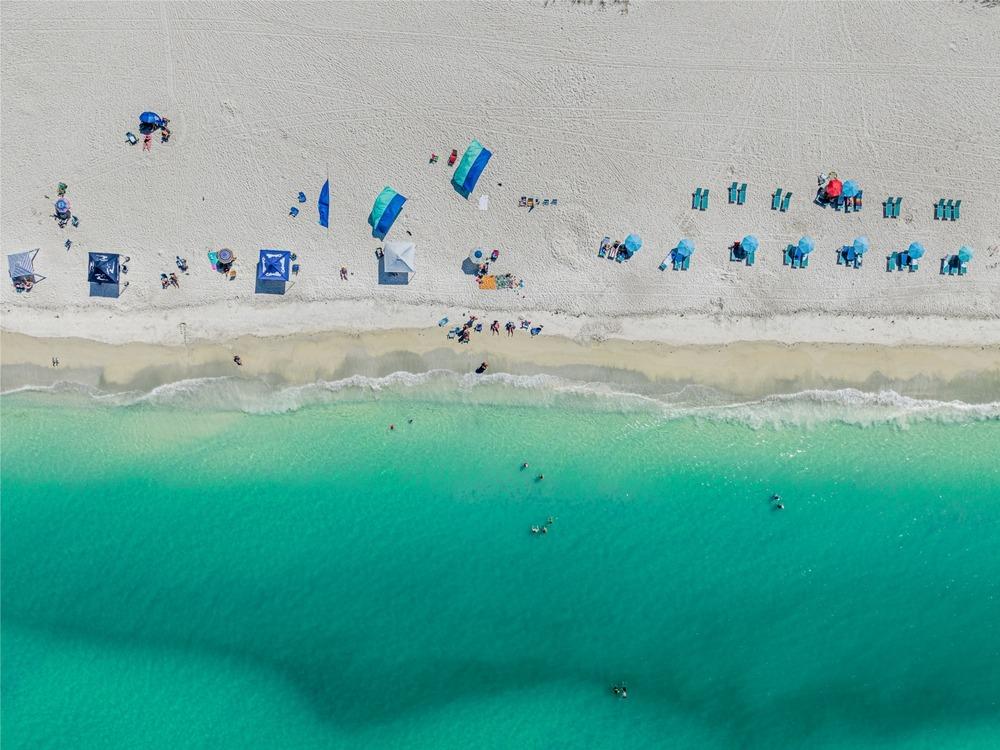 Photo Credit: Wirestock Creators

Sun, sand, and surf! Anna Maria Island's pristine beaches are the quintessential backdrop for countless cherished family memories. With soft white sand that feels like powdered sugar underfoot, it's the perfect spot for kids to let their imaginations run wild, building sandcastles or hunting for unique seashells.
Safe, gentle waves make wading and splashing a joy for the little ones, while parents can recline on the shore, soaking up the Florida sunshine. Favorite beaches for families include Holmes Beach, Coquina Beach, and Manatee Public Beach.
For families looking to elevate their beach day, consider renting paddleboards, boogie boards, or kayaks. With easy walk-on access, lifeguarded areas, and plenty of beachfront eateries nearby, AMI's beaches are fun and convenient for the whole family.
GO DOLPHIN WATCHING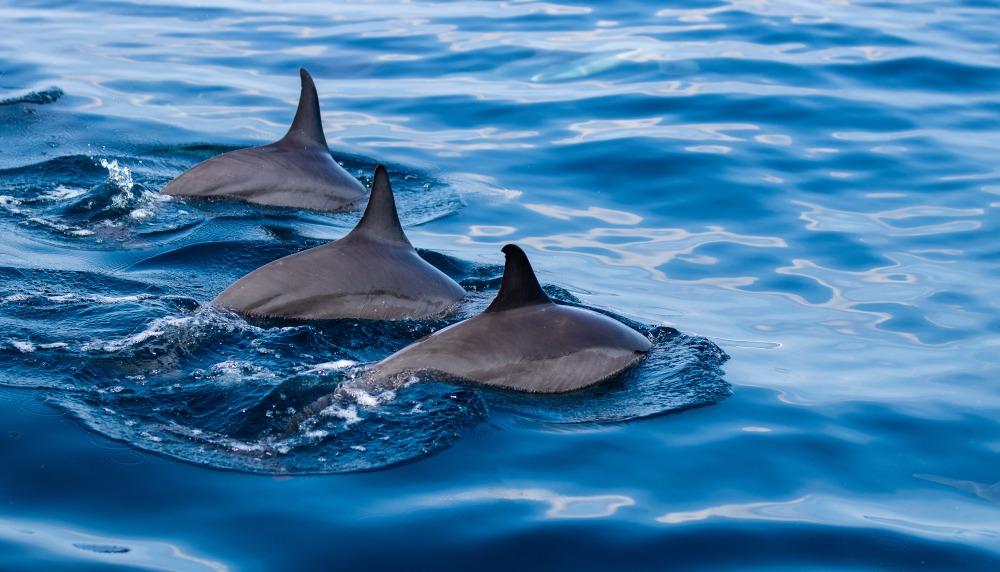 Photo Credit: Ameet Kela

Ever dreamt of watching dolphins dance in their natural habitat? Anna Maria Island turns that dream into a reality! Numerous operators around the island offer dolphin tours, providing families a front-row seat to nature's magical aquatic ballet. Upon seeing these magnificent creatures leap and play, the gleam in a child's eye is priceless.
Booking a tour is simple and often comes with added perks like knowledgeable guides sharing fascinating dolphin facts, ensuring an entertaining and educational experience. AMI Dolphin Tours and Fun Boat Tours offer great dolphin-watching excursion options.
GO ON AN ISLAND TROLLEY ADVENTURE

Photo Credit: annamariaislandchamber.org
Choo-choo! Hop aboard the Anna Maria Island Trolley for a delightful ride around this sun-kissed paradise. This free service provides families with an effortless way to explore the island's various attractions, from bustling piers to hidden gems. A favorite family stop is the Anna Maria Island Historical Museum, where kids can dive into the island's rich history and even partake in fun, interactive exhibits.
TAKE A FAMILY FISHING TRIP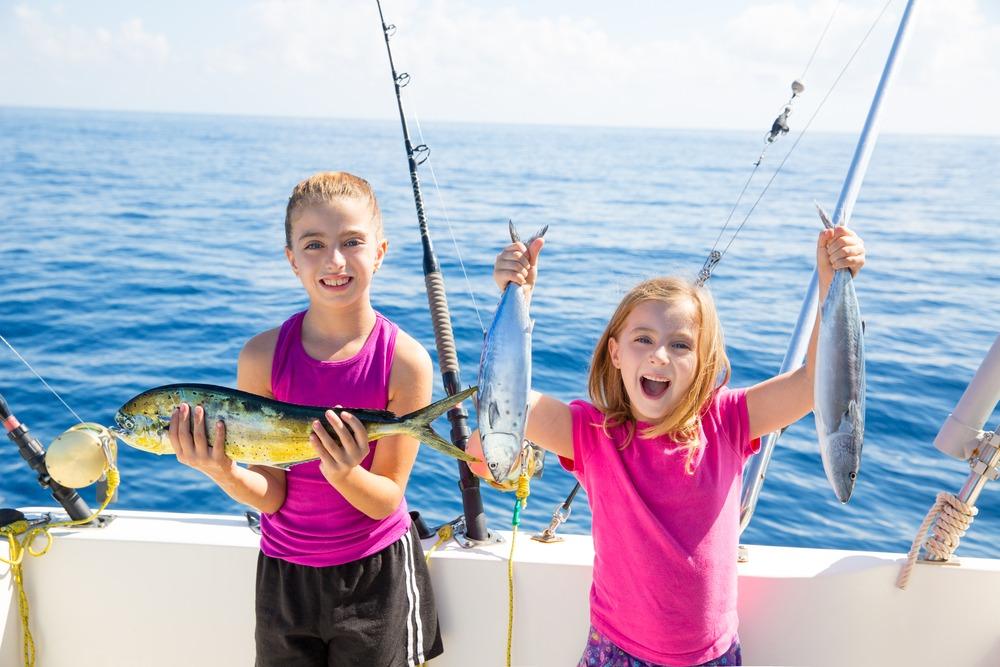 Photo Credit: lunamarina

Cast a line into the heart of AMI's fishing culture! Anna Maria Island, with its abundant marine life, offers the perfect setting for families to try their hand at fishing. Whether your group has seasoned anglers or curious beginners, various AMI docks and piers provide ample opportunities to cast a line.
For a more guided experience, consider booking a family-friendly fishing charter. Expert guides ensure you find the best fishing spots, making it a hassle-free and memorable experience for everyone. AMI Charters offers great family-friendly excursions.
TAKE AN ICE CREAM EATING TOUR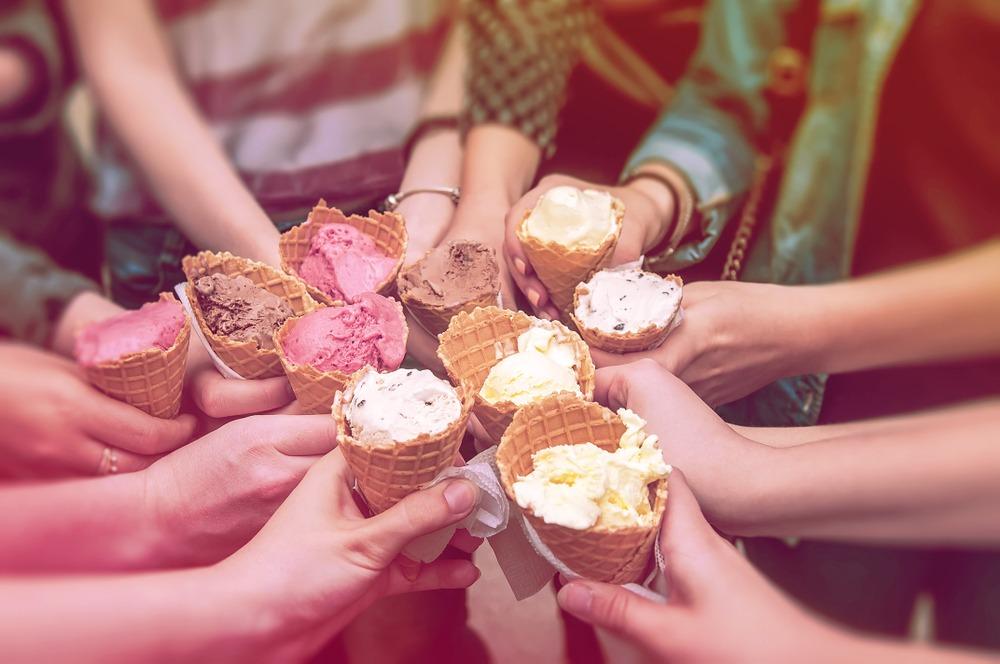 Photo Credit: Mykola Shpyrka
After all the island exploration, hungry tummies will be on the hunt for delicious treats. Thankfully, AMI boasts an array of ice cream shops, each offering a taste of the island's culinary delights. And what better way to cap off a sun-filled day than with a scoop (or two!) of ice cream? Numerous parlors dot the island, serving classic favorites alongside exotic flavors that will make taste buds dance.
READY TO EMBARK ON YOUR AMI MINI GOLF ADVENTURE?
As the sun sets, casting golden hues over Anna Maria Island, one thing becomes clear: this slice of Floridian paradise isn't just a vacation destination—it's a canvas for unforgettable family memories.
From the gentle putt-putt challenges at The Fish Hole AMI to swashbuckling adventures at Smuggler's Cove, every moment is brimming with excitement and discovery. Book your Anna Maria Island vacation home today!