Picture yourself sitting on the Gulf of Mexico on Anna Maria Island with the blazing Florida sun beaming down on you. You can feel the warmth on your skin and drink in the turquoise waters. It is a glorious setting that could only be made better by one thing: a delectable and cooling ice cream.
The good news is Anna Maria Island is home to some of the best ice cream shops in Florida. Here is the big scoop you need on those hot summer days on where to find the island's best ice cream.
Two Scoops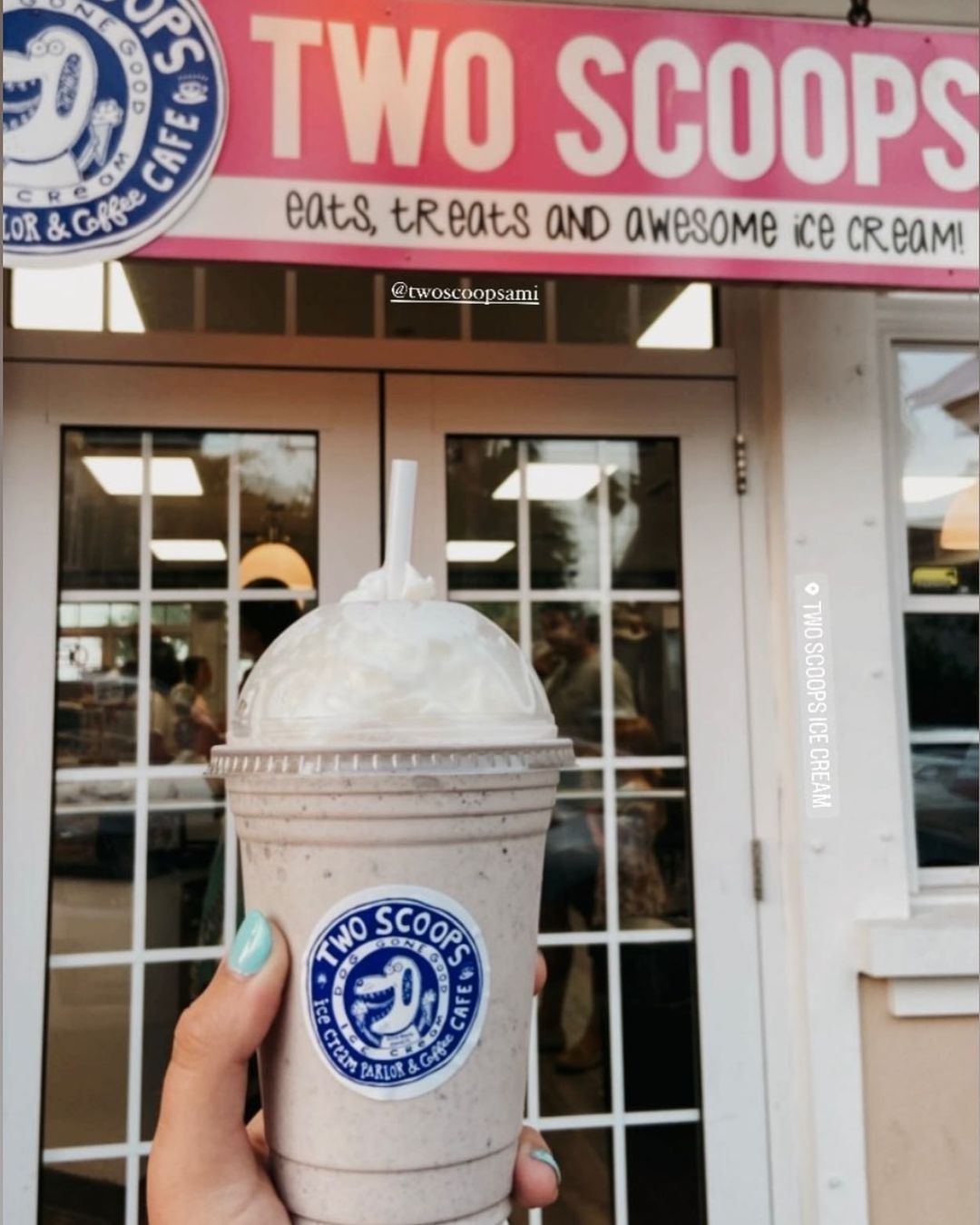 Photo Credit:
twoscoopsami via Instagram
101 South Bay Blvd, Anna Maria, FL 34216
Coming in at the top spot is the ever-popular Two Scoops Ice Cream parlor and cafe. You will find Two Scoops in the Bayview Plaza on the north end of the island across the street from the Anna Maria City Pier.
It is open from 10 am to 10 pm, so you can enjoy delicious ice cream as you walk along the boardwalk morning, noon or night. What makes this ice cream parlor so popular is its 32 flavors of homemade ice cream. You can indulge in anything from strawberry cheesecake, to maple walnut to classic chocolate.
What's more, the delicacies don't stop at just delicious ice cream! Two Scoops also serves up waffles, banana splits, and breakfast and lunch options. You can even buy yourself a slogan tee whilst you're there.
Don't just take our word for it this family-run Anna Maria Island ice cream shop has recently earned itself Trip Advisor's certificate of excellence and comes in at the top spot on Trip Advisor for customer reviews.
Small Town Creamery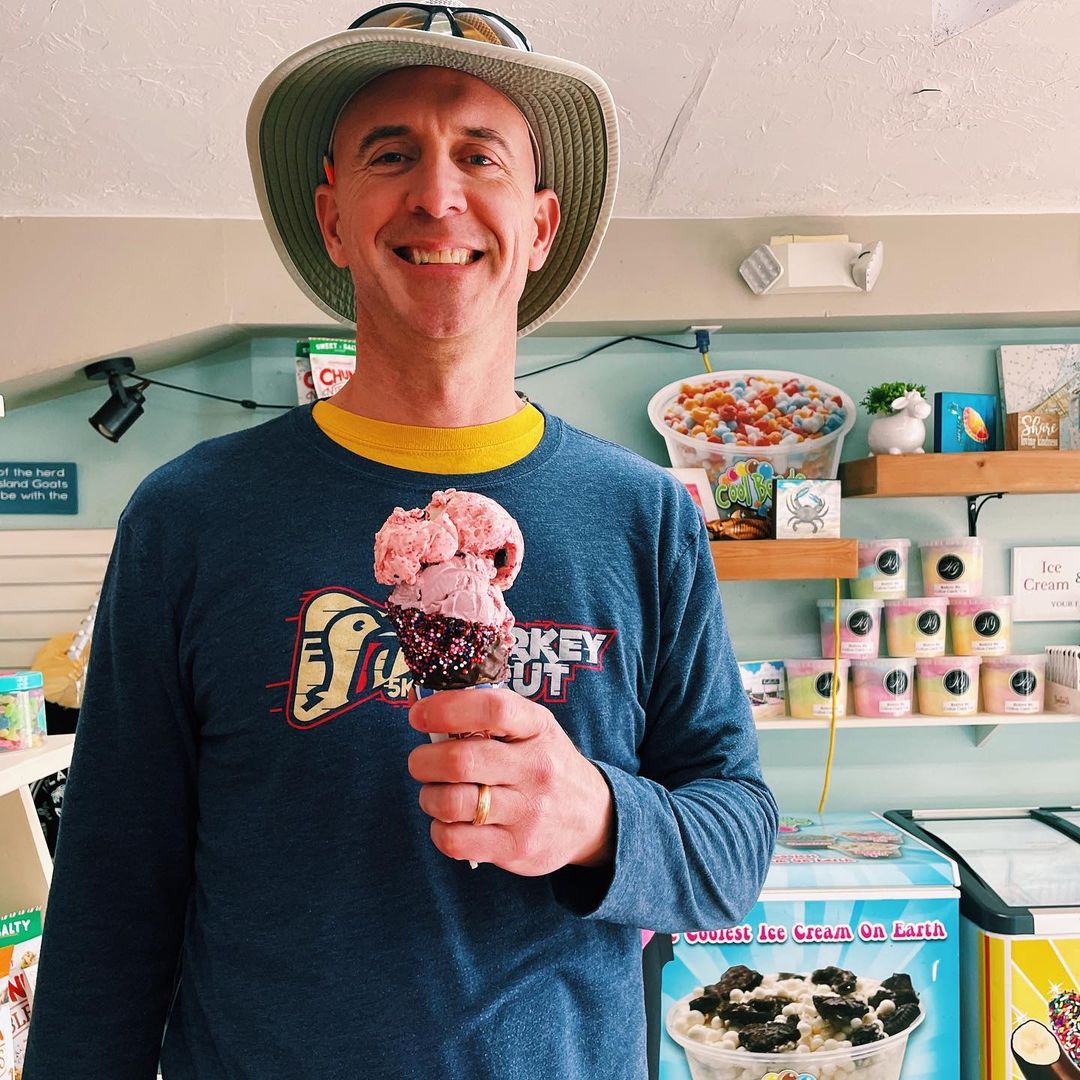 Photo Credit:
islandscoopsami via Instagram
5404 Marina Dr, Holmes Beach, FL 34217
This Small Town Creamery packs a big punch when it comes to holding its own in the rankings for the best ice cream shops on Anna Maria Island having been awarded the Grand Master Ice Cream award for flavor, taste, and consistency.
You will find this small town shop in the strip mall in the heart of Holmes beach, near the beach itself, and is open from 12.30 - 9.30 pm daily.
The Small Town Creamery is a feast for all the senses. It is full of color and fun and is a great place to take the children as there are lots of fun toys and treats for sale. Of course, you can also enjoy 50 ever-changing flavors of ice cream that rotate with the season from key lime pie, to peanut butter cup, to mackinac turtle.
The ice creams are also available in sugar-free and vegan alternatives.In addition to the award-winning gourmet ice cream, the Small Town Creamery offers up homemade fudge, sweets, cool beads, waffle dogs on a stick, mermaid milkshakes, and coffees. There is something for everyone at this delicious Anna Maria Island ice cream parlor.
Island Scoops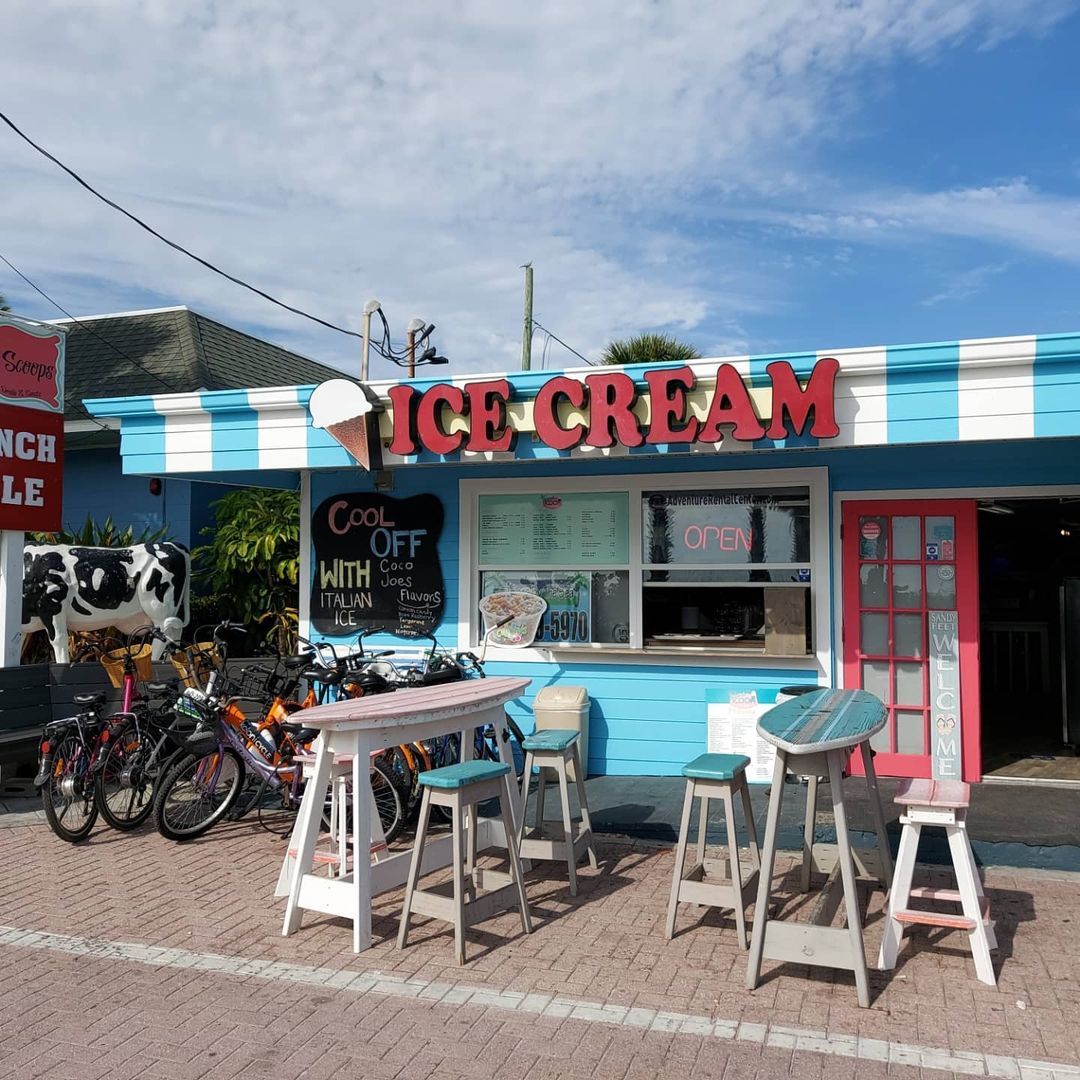 Photo Credit:
islandscoopsami via Instagram
103B Gulf Drive N, Bradenton Beach, FL 34217
Island Scoops promises to offer AMI customers happiness in measured scoops of delicious ice cream, baked goods, malts, floats, candy, sundaes, and quirky dishes such as ice cream nachos. That's three flavors of ice cream, three flavors of sauce, whipped cream, and waffle chips, for the uninitiated.
Island Scoops is located in Bradenton Beach on the southern end of the island and is open from 12 pm-9 pm Sunday through Thursday and 12 pm-10 pm Friday and Saturday.
Island Scoops pride itself on serving locally made ice creams and sorbets that are hand mixed using quality, all-natural ingredients that are locally sourced wherever possible. They infuse many of their own flavors from scratch in their local facility, so why not treat the kids to a trashcan flavor infusion while you enjoy a Kahula Krunch Malt?
Island Scoop's goal is to provide Florida's residents and vacationers with the best of the best when it comes to ice cream and sweet treats, and they certainly deliver on that goal.
Holy Cow Ice Cream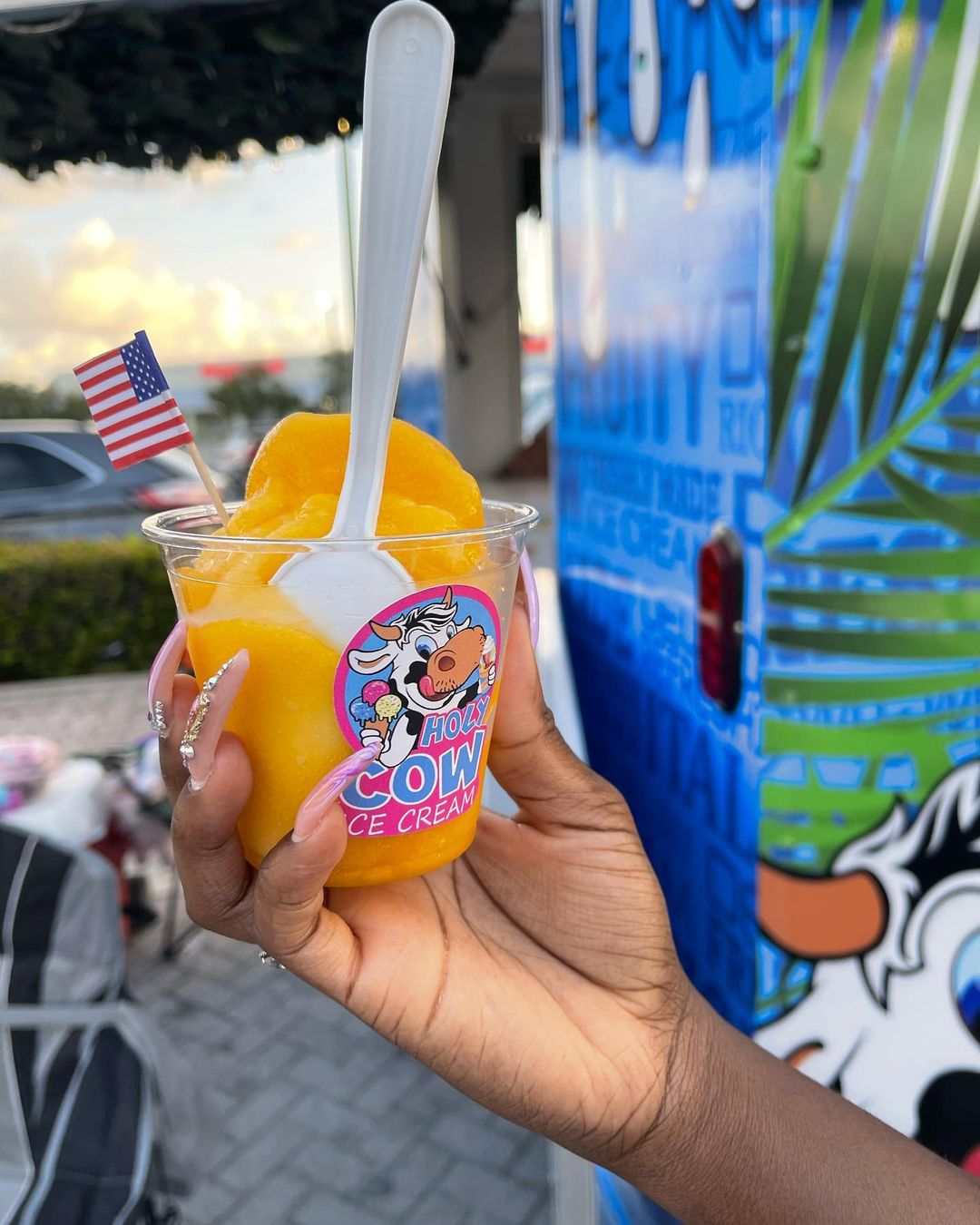 Photo Credit:
holycow.icecream via Instagram
5404 Marina Dr, Holmes Beach, FL 34217
You will find Holy Cow Ice Cream in the strip of the mall at South Bay Boulevard in Holmes Beach and it is open daily from 11 am to 9.30 pm.
It offers 36 different ice cream flavors made from fresh milk of working cows. You can also enjoy extensive and exciting ranges of milkshakes, malts, sundaes, smoothies, frozen yogurt, and sugar-free and dairy-free options.
You will find rotating specials offered up in traditional ice cream cones or served as a special sundae, or hand-spun milkshake. Expect exciting combinations from Chocolate Bacon Sundaes to Pumpkin Pie Malts when in season.
This fun and quaint shop provides toadstool tables for kids and tiki bar seating for adults. It is a fun, quirky, and perfect pit stop for the whole family to cool down and enjoy a delicious ice cream away from the beaming Florida sun.
Dips Ice Cream
Photo Credit:
Dips via Facebook
503 Pine Ave, Anna Maria, FL 34216
Dips Ice Cream
is on the north end of the Island on Pine Avenue and is open 10 am-10 pm, with the exception of Friday and Saturday when it closes at 11 pm.
It is a small ice cream parlor but one that doesn't compromise on flavors, taste, and offerings. Here you can enjoy 32 flavors of delicious ice cream, 2 flavors of soft service Italian ice cream and a particularly impressive selection of candy from an old-fashioned style candy bar, all of which will be served to you by the notoriously friendly staff.
You can also treat yourself to a delectable milkshake in a variety of flavors from pineapple to coconut to salted caramel marshmallow.
Joe's Eats And Sweets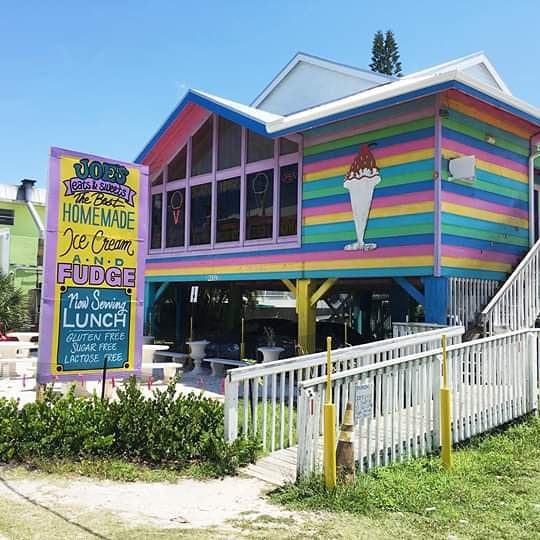 Photo Credit:
joeseatsand via Instagram
219 Gulf Dr S, Bradenton Beach, FL 34217

You will be hard pushed to miss this colorful sweet treats ice cream store right across from the beach in the Bradenton beach neighborhood. Joe's Eats and Sweets is a brightly colored, pastel wooden beach hut that has stood proudly for over 30 years.
Open from 11 am until 10 pm, you can enjoy any of the 50 flavors of handmade ice cream.
This eye-pleasing, Instagram-worthy store will (rightly) attract the crowds in the busier seasons so be prepared to queue, but don't worry, it will be worth the wait. You can expect fun flavors such as Key Lime Cheesecake and Blue Moon and a variety of nuance specialty treats including huge banana splits, key lime pie on a stick, and their infamous chocolate-covered bananas.
After trying out all of the ice cream spots on this list, I'm sure you'll agree: You came to Anna Maria Island for the beautiful beaches but stayed for the delectable ice cream treats.