Nothing screams a beach vacation quite like a golf-cart ride around town and to the beach. You can pack your family, friends, and even your beach gear on the golf cart and take on the adventurous day. While when most people think of beach rentals, they imagine kayaks, beach chairs, and umbrellas, we highly suggest you add a golf cart to your list of beach needs.

Since Anna Maria Island is such a small town, you can drive to the beautiful, white-sand beaches, delicious restaurants, and spectacular shopping. The island is so small that you can rent a golf cart and never even have to drive a car around once you arrive. Simply park your golf cart at your vacation rental, and hop in when you're ready to explore the island.

To experience Anna Maria Island in the best way possible, renting a golf cart is definitely a must. Here are our favorite places for golf cart rentals and everything you need to know before doing so.
Golf Cart Information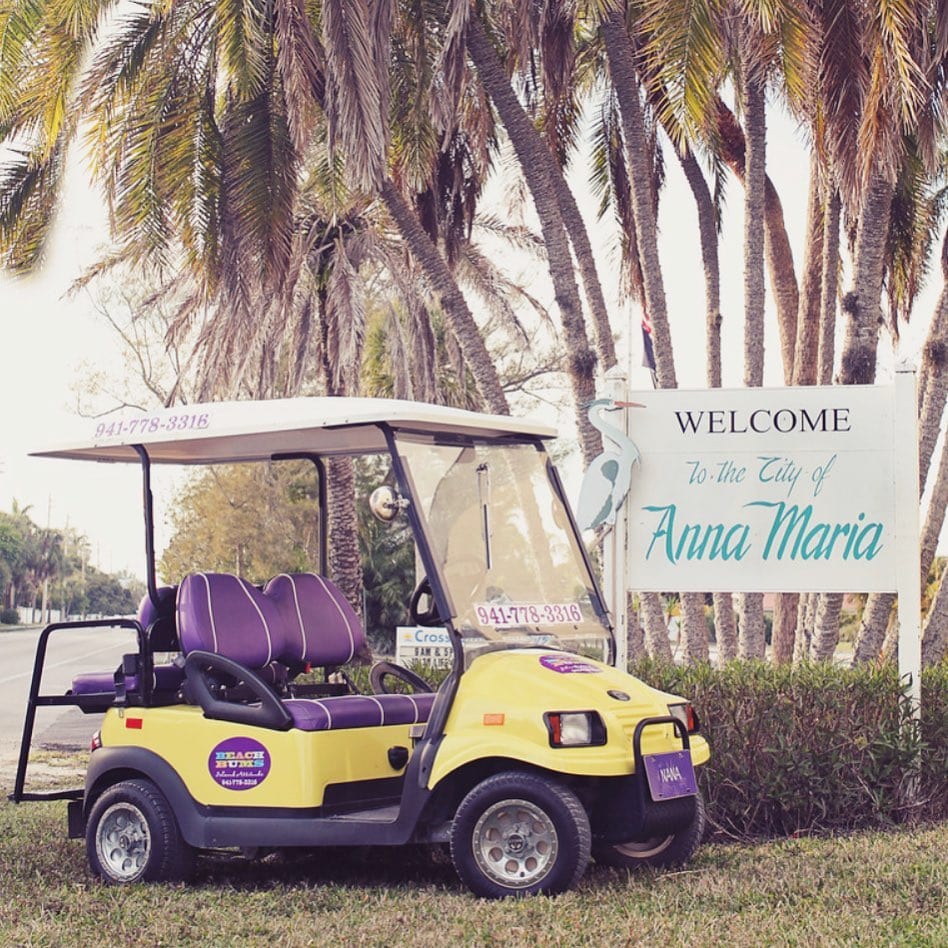 Photo Credit:
beachbumsami via Instagram
Unlike many beach towns, Anna Maria Island allows golf carts on every street. Every golf cart that you will rent is street legal and you can enjoy strolling down every street on the island without worrying about breaking any rules.

Every street has a speed limit of 35mph or less, and the average golf cart runs about 25 miles per hour before you start to lose charge. Since they're such low speed vehicles, it's a safe way to enjoy your beach getaway. All drivers are asked to have a valid driver's license, to ensure the safety of others while driving on main roads. You can choose from a cart that fits 4, 6, or even 8 passengers depending on the size of your group.

Many of the rental places offer gas or electric carts, and several companies will deliver the golf cart to you for free if you choose to opt-in for that service. You can choose between rentals for the day, week, or even longer if you are staying all winter. The prices range depending on the time of year, type of golf cart, and how long you will keep it.
Best Places for Anna Maria Island Golf Cart Rentals

We highly recommend you rent a golf cart for your Anna Maria Island vacation from one of the companies listed below. Many offer free delivery to your vacation rental and some even offer last minute specials, so be sure to ask when you make your booking!
AMI Beach Buggys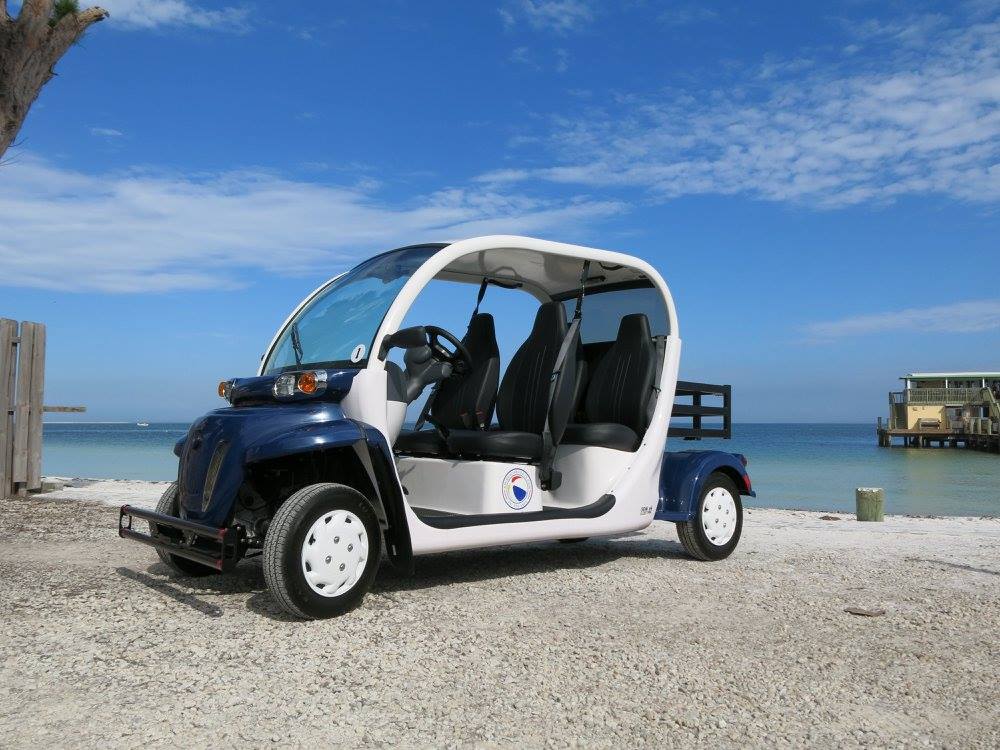 Photo Credit:
AMI Beach Buggys via Facebook
At AMI Beach Buggys, you are ensured to be renting a safe, street-legal Polaris, GEM electric golf cart. The battery charging, spacious, golf carts often come with 3 safety belts, street tires, an automotive grade windshield, and occupant protection. These stylish buggies will be the talk of the town. They will pick up and drop off your buggy wherever you please so you won't have to deal with the hassle of returning it.
Address: 5348 Gulf Dr, Holmes Beach, FL 34217
AMI Golf Cart Rentals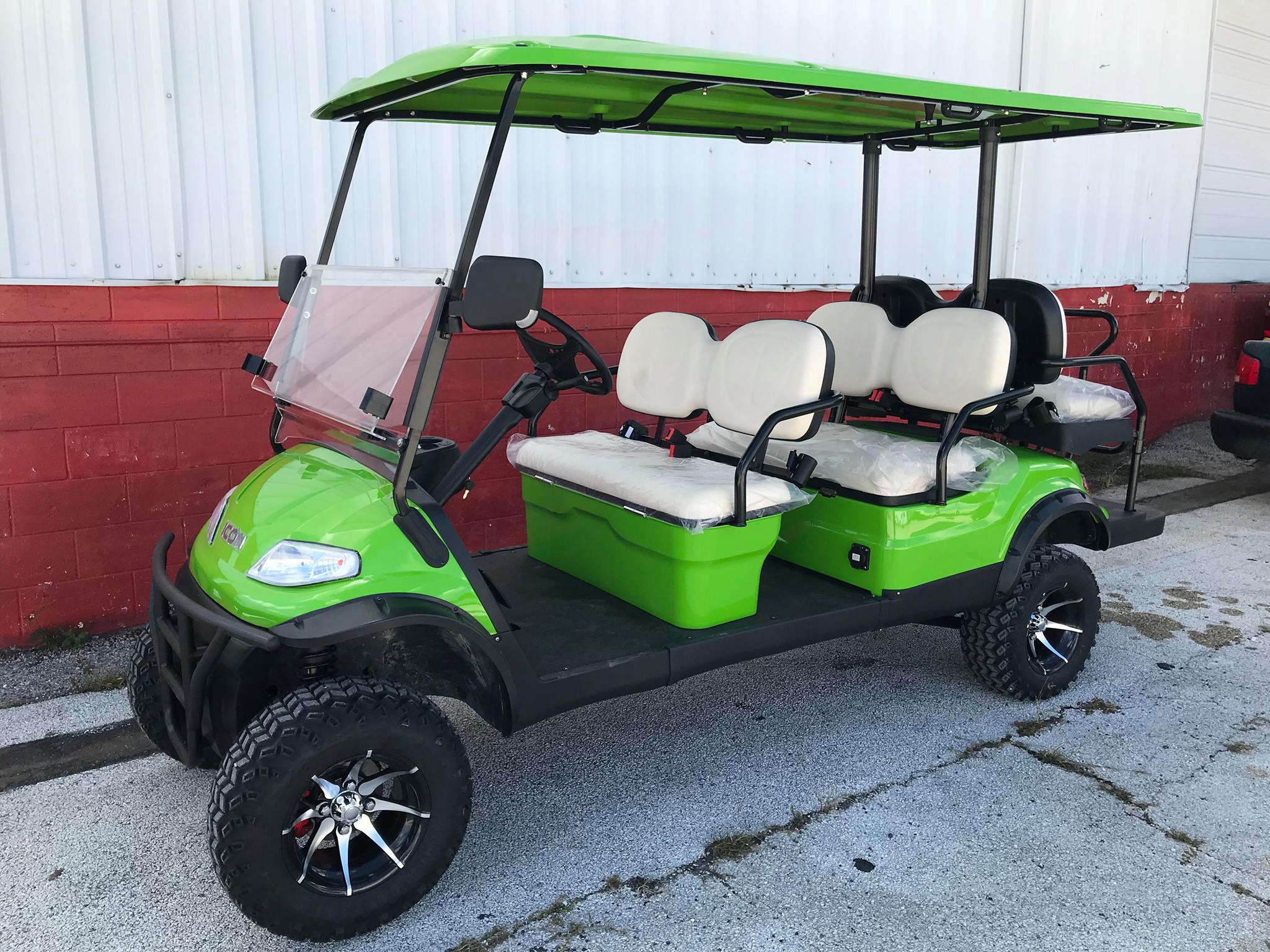 Photo Credit:
Anna Maria Island Golf Cart Rentals Street Legal via Facebook
At AMI Golf Cart Rentals they offer luxury and economy carts that are perfect for any vacation. They have fully electric carts this way you can charge from anywhere even on the go. All carts include free drop-off and pickup to any location on Anna Maria Island. If you let AMI Rentals know they will have your golf cart on site of your vacation rental before or right after you arrive.
Beach Bums Recreational Rentals & Gift Shop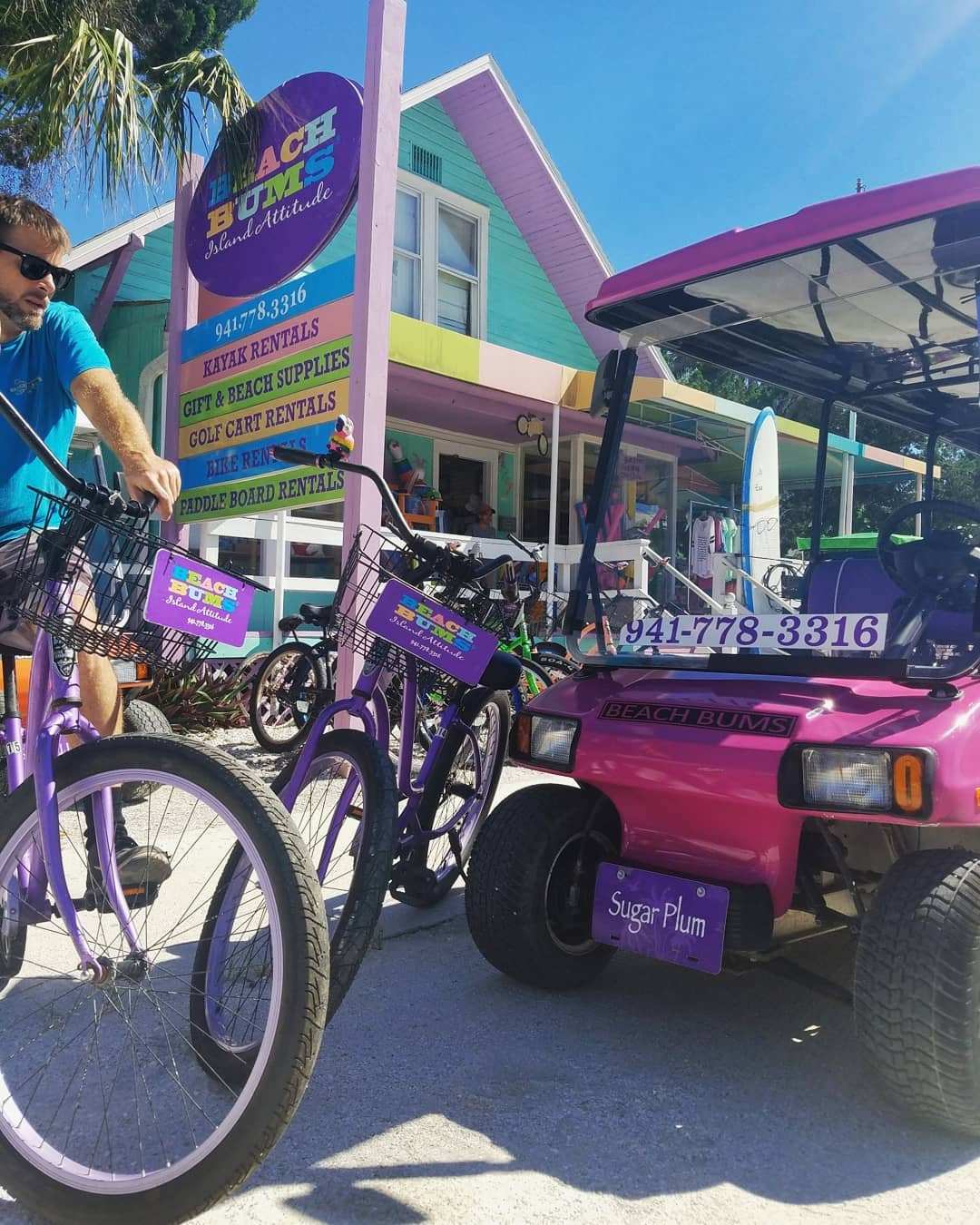 Photo Credit:
beachbumsami via Instagram
At Beach Bums they don't just rent golf carts, they also have rentals for kayaks, bikes, and much more. They are the one-stop rental shop in Florida. You are able to ride their golf carts on all roads in Anna Maria Island, Holmes Beach, Bradenton Beach, and Coquina Beach. They offer electric golf carts in 4, 6, and 8 passenger rentals as well as the LUX Cart Rental. They can be booked per hour, days, 3 days, and week, starting at just $30 an hour.
Address: 427 Pine Ave, Anna Maria, FL 34216
Gulf Coast Carts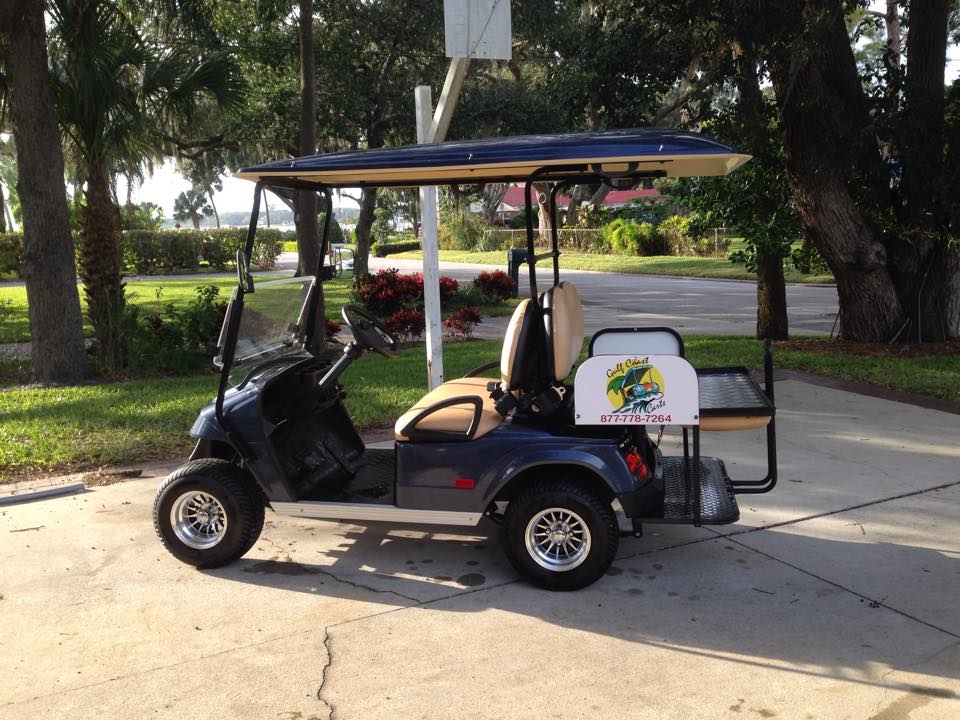 Photo Credit:
Gulf Coast Cart via Facebook
The Island's number one golf cart rental company, Gulf Coast Carts offers a variety of street-legal golf carts. They offer daily, 3-day, and weekly rentals while providing their customers with affordable and reliable golf carts. They have many rental options to choose from, and you can book your cart and it will be waiting for you at your rental when you arrive. All of their carts come equipped with Bluetooth radios so you can cruise in style.
Lux Carts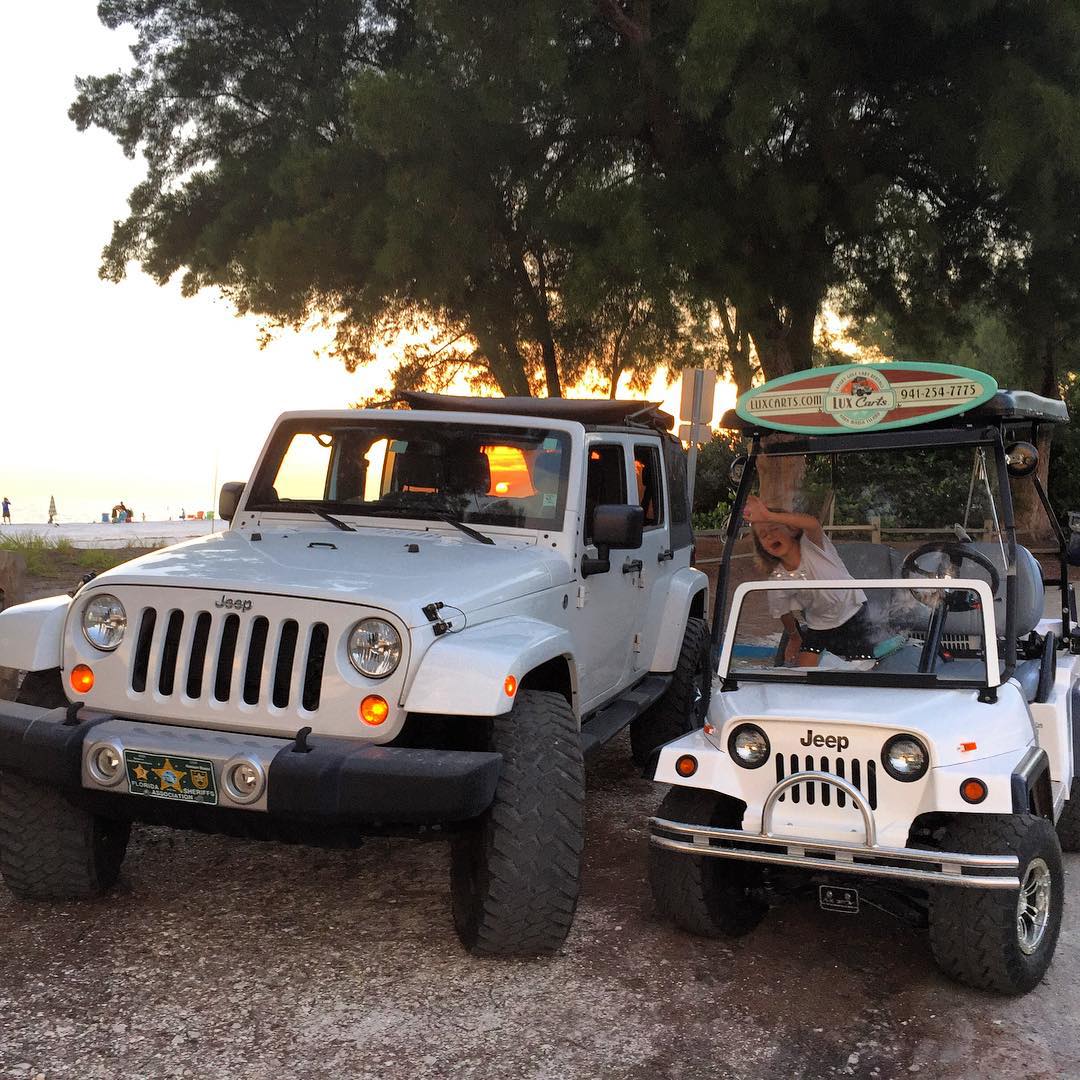 Photo Credit:
luxcartsrentals via Instagram
At Lux Carts, they believe that the ultimate vacation deserves the ultimate ride. You can choose from the Luxie 4 passenger rental to the LuxVader or the Lux Taxi. These unique golf carts will have you riding in style making your vacation even more memorable. Come explore all the treasures Anna Maria Island has to offer with the most exclusive and stylish golf cart rentals.
Address: 427 Pine Avenue (North End of Anna Maria Island)
Robinhood Rentals Anna Maria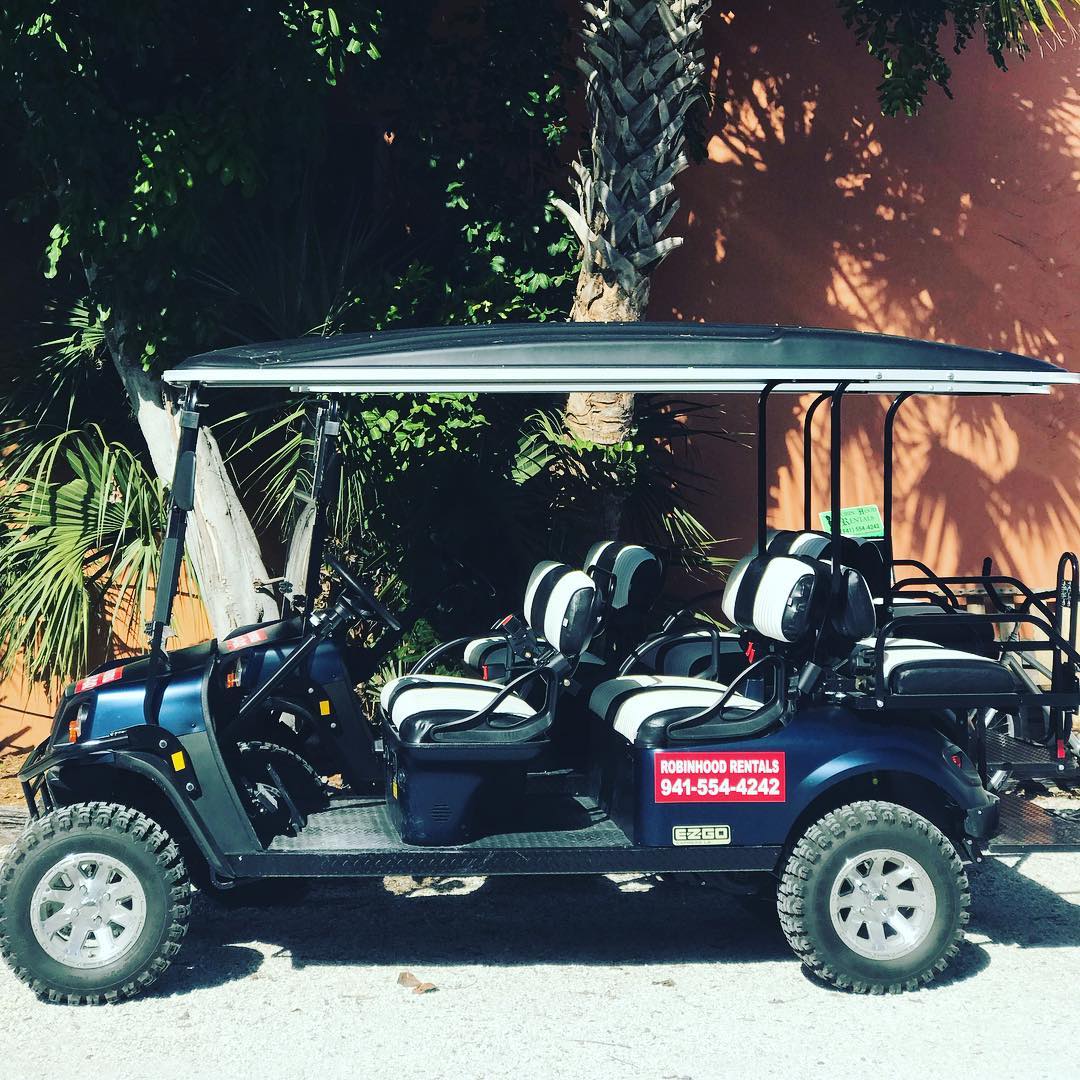 Photo Credit:
robinhoodrentals via Instagram
Robinhood Rentals is the perfect one-stop-shop for everything fun you will need on the island. From bicycle rentals to golf cart rentals, they have you covered. Spend your time driving not charging with their gas carts. This way you have no downtown and you can keep cruising the town and living like a local. Choose from a variety of carts and sizes. They also offer scooter rentals.
Address: 9802 Gulf Drive, Anna Maria, FL 34216
No matter where you choose to rent, or what type of golf cart you pick, you will have a great time. From 4-seater to 6-seater passenger golf carts, there is no better way to explore the island than with the salty wind blowing through your hair. Check these companies for other Anna Maria Island Rentals too like paddle boards or kayaks. We hope to see you soon on the island, and enjoy your beach golf cart ride!