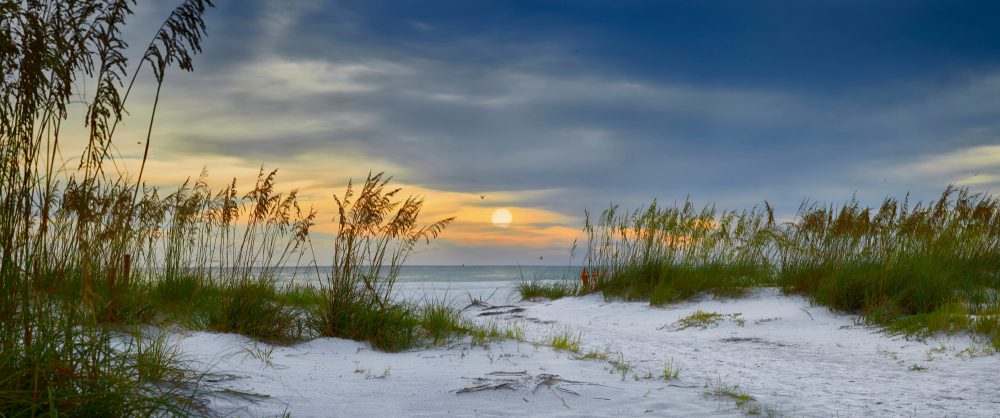 Located on the gulf coast in Manatee County in western, central Florida, the beauty of Anna Maria Island, or AMI to the locals, would seem to be an idyllic place to visit any time of the year. Local building code prohibits the high-rises you may see at other beach locals, which helps to maintain the "old Florida" feel that is a pride of AMI.
With nearby Bradenton Beach and just a short drive away from Tampa Bay, there is so much available to visitors at AMI.There are beautiful beaches, lively nightlife at unique bars, ocean activities, and amazing sunsets to watch.
Every month offers temperate weather and a variety of activities that will appeal to many, so how do you choose when to visit?
What is Your Ideal Vacation?
Like most vacation spots in tropical regions, visitors tend to plan their getaways at higher concentrations during months that are colder in the north. However, there is no universal best time to visit Anna Maria Island.
Depending on your personal goals and ideal criteria for vacation time, you can select the best time of year for you. Anna Maria Island weather offers something for everyone throughout the year.
Outdoor Activity Enthusiasts

If you want to take advantage of all the outdoor activities on AMI, plan to visit when the days are not as hot, but the gulf waters are warmer.

In the months right after the hottest summer heat, the waters are warmer in September and October. This also allows you to avoid the summer break crowds and the family crowd that will not be traveling during the school year. The cooler evening breezes off the Gulf of Mexico make sitting around a bonfire or enjoying a great meal at a waterfront restaurant pleasant at this time of year.

Bayfest, one of the area's premier events, takes place in October, making fall the best time to visit Anna Maria Island for festival-goers. With free admission, live entertainment, family-friendly activities, and great food and beverages to sample, Bayfest is a good reason to find yourself on Anna Maria Island in October.



Quiet, Contemplative Retreats

Once the spring break crowd heads home near the end of March, the spring months of April and May bring smaller crowds. While the weather begins to heat up, there is plenty of pleasant, solitary time to walk the beaches and enjoy the sound of the ocean waves.
Rainfall is lower at this point in the year, but the occasional shower will give you the opportunity to head indoors and shop, visit local museums, or take a leisurely nap at your vacation rental.Spring may also be the ideal time to have your destination wedding on one of the beautiful Anna Maria Island beaches. There are several outstanding venues that can walk you through all the options and handle details to eliminate your stress.
Sweater Weather

Bundling up on Anna Maria Island looks a little different than it does for those in the north. If your picture of a perfect vacation is less bikini and more sweater or light jacket, the months of December through February might be ideal.
January is especially cool but may still be a welcomed warmth for an escape. With daytime average temperatures from the mid-sixties to the low seventies, the evenings cool off nicely. With a lower chance of precipitation, the dry season winter months are also far less humid.
Ocean temperatures will keep you from frolicking in the gulf surf, but a warm rum drink beachside will keep you toasty. Celebrate the holiday season at the local Holiday Craft Fair or watch the Christmas Parade in nearby Bradenton. For a jolt of fun in the cooler months, ring in the New Year on Anna Maria Island with a fantastic display of fireworks.
Bringing the Heat

The summer months of June, July, and August are, as expected, the hottest of the year on Anna Maria Island, but also considered the wet season. For beach lovers who want to enjoy the white sand beaches, soak up the sun, show off their latest swimwear styles or frolic in the ocean, summer is the time to show up.
There is a tremendous variety of water sports to enjoy that help to keep the heat at bay. Parasailing, kayaking, paddle boarding, snorkeling, and diving charters let you take advantage of the clear blue waters offshore. Local boat tours give you a chance to look for dolphins, do some bird watching, and try to spot a manatee as you experience a beach view from the ocean side.
While afternoon showers may be more frequent, they also serve to cool off temperatures in the afternoon and early evening. Located in central Florida, the average high temperatures are still in the low- or mid-nineties, making summer the best time to visit Anna Maria Island for sun lovers.
Something for Every Visitor

Many activities are available year-round. If you are interested in fishing from shore or a pier, keep in mind that mornings and evenings are better times to catch fish. Be sure to get your fishing license ahead of time through a simple online application. It is required for anyone sixteen and older who will be fishing. Some catches, like spiny lobsters, may require a special license.
Anna Maria Island vacation rentals are affordable in every price range. With many beach rentals available, you can find a gulf coast view that you will long remember. Bike rentals are available all year to help you explore the island with greater accessibility and see all the wildlife and nature preserves up close. Delicious seafood is available everywhere, so be sure to come hungry.
Sources:
https://www.annamaria.com/why-anna-maria-island-is-the-most-popular-beach-town-in-america

https://www.florida-dreams.com/whats-the-weather-like-on-anna-maria-island

https://www.islandvacationproperties.com/what-is-the-weather-in-anna-maria-island

https://www.amisland.com/christmas-things-to-do-on-anna-maria-island

https://www.amisland.com/new-years-events-on-anna-maria-island