Searching for Anna Maria Island manatees is a real adventure for anyone interested in sea life. To see a manatee around Anna Maria Island (AMI) in Florida, you might want to get a boat since the animal never leaves the water. Fortunately, being mammals, manatees have to
resurface every 3 minutes
to breathe air. It's the perfect time to see a lone manatee swimming around or even a group during mating season.Â
Here's some valuable information to help you out on your adventure.
What is a Manatee?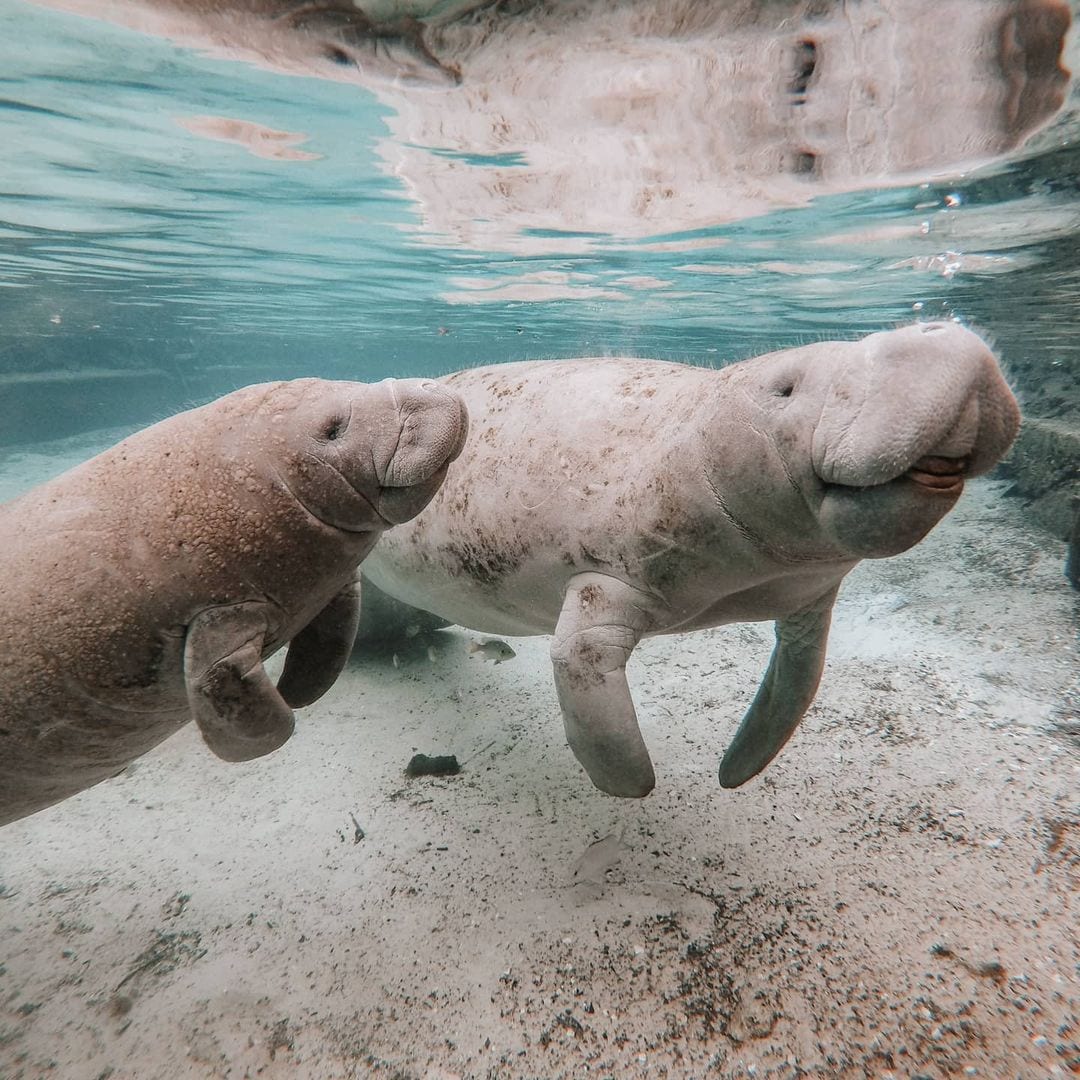 Photo Credit:
alittlesliceofadventure via Instagram
Manatees (also known as sea cows) are large aquatic mammals that prefer warm shallow waters. These herbivores are usually found swimming near small islands or inside a gulf coast. Not many people know that manatees are the inspiration for legendary mermaids.
What's even more surprising is that genetically, manatees are more related to the elephant than any other marine animal. A manatee's lifespan is around 60 years, and since it has no natural predators, a manatee will usually get to see old age.
Since they are one of the slower sea creatures, they mainly feed on floating seagrass. That's why you're unlikely to see manatees in an area with poor vegetation. On the other hand, if manatees inhabit a site, that's a great indicator of the location's ecological health.

You'll rarely see manatees around popular places on Anna Maria Island, such as Bradenton Beach or Coquina Beach on the southern end of the island. But there are several places outside known for manatee spotting.
Where to See Manatees in Anna Maria Island, Florida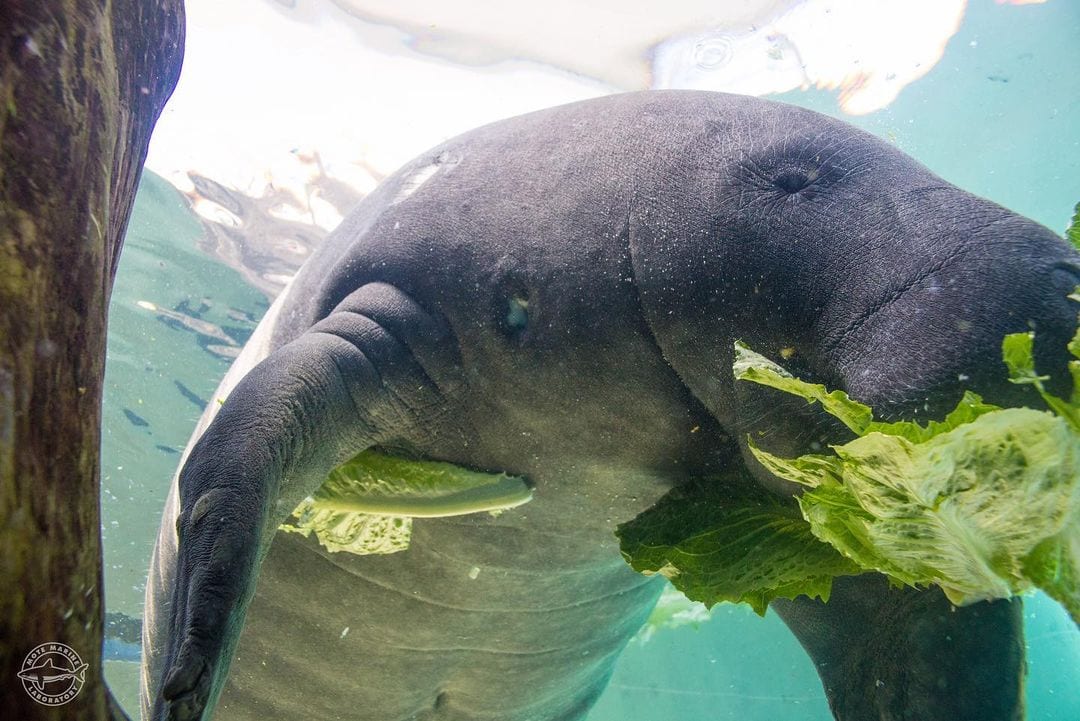 Photo Credit:
motemarinelab via Instagram
Anna Maria Island is one of the more famous manatee observation places in Manatee County, Florida. The best time of year to visit the island is from November to early March since that's when the Anna Maria Island manatees move closer to the shore in search of warm waters.
In the winters, manatees tend to get closer to city beaches such as Bean Point and near a power plant. Some people often spot them while parasailing or kayaking. If you're looking to find manatees on your own, you can take a stroll on Anna Maria City Pier. If you're lucky, you might spot a manatee in the distance. Another great spot is the marina at Holmes Beach. Finally, there's a small harbor at the end of 75th Street with reports of manatee spotting.

But your best bet is to search for a local tour guide. The tours usually last half a day, and besides manatees, you're likely to spot sea turtles, dolphins, pelicans, and other animals. Another option is to hire a boat and have the locals take you offshore. Since the Anna Maria Island manatees are so well-known, there's bound to be a number of locals who can help you in your search.If you fail to see wild manatees, you can take a 35-minute drive to Mote Marine Lab in Sarasota, south of Tampa. The facility is home to a couple of domesticated manatees alongside other aquatic wildlife.
Tips for Finding and Observing Manatees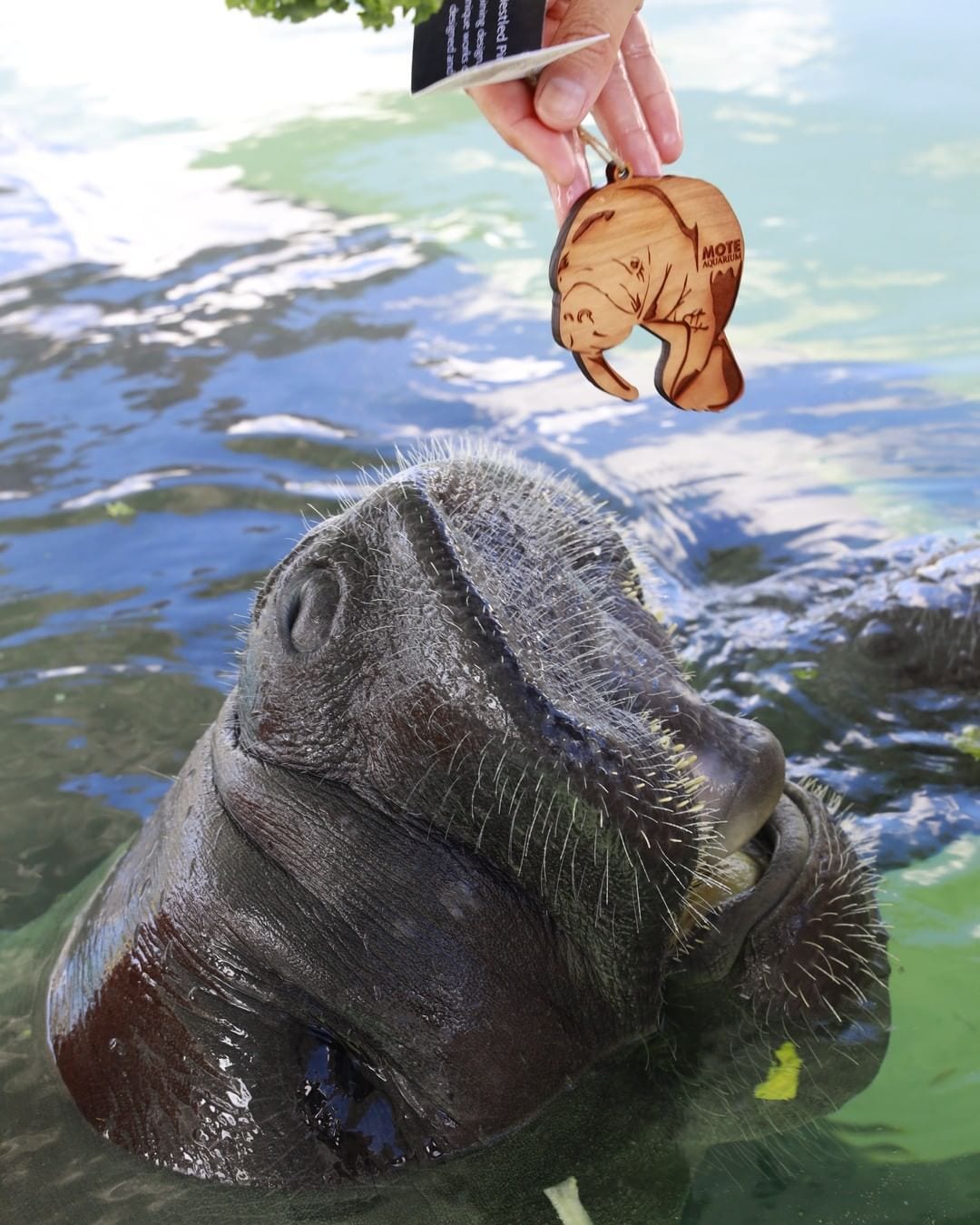 Photo Credit:
motemarinelab via Instagram
Manatees are an endangered species. Since manatees wander around the coast, people boating often injure them. Although a joy to watch, you should always observe them from a distance, especially if you decide to go without a professional guide.
If you still decide to go on a boat alone and it's your first time, be patient and drive slowly near the shoreline. When you see a wild manatee, don't give them food or interact in any way. Human interactions can cause a long-term change in manatee behavior. The natural fear of boats keeps them alive, and losing that fear can increase their risk of getting hurt.
Passive observation is the best approach, and if the manatee avoids you, don't chase it.
If a manatee approaches you, be mindful that you can touch a manatee gently with one hand, but it is illegal to touch or grab a manatee with two hands. People looking to interact with manatees should find a professional guide that organizes manatee activities in a safe and controlled environment.
Conclusion

Observing manatees is a beautiful adventure. Their gentle nature is sure to provide a peaceful experience as you stroll around the turquoise waters of Anna Maria Island.
Finding vacation rentals shouldn't be a problem, and you can always get more information from the locals offering apartments. Finally, the island is a place to wind down, both for you and the manatees. If you remember to respect the creatures, they will return it tenfold.