Anyone visiting Florida's Gulf Coast is surely going to be spending a fair amount of time enjoying the white sandy beaches and fabulous blue waters of the Gulf of Mexico. Water sports like kayaking and paddleboarding offer a unique way to explore this breathtaking environment from a new perspective.
Anna Maria Island is home to numerous kayak rental companies providing everything you'll need, including single kayaks, tandem kayaks, paddleboards, life jackets, guided kayak tours, quick pickup, and even free delivery to your Anna Maria Island vacation rental.
While last minute rentals are generally available, it is always preferable to have advance reservations to ensure you get the equipment you need to get on the water without delay.
Kayak Rental Companies
Beach Bums
Photo Credit:
beachbumsami via Instagram
427 Pine Avenue, Anna Maria, FL 34216

(941) 778-3316

Beach Bums is a one-stop shop for any kayaker looking to rent well-maintained equipment. Beach Bums rents kayaks, paddleboards, cruiser bikes, surrey bikes, beach supplies, and street legal golf carts. Sit-on-top Ocean Kayaks are the vessel of choice here.
Rent a kayak for anywhere from four hours to two weeks. They will point you in the right direction for your kayaking adventure. Guided tours are conducted on an as-needed basis. Contact Beach Bums directly to prearrange your rental, or if you have any questions.
Free delivery service to your vacation rental is available.
You can even find general beach supplies for rent here, from beach chairs and umbrellas to fun shore games! Beach Bums utilizes a drop spot at Bayfront Park, which provides access to Tampa Bay and Bimini Bay, complete with the possibility of dolphin and manatee sightings and a sandbar stop. For those wishing to stay on land, Bayfront Park provides a relaxing beach break, with access to restrooms and grills.
AMI Paddleboard & Kayak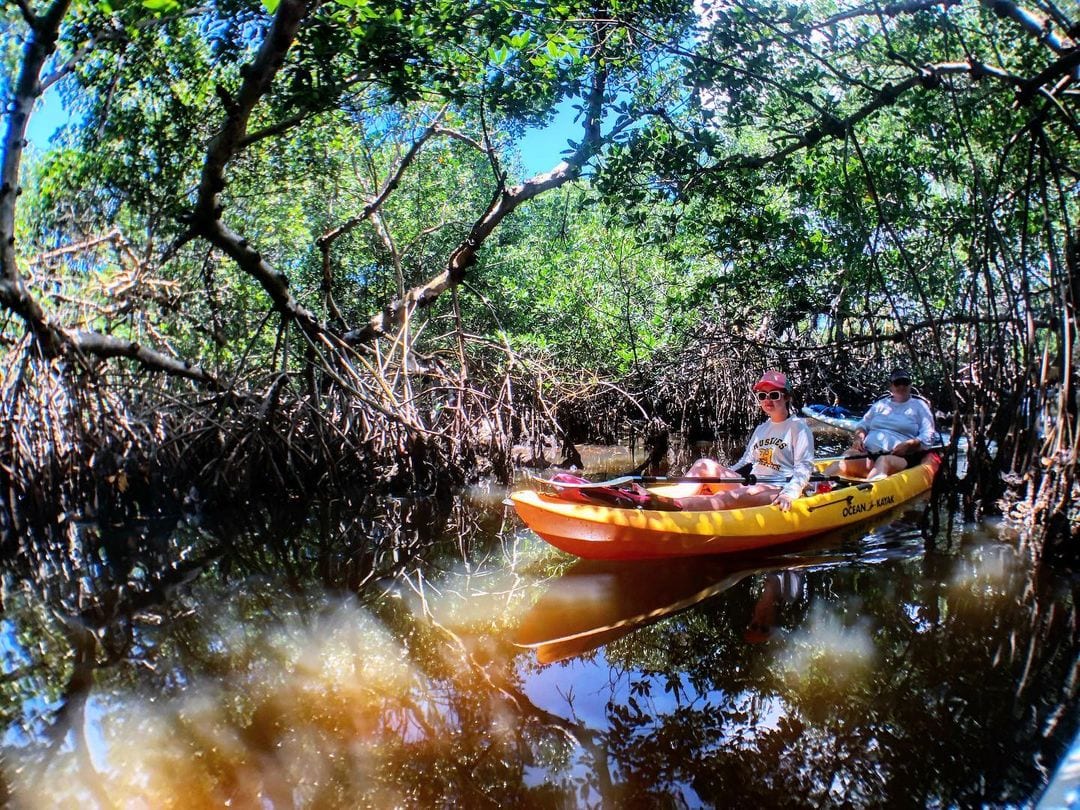 Photo Credit:
ami_paddleboard via Instagram
3902 Gulf Drive, Holmes Beach, FL 34217

(941) 896-6422

https://www.amipaddleboard.com
Tour the waters of Anna Maria Island on a relaxing paddleboard or kayak tour through mangrove tunnels teeming with wildlife. AMI Paddleboard offers beginner lessons, eco-adventures, manatee, dolphin, and sunset tours, and more. Rent a single or double kayak or SUP for up to seven days AMI Paddleboard for free delivery to a spot of your choice in Anna Maria Island or Longboat Key.
Happy Paddler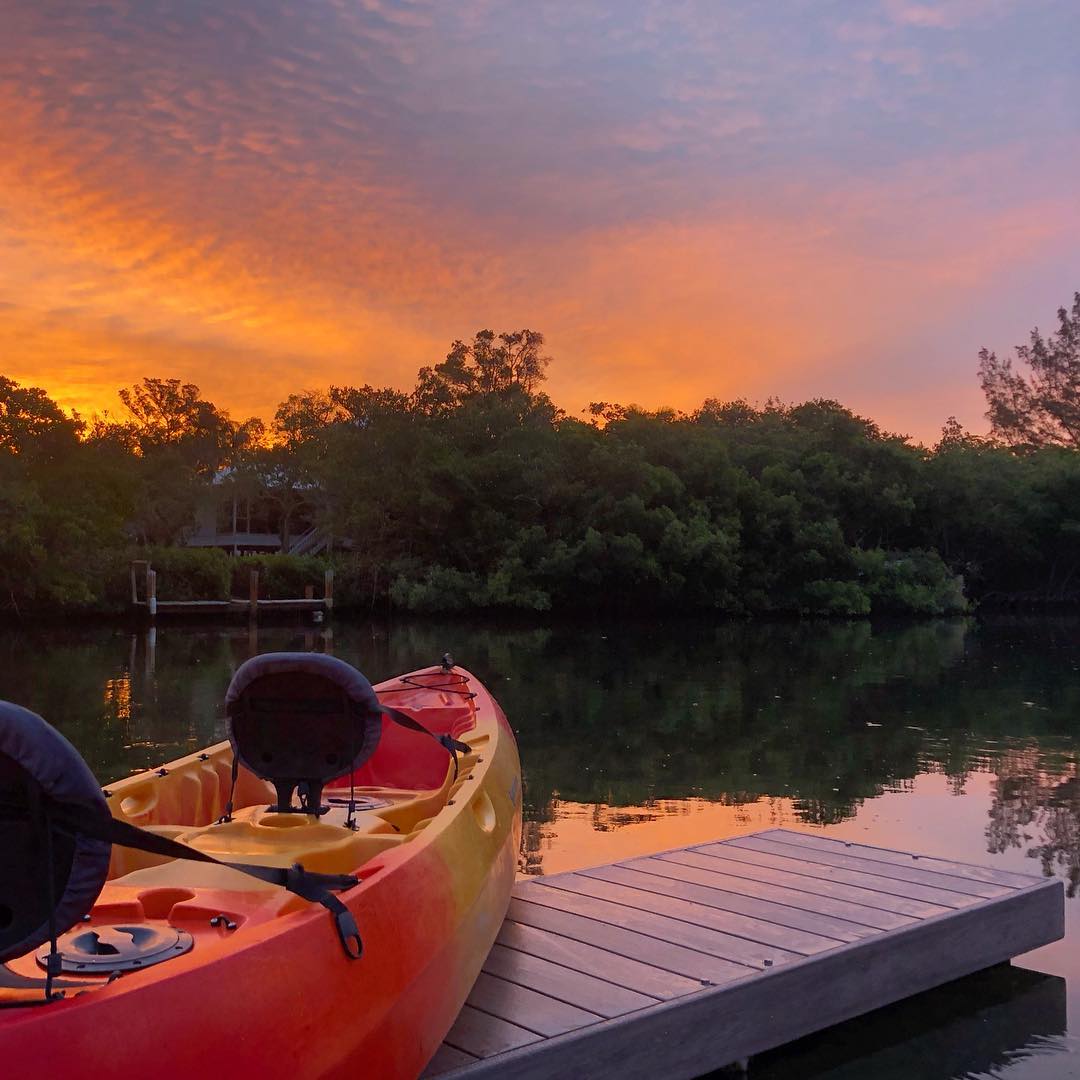 Photo Credit:
happypaddlerkayak via Instagram
316 North Bay Boulevard, Anna Maria, FL 34216

(941) 773-1920

https://happypaddler.com
Happy Paddler offers single kayaks, tandem kayaks, fishing kayaks, and paddleboards from six locations three of which are located on Anna Maria Island (including Holmes Beach, Bayfront Park, and Bradenton Beach) with two additional locations on Longboat Key and one in Robinson Preserve. The recently renovated Coquina Beach launch at Bradenton is arguably the most popular. The number of locations allows Happy Paddler to offer a range of unique kayaking experiences from mangrove forests to more open waters.
A paddling and safety lesson briefing are included with every rental. All paddlers are taught basic paddling techniques, safety rules, and conditions to be aware of while on the water. Waterproof maps are provided, as well as all equipment and dry storage. The Happy Paddler also offers a variety of guided kayaking and eco tours around AMI, Longboat Key, and Sarasota, as well as lessons.
Kayak Jacks Paddle Sports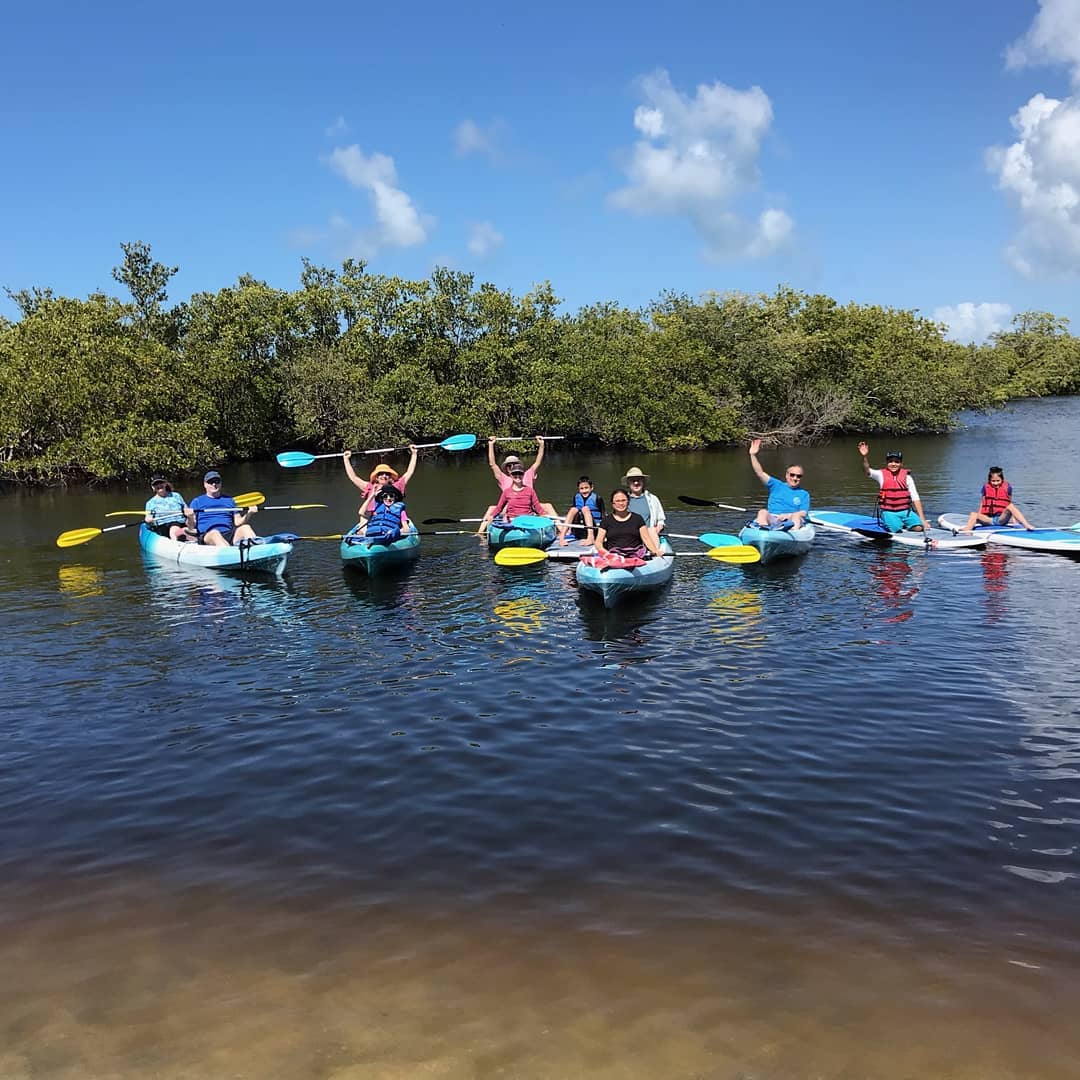 Photo Credit:
kayakjackspaddlesports via Instagram
(941) 538-1448

https://kayak-jacks.com
Kayak Jacks is a full-service mobile paddleboard and kayak rental company. You can choose from a guided 2-hour eco-tour or a self-guided 4-hour eco-tour launched from Robinson Preserve in Northwest Bradenton, Leffis Key in Bradenton Beach, or Emerson Point in Palmetto. Launch times are available from 8 AM, 10 AM, noon, or 2 PM, and reservations are required. Kayaks can be rented for extended adventures, by the day or week.
Local's Favorite Kayak Launch Spots
Robinson Preserve in Bradenton - 1704 99th Street, NW
Bimini Bay - North end of the island
Holmes Beach - 63rd Street boat ramp
Coquina Beach - South end of the island at Leffis Key
Kayaking Safety

If traveling with a guide, you will receive adequate training on safety standards and equipment use, but there are general guidelines and tips you should consider even before you arrive. If you are setting out on a self-led tour, never explore alone!
Never mix kayaking and alcohol. You should arrive for your excursion well-rested, clear-headed, and focused.
Always wear a PFD / life jacket. These are generally provided by outfitters and guides when going on water-based adventures.
Always check the weather forecast the day before and day of launch.
Pack a dry bag with snacks and any other necessities you may wish to keep on-hand and dry.