Make unforgettable memories during your visit to Anna Maria Island when you book a beach horseback ride. It is hard to beat the magic of riding across the white sand and wading into the crystal-clear water with your beautiful equine partner.
Whether you are on a romantic getaway or bringing the whole family to your beach home rental, horseback riding along Florida's endless stretches of white sand is a must-do activity in all seasons! While only certain beaches are open for legal horseback riding, there are luckily several options near your Anna Maria Island vacation home!
Here is your guide to horseback riding around AMI.
Horseback Riding Around Anna Maria Island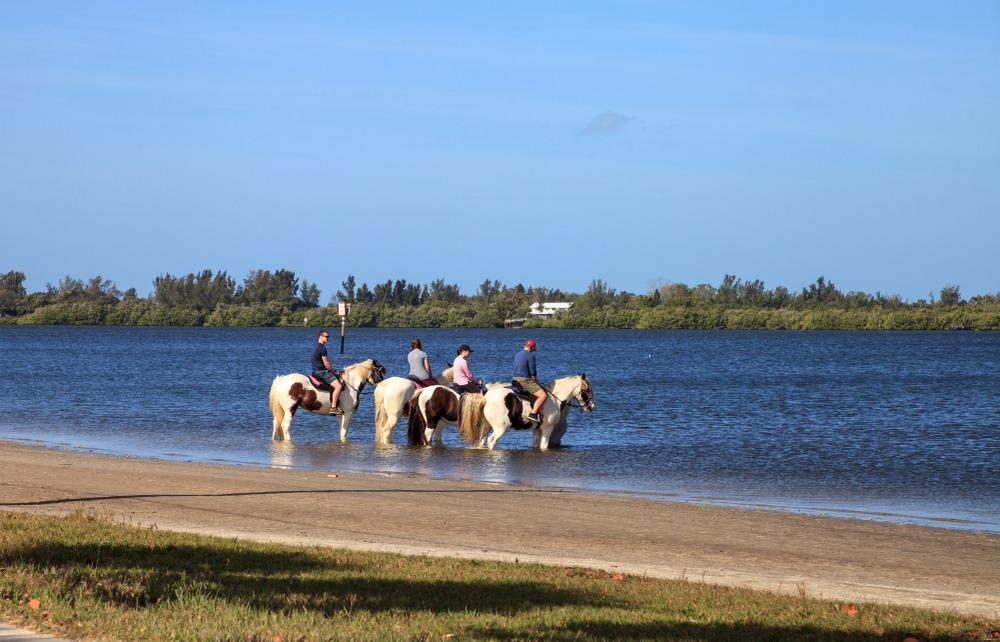 Photo Credit: SunflowerMomma
Anna Maria Island, commonly called AMI, is a barrier island in the Gulf of Mexico. The island is known for its stunning white-sand beaches, warm, clear water, and wealth of outdoor activities like paddleboarding, snorkeling, and boat tours.
If you are looking to tick a horseback beach ride off your bucket list, there are luckily several places in the area to dip your toes in the water while atop one of the most magnificent animals on earth.
Technically speaking, beachside horseback riding is only permitted in a few places around Florida. They include Anastasia Island and Crescent Beach in St. John's County, Canaveral National Seashore on the East Coast of Florida, and Palma Sola Bay in Bradenton on the West Coast. Luckily, Bradenton is just minutes away from any Anna Maria Island vacation rental, and this is the nearest place to ride.
If a beach isn't in your horseback riding requirements, many of the companies below also guide tours in Alafia River State Park in Bradenton.
Horseback Riding Companies Near Anna Maria Island
C Ponies Horseback Rides
Check out C Ponies Beach Horseback Rides for an incredible adventure during your Anna Maria Island vacation. They offer three different rides to suit all types of travelers.
The first option, and most popular, is their Bradenton Platinum Excursion. The ride lasts around 1.5 hours and includes a safety briefing. During the ride, you will primarily be in the ocean, evening getting to experience the magical feeling of your horse swimming in the ocean! Horses love cooling off in the water, so swimming is their favorite part. This ride suits all experience levels and children aged ten and up.
For couples looking for a special and romantic experience, consider the Sunset Platinum Excursion. Like the classic excursion, your horses will take you for an exhilarating swim in the sea, but you have the added benefit of watching a beautiful sunset while you ride!
If you would rather stay dry during your ride, ask the operator about their trail rides. The Alafia River State Park trail ride is one of their offerings and takes riders through the beautiful, lush landscape of the nearby state park. This ride suits all experience levels and children aged 12 and up.
Most of the horses at C Ponies were rescued from unfortunate situations and are now living the good life as beach ponies. Be sure to ask about your horse's background, and give them an extra kiss and cuddle for taking good care of you!
The Real BeachHorses
The Real BeachHorses is one of the original horseback riding operators in the AMI area, and their years of experience guarantee that you will have an unforgettable experience. They offer three rides to cater to all clients.
Enjoy an unforgettable experience in the beautiful waters of the Gulf of Mexico when you book the popular Chill Ride. The 1.5-hour experience takes you along the beach and into the water, where your highly-trained horses will happily swim with you on their back. The ride suits all experience levels and children aged ten and up.
The unique Thrill Ride is your best option for families with young children. On this one-of-a-kind ride, each rider gets their own instructor to assist with the activity, meaning everyone gets one-on-one attention.
During the ride, you will get to walk along the beach and wade into the water of Palma Sola Bay, all without a saddle! This ride can only be done during low tide, so get in touch with the operator to inquire about availability. The Thrill Ride is suitable for all experience levels and children aged three and up.
The Trail Ride option is popular for those looking to have a relaxing ride with great wildlife spotting opportunities. This relaxing jaunt lasts around 2 hours and takes you on a winding trail through the Deer Prairie Creek Preserve. During the ride, you will see tons of wildlife, such as deer, alligators, armadillos, bald eagles, and more! The ride is suitable for all experience levels and children aged eight and up.
Carousel Sea Horses
Carousel Sea Horses offers traditional beach rides, custom special event rides, and photoshoot opportunities. Browse their offerings to pick the best option for your group.
The Sand and Swim ride is their classic beach ride. During the 1 hour excursion, you will take a relaxing walk through the water and even have the chance to swim with your horse. Spotting marine life from your horse, such as dolphins or manatees, is possible, so keep an eye out! This ride suits all experience levels and children aged eight and up.
The Sunset at Sea ride is the same as the Sand and Swim ride but takes place during sunset. Book this unique experience for a romantic evening with your partner.
In winter, you can book a trail ride with Carousel Sea Horses. Trail rides will take you through the beautiful green natural areas surrounding Bradenton and are the perfect option for those who don't want to get wet. This ride suits all experience levels and children aged eight and up.
It is possible to book private excursions with the operator. Whether you are celebrating a birthday, anniversary, or bachelorette party or perhaps are planning an engagement, Carousel Sea Horses can help you plan the perfect private event.
For those interested in incredible photo opportunities, you can book a photo shoot with the operator. Bring your own photographer and get ready to have an amazing album of photos with the beautiful horses.
Florida Beach Horses
Florida Beach Horses offers a similar lineup of ride options as the other operators but is unique in that experienced riders may have the opportunity to trot or canter during their ride. Discuss the possibility with your guide at check-in for the chance to make a lifelong memory cantering down the beautiful beach! All riders, experienced or not, will have a fantastic time on one of the following rides.
The Sand and Surf is the classic ride for AMI residents. The duration of the ride in Palma Sola Bay is around 1.5 hours and starts with a saddled ride along the beach before finishing with a bareback swim in the ocean. Each rider will have their own guide to assist them. This ride suits all experience levels and children aged three and up. The Sand and Surf Sunset ride is the same, except it takes place at sunset.
The Cruise Ride and Sunset Cruise Ride take place mainly in the water, providing a fun and unique experience. This ride suits all experience levels and children aged ten and up.
Ride Your Way Along AMI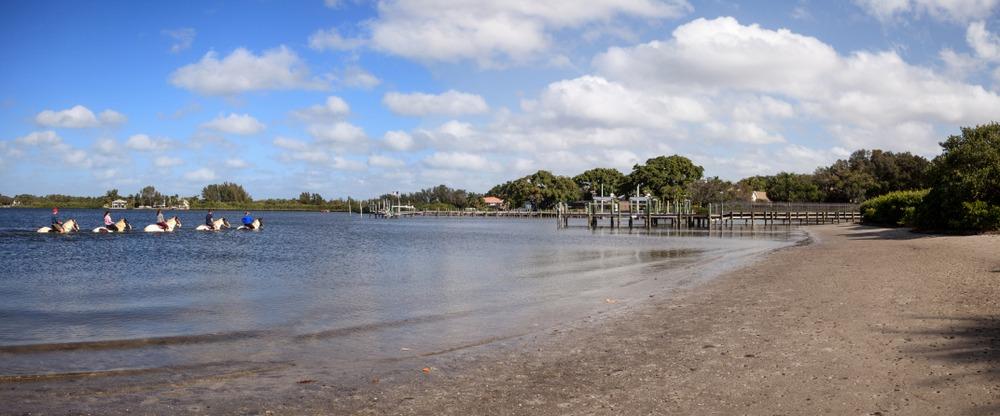 Photo Credit: SunflowerMomma
Make lifelong memories on your beautiful Anna Maria Island vacation when you take a horseback ride. An afternoon of walking along the sand or swimming with horses is something everyone should experience at least once in their life. Book your Anna Maria Island vacation home today and prepare for the trip of a lifetime!