With so many great daytime activities and things to do on Anna Maria Island, it's no surprise that this Gulf of Mexico paradise is such a popular vacation spot. Just a short drive from Sarasota or Tampa, it might be overlooked by outsiders, but once you visit one, we're sure you'll want to visit again!
What you might not know about the island is just how much fun the nightlife is here, too. While we might not be known for clubs like Miami or casinos like Vegas, we are known to have some great, laid-back bars for you to grab a drink or two and settle into your night.
Between the City of Anna Maria, Bradenton Beach, and Holmes Beach, there are some great drinking holes to choose between. Let's dive into our 6 favorite bars on AMI so you can see which one sounds like the best spot for you after a day well spent on the beach. Pro Tip: we suggest you give them all a try!
The Doctor's Office
Photo Credit:
doctorsofficeami via Instagram
Address: 5312 Holmes Blvd. #B, Holmes Beach, FL 34217
Don't let the name fool you; this is not your general practitioner's office in Holmes Beach, though it is housed in a former Doctor's office. The Doctor's Office features upscale casual dining, craft cocktails made before your very eyes, and an enthusiastic staff guaranteed to create a memorable night on AMI.
Although not located on one of Anna Maria Island beaches, it is located in the heart of downtown Holmes Beach, making it an easy spot to walk to from your vacation rental.Their bar menu is extensive, with shrimp cocktail, muffuletta sandwiches, cheese plates, and even duck liver pate, but you're here for the cocktails.
A few local favorites include:
Kiss Kiss Bang Bang Beefeater gin, muddled blackberries, fresh lemon, and St. Germaine elderflower liqueur
Last Word Beefeater gin, green chartreuse, Luxardo maraschino liqueur, and fresh lime
Preferred Remedy Old Overholt rye, Nux Alpina black walnut liquor, sweet vermouth, black walnut bitters
The Doctor's Office is a family-friendly bar with excellent food and accessibility options for everyone to enjoy their offerings!
Hurricane Hanks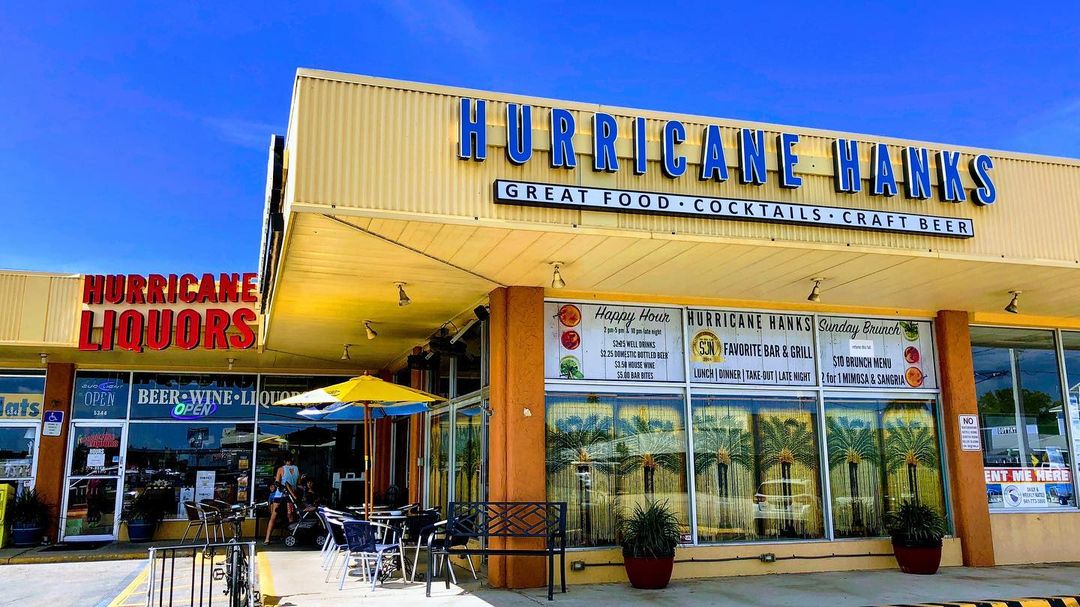 Photo Credit:
hurricanehanks via Instagram
Address: 5346 Gulf Dr, Holmes Beach, FL 34217
Chances are you are one of the many who enjoy a delicious dining experience alongside your favorite cocktails while on your annual getaway down Gulf Drive. If so, then Hurricane Hanks, a local sports bar, is calling your name. Primarily with indoor seating, they do have a few tables suitable for outdoor dining.
With a menu ranging from fish tacos to crab cakes to fried artichokes, this is one establishment that takes full advantage of the nearby water. But you want to hear more about those delicious cocktails, right? There are many, and they all taste unbelievably like a vacation.
We're talking about tasty drinks such as the Chambord Lemon Drop or a classic but organic Strawberry Margarita. If you're feeling adventurous, try their Hurricane!
Bamboo Island Bar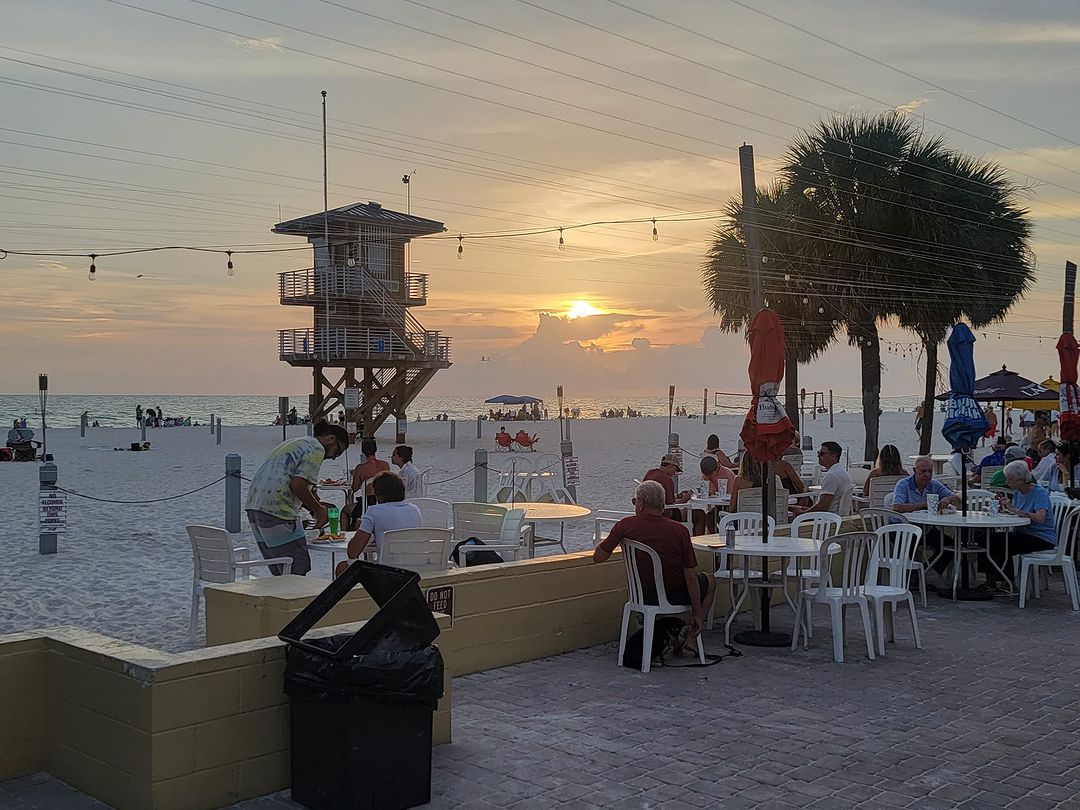 Photo Credit:
bambooislandbar via Instagram
Address: 119 Bridge St, Bradenton Beach, FL 34217
As perhaps one of the highest-rated Anna Maria Island bars along Bridge Street, Bamboo Island Bar attracts plenty of tourists year-round, but it's a favorite among locals too. Their food menu is quite limited, with its small plates, and each dish is somewhat expensive, yet fancy, so you'll likely want to stick with their drink menu, which is reasonably priced.
A cocktail will set you back anywhere between less than $10 per person, which is slightly cheaper than other options in the area.When it comes to the drinks, you will not be disappointed. The Brazilian Vodka Sangria, Island Mule, Mimosas, and other cocktail staples make appearances.
But the island time bar also features fruity island drinks that are, in my opinion, the law to try when you're on vacation. Bamboo Island Bar features live music regularly that genuinely adds to the island vibe. Here, you'll come for the drinks and stay for the live entertainment.
Dcoy Ducks Bar & Grille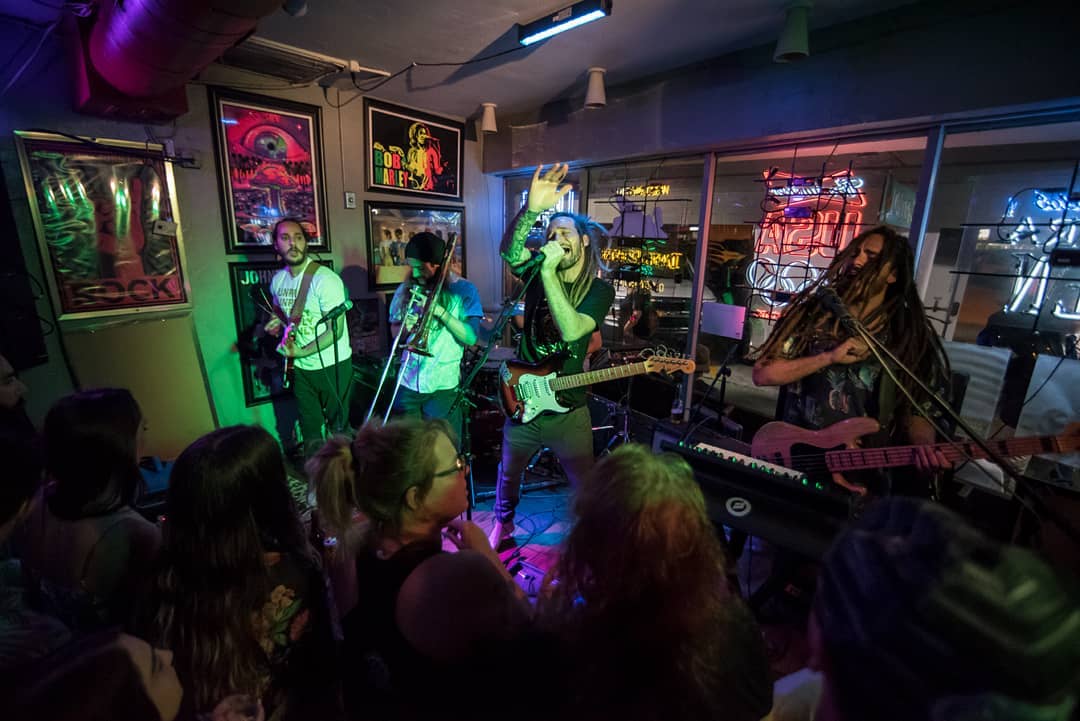 Photo Credit:
kevinbiresphoto via Instagram
Address: 5410 Marina Dr, Holmes Beach, FL 34217
If you prefer to chill with a young crowd hanging out along Marina Drive, get a little bit rowdy (within limits), and genuinely have a good time on the weekend, then Dcoy Ducks Bar & Grille may just become your new go-to home-away-from-home here at Anna Maria Island.
Dcoy Ducks may not be known for their food, but with a nightlife like this, you can head here after a delicious meal at an AMI restaurant and enjoy a fantastic cocktail made in front of you at the bar. The bartenders are attentive, friendly, and happy to help out-of-towners find their new favorite drink.
Of course, if you're not open to trying anything new, Dcoy Ducks does feature more of the vacation staples, like margaritas, which are fan-favorites.
The Ugly Grouper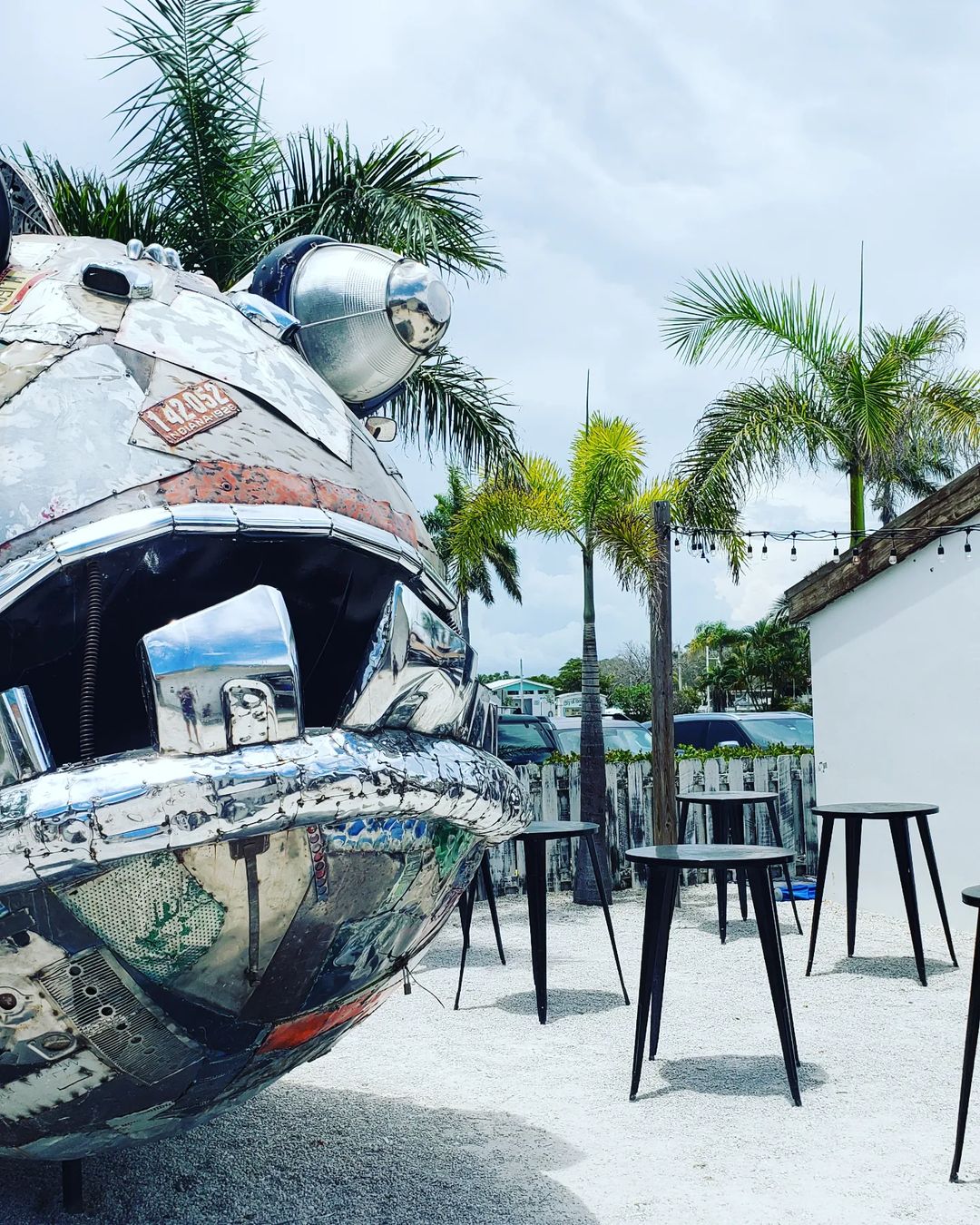 Photo Credit:
uglygrouper via Instagram
Address: 5704 Marina Dr, Holmes Beach, FL 34217
Now, with a name like that, you would expect something a little dingier, right? You'd be wrong, though, because The Ugly Grouper is a highly rated beach bistro along the marina. Looking more like a beach house than a restaurant, this spot is true to typical Florida style. The food is fantastic, the drinks are plentiful, and the people are worth seeing and dancing with.
You may especially love the outdoor seating, as you sip your margarita in absolute style. If you're feeling a little peckish, The Ugly Group is also a sought after eatery. We suggest you try the gator bites, bruschetta, ugly nachos, or jumbo wings, which come out of the kitchen at lightning speed.
But if you're here for the drinks, as we suspect, here are a few local favorites to try on your next trip:
Coral Reef Svedka cucumber lime vodka, watermelon liquor, pineapple & lime soda
Beach Babe Svedka raspberry vodka, sour, lemon-lime soda, and cranberry juice
Anna Maria Mule Tito's handmade vodka, key lime juice, cranberry, Gosling's ginger beer
Alongside their original favorites, The Ugly Grouper also features frozen drinks, Classic Island Libations, and margaritas. We give preferential treatment to the Mermaid Mojito, with its lime, mango, or dragon berry flavors are ideal for a beachfront happy hour.
The Kokonut Hut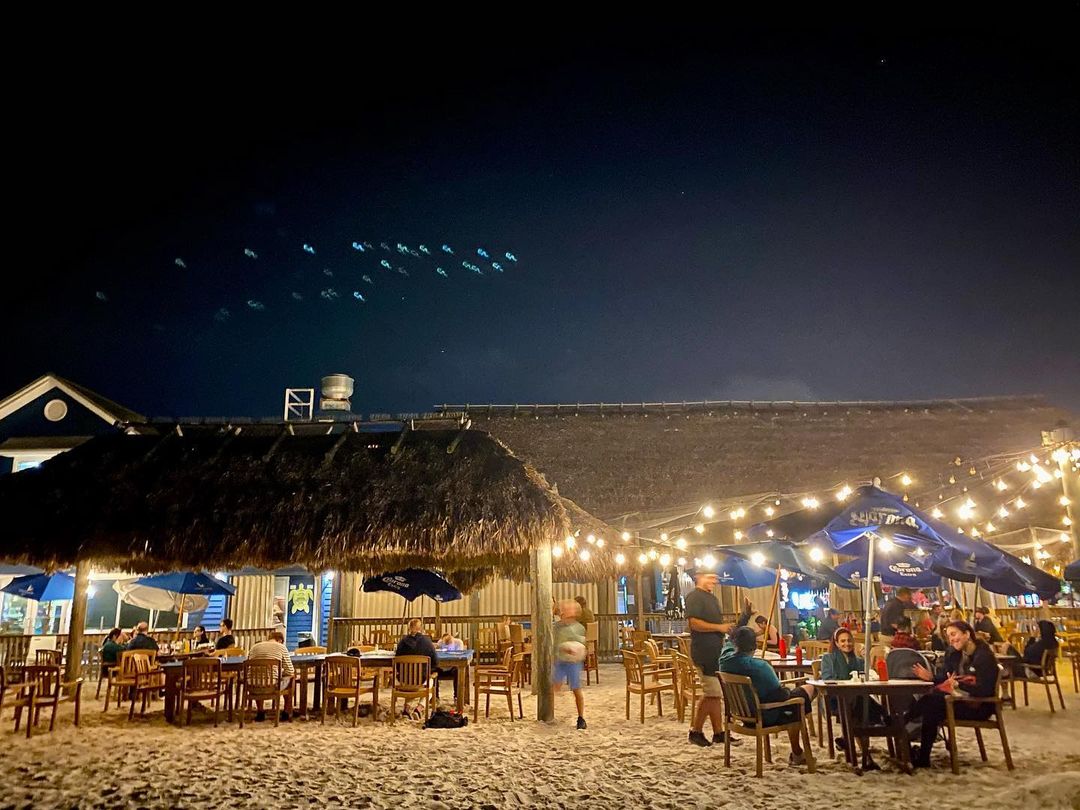 Photo Credit:
stjbaldwin via Instagram
Address: 900 Gulf Dr N, Bradenton Beach, FL 34217
We would be remiss to create a list of the best bars on Anna Maria Island and not mention one actually on the beach! Don't worry, we've got you covered with The Kokonut Hut. This is where you'll want to go if you're looking for the stereotypical tiki hut in the sand to end your day.
Known as a bar and grill, you can come hungry and enjoy the waterfront restaurant while you dive into delicious fresh catch specials, topped off with a great cocktail. While this place might look small, they have a large drink and food menu, so you're sure to find something for everyone in your party.
Well, there you have it, six of the absolute best Anna Maria Island bars for your next island time getaway. Get out of your vacation rental, sit down at the beach, and sip your new favorite drink in style!